Base History \ Arrival
---
White Sands Missile Range is located in the Tularosa Basin of south-central New Mexico. The headquarters area is 20 miles east of Las Cruces, New Mexico, and 45 miles north of El Paso, Texas. The range boundaries extend almost 100 miles north to south by 40 miles east to west. At almost 3,200 square miles the range is the largest military installation in the country. National Composite Cost of Living Index average is 100.0. Las Cruces' composite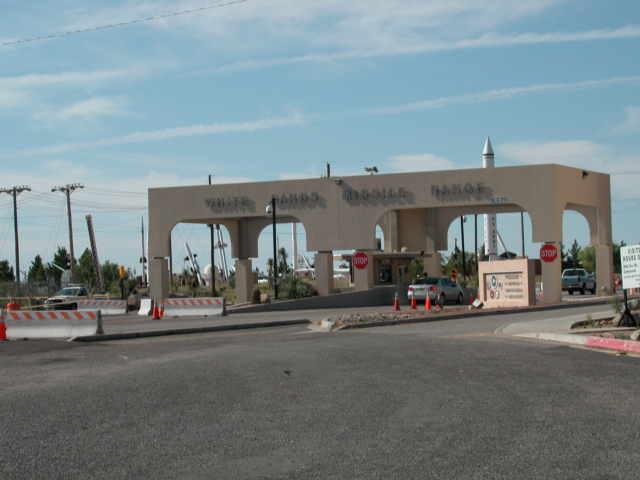 index score is 100.2. Housing is 104.7, utilities are 96.6 and transportation is 101.6. Cost of living varies in this area due to the distances to off-post resources. See RELOCATION SERVICES, Related Subject, Financial Preparedness.
HISTORY - In the early fall of 1944, Major General G.M. Barnes, then chief of the Research and Development Service, Office chief of Ordnance, recognized the necessity of a program of research and development in the field of guided missiles. He further recognized that as a vital part of such a program, there was a necessity of having somewhere within the continental limits of the United States, a range where test firings for such missiles could be conducted to carry out the necessary procurement of data to permit the development of such missiles for military application. .

MISSION - White Sands Missile Range provides Army, Navy, Air Force, DoD, and other customers with high quality services for experimentation, test, research, assessment, development, and training in support of the Nation at war.
Welcome Center
Building # 329
Owen Road
White Sands Missile Range, NM 88002
Phone 575-678-6767 / 575-678-1502
Phone (DSN) 312-258-6767
Fax 575-678-6789
Fax (DSN) 312-258-6789
Directions to WSMR Main Post

From El Paso Airport:

When you leave the El Paso Airport area, turn right onto Airway Blvd.
At the second stoplight, turn right onto Airport Rd. Airport Rd becomes Fred Wilson Blvd.
Immediately after the Fred Wilson overpass, turn right and enter Highway 54 (on ramp on the left). Continue on Highway 54 to the intersection with Kenworthy / Martin Luther King Jr. Blvd.
Turn left onto Martin Luther King Jr. Blvd. Stay on MLK Jr. Blvd and follow the signs to WSMR. It is approximately 34 miles from this point to the El Paso Gate entrance to the WSMR main post area.
After the Cattle Guard, the speed limit drops from 65 mph to 55 mph.
At the second Yellow Flashing light, the road makes a 90 degree right turn. Stay on the highway, and the mountains will now be on your left hand side.

From Las Cruces:

Take Highway 25 north to Highway 70 East (Highway 70 is also called "Main Street")
Turn right onto Highway 70 East towards WSMR or Alamogordo
Continue on Highway 70 East for about 25 miles over the San Augustine Pass and exit just after mile marker 169.
Turn right onto Owen Rd
The Las Cruces/Alamogordo Main Post Gate is approximately 3 miles after the exit.

From Alamogordo:

Take Highway 70 west.
Proceed about 47 miles to the missile range exit labeled "Headquarters" just after mile marker 172. The exit ramp loops under Highway 70 onto Owen Rd.
The Las Cruces/Alamogordo main post gate is approximately 3 miles after you exit.