Base History \ Arrival
---
Dyess Air Force Base is located in the city of Abilene in Taylor County, Texas in the USA. . Abilene is a military friendly city in west-central Texas located about 183 miles west of Dallas and 250 miles north of San Antonio. It is the center of a 22-county area called "The Big Country," and considered the economic hub of this part of Texas. Near the geographic center of the state, Abilene is easily accessible by five major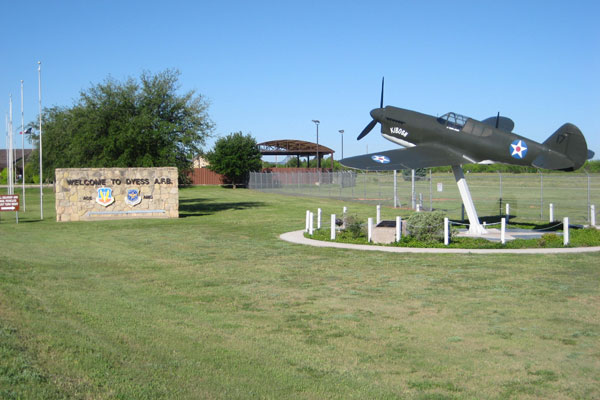 highways: Interstate 20, Highways 80 and 84 east and west, and Highways 83 and 277 north and south. Abilene is a medium cost area. The median income is $35,246 and the average salary is $52,850.
History
Originally known as Abilene Air Force Base, the Strategic Air Command base was dedicated by the city fathers at the end of Abilene's Diamond Jubilee in 1956. On December 6 of that same year, the base was renamed Dyess AFB in honor of Lt. Col William Edwin Dyess who was born in Albany, Texas in 1912, and died in an aircraft crash in Burbank, California, December 22, 1943. On October 1, 1993, Dyess became a one-base, one-wing, one-commander base, combining the 96th Wing and the 463d Wing as the 7th Wing, flying the B-1B Lancer and C-130 Hercules. On April 1, 1997, Dyess' wing became the 7th Bomb Wing and the C-130 Hercules aircraft once again became a part of Air Mobility Command and Dyess' 317th Airlift Group.
Mission
Dyess Air Force Base a professional team, delivering bombing, airlift support, training and combat support to combatant commanders anytime, anywhere. Dyess AFB trains all Air Force B-1 crews and is commonly referred to as the "Home of the B-1." Major Command: Air Combat Command, and Air Mobility Command Primary Weapon Systems: B-1B, C-130-H. Dyess AFB Mission Video: http://www.youtube.com/watch?v=Oj6zuwwjQTE&feature=youtu.be
Population Served
The total population of Dyess AFB is approximately 26,000-27,000 personnel including officers, enlisted, retirees, civilian employees, and family members. Most of the population is Air Force but we also have a detachment of Marines and some Reservists.
Base Transportation
Dyess does not have a shuttle bus service. The Base Taxi is the only official transportation available on and around base. For official business only, members may call the Base Taxi Dispatch at 325-696-2265. The distance from the main gate to Lodging is approximately 1.5 miles. From Lodging, many base facilities, such as AAFES, Commissary, Finance, TMO, Airman and Family Readiness Center, the Chapel and Burger King, are within walking distance.
Directions
Airports
Abilene Regional Airport services the Abilene and Dyess AFB community. It is located about 15 miles from Dyess Air Force Base (See driving directions below. A Rental Car Agency is available at the airport or you can call for a taxi.
Driving Directions to Dyess AFB
Directions from Abilene Regional Airport
If your sponsor does not meet you at the airport, a taxi or rental car is the only way to go. Upon exiting the airport, turn left on Highway 36 (South 11th). At the light at Treadaway turn right, this will take you to South 1st, stay in the left lane at the S. 1st interchange. Stay on S. 1st across town, pass under the freeway, and a sign at Arnold Blvd will direct you to turn left (south). The Dyess AFB main gate will be on your right.
Directions Driving to Dyess AFB from the North
Take U. S. Highway 277 or 83 south to the S. 7th St exit. Turn right (west) on S. 7th to Arnold Blvd., left (south) on Arnold Blvd. to the Dyess AFB main gate on your right.
Directions Driving to Dyess AFB from the South
Take U. S. Highway 277, 83, or 84 north to the S. 7th St. exit. Turn left (west) on S. 7th to Arnold Blvd., left (south) on Arnold Blvd. to the Dyess AFB main gate on your right. If you re coming in on Highway 36, follow the Directions from the Airport.
Directions Driving to Dyess AFB from the East
Take I-20 west from Dallas 200 miles, at Abilene stay on I-20, NOT Business 20, until you reach U.S. Highway 277/83. At the interchange, go south on Highway 277/83 to the S. 7th St exit. Turn right (west) on S.7th to Arnold Blvd, then left (south) on Arnold Blvd to the Dyess AFB gate on your right.
Directions Driving to Dyess AFB from the West

Take I-20/84 east to Arnold Blvd, turn south on Arnold Blvd to the Dyess AFB gate on your right. Coming from the west you DO head directly into town, exit 279.
Dining facilities and service stations are limited along these routes, so it would be wise to dine and fill up in the larger cities along the way.
Directions from Bus Station
The Greyhound Bus Line comes into Abilene at 1657 State Highway 351, Abilene, TX 79601. The city bus, City Link of Abilene, does pass by the bus station however; pick-up is across the street at the Wal-Mart location. The Citilink bus does not come onto the base but there is a bus stop location at the base visitors center where your sponsor can meet you. So again if you're not met by your sponsor the best way is to use a taxi.
What to do when you arrive at the Dyess AFB Front Gate
When you arrive at the front gate, you will need to show them your Military ID Card and identification for each family member/passenger. They may ask you to enter the Visitor Control Center immediately to your left to get a visitor's pass. There, you will need to show them your military ID card, your Driver's License, and a copy of your orders. They may also request to see your Vehicle Registration and Proof of Insurance.
The Visitor Center hours of operation are Monday through Friday from 6 a.m. to 10 p.m. Restricted Area Badge issue as well as contractor passes/badges can be issued during hours. Visitor passes are also available on weekends and after hours from on-duty Security Forces personnel at Arnold Gate. From the front gate, you proceed down Arnold Blvd to the Traffic Circle. Stay in the left lane so you can exit the Traffic Circle on Fifth Street. Dyess Inn is located at 441 Fifth Street (about half-way down the block on your left). Their phone number is 325-696-2681/1874 or DSN 312-461-2681/1874.