Base History \ Arrival
---
Location
Peterson Air Force Base is located adjacent to and east of Colorado Springs, El Paso County, Colorado, off U.S. Highway 24. Colorado Springs is the second largest city in Colorado, and has a population of approximately 500,000 people. Colorado Springs also hosts the United States Air Force Academy to the north, Cheyenne Mountain Air Force Station located to the west, Fort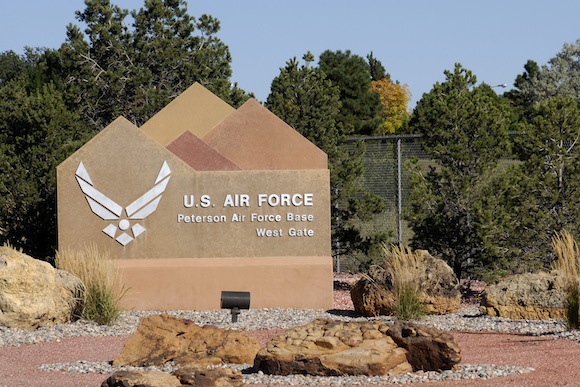 Carson, Army Post to the South, and Schriever AFB to the east. Colorado Springs is a high cost of living area.
History
Peterson AFB was originally established as the Colorado Springs Army Air Base on May 6, 1942, at the Colorado Springs Municipal Airport which had been in operation since 1926. In December 1942, it became the Army Support Command Base and was renamed Peterson Army Air Field as a tribute to 1st Lt. Edward J. Peterson, an operations officer with the 14th Photo Reconnaissance Squadron who was killed during takeoff in his F-4. Additionally, Cheyenne Mountain AFS is the home of North American Aerospace Defense Command.
Mission
The 21st SW provides missile warning and space control to North American Aerospace Defense Command (NORAD) and U.S. Strategic Command through a network of command and control units and ground and space-based sensors operated by geographically separated units around the world. As the host wing for Peterson AFB, it provides operating support to NORAD/NORTHCOM, Air Force Space Command (AFSPC), U.S. Army Space and Missile Defense Command (SMDC)/Army Forces Strategic Command, Cheyenne Mountain AFS, 302nd Airlift Wing, and nearby Schriever AFB.
Base Operator: 719-554-7321 or DSN 312-834-7321
Population:
6,750+ active duty
1,525+ reservists
10,200 family members
1,901 civilians
14,000+ Air Force/Navy/Marine Retirees
Area Population: Colorado Springs metro: 609,096; Colorado Springs: 500,000
Base Transportation
Taxi service is provided on base for those needing transportation from work to an official appointment. To request this type of transportation, please call the dispatch desk at 719-556-4307.
Directions to Peterson AFB
Directions from Airport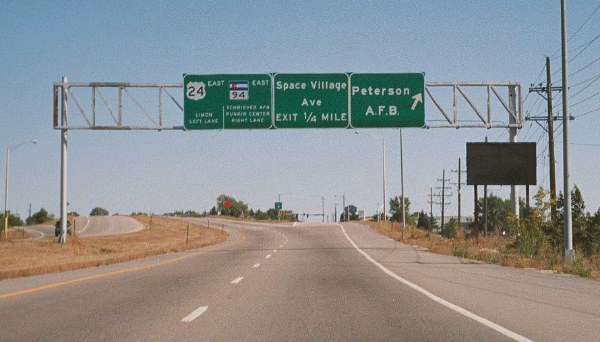 The Colorado Springs' airport is located south of Peterson AFB. Following the road exiting the airport, turn right on Powers Blvd. Stay on Powers approximately 6 miles. Turn right at the Airport Road intersection. Turn right at the next light. This is the access road to the Peterson AFB West Gate. This is considered the Main Gate, and it is open 24 hours.
If you wish to enter Peterson AFB through the North Gate, stay on Powers Blvd until you reach Platte Avenue (Highway 24). Exit right; the exit for the North Gate is approximately one mile east of Powers Blvd.
Transportation Options
Transportation from Colorado Springs Airport is available by POV, Rental Car (available at Airport), or city taxi.
Directions if Driving
Entering Colorado Springs on I-25 from either south or north, exit on Academy Blvd. Proceed towards the center of the city, turn east on Platte Avenue (Hwy 24). The Peterson AFB North Gate will be on the right, approximately one mile east of Powers Blvd.
From the East on Hwy 24
If coming from the east on Highway 24, the Peterson AFB North Gate will be on your left, on the eastern edge of Colorado Springs
From the West on Hwy 24
If coming from the west on Highway 24, follow the signs to stay on Highway 24 through the city. Take Platte Avenue east, and the Peterson AFB North Gate will be on your right on the eastern edge of Colorado Springs.
What to do when you get to the Main Gate (Visitor's Center)
Have ID and/or base pass ready. Base passes can be obtained from the Visitor's Center just outside the West Gate.