Base History \ Arrival
---
Location
Cannon AFB is located approximately eight miles west of Clovis (Curry County), New Mexico, directly off Highway 60/84. Cannon is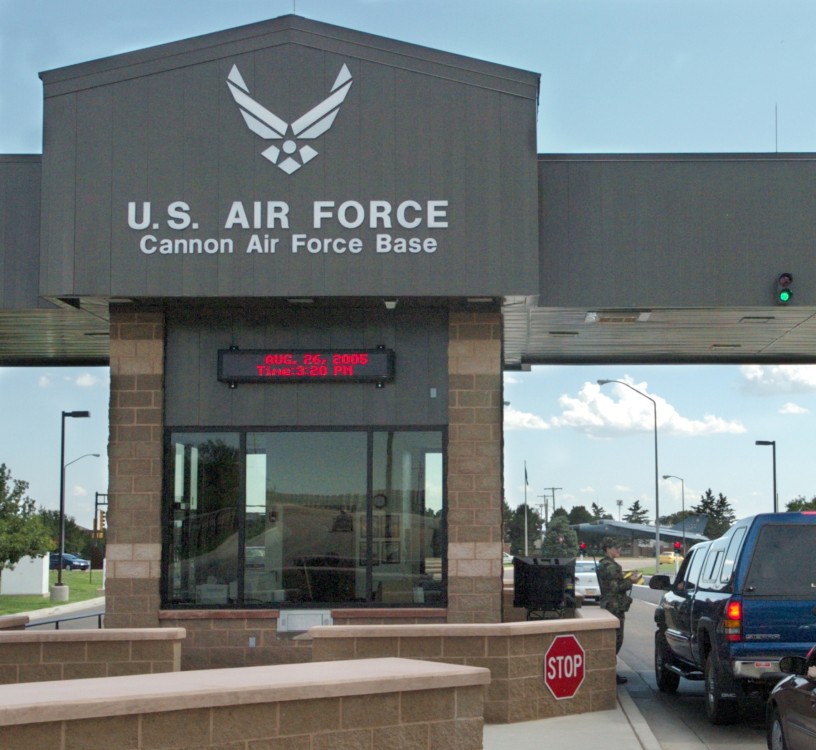 approximately 80 miles south of Tucumcari, 100 miles west of Lubbock, Texas, and 90 miles northeast of Roswell, New Mexico. This rural, high desert region of New Mexico is agriculturally based and has a medium/high cost of living.
History
In 1906, Santa Fe Railway engineers were ordered to locate a town site in the newly developing ranch and farm area of Eastern New Mexico for a terminal. Clovis was incorporated in May 1909. In the mid 1920's, Portair Field was established on Cannon's site. It was a civilian passenger terminal for early commercial transcontinental flights. In 1942, Clovis Army Air Base was the first military unit to use the facility as an Army glider detachment. In 1943, heavy bombers arrived and it was renamed Clovis Army Air Field and in 1947, the installation was inactivated. In July 1951, the base became the responsibility of Tactical Air Command and was home to the P-51 Mustang. In November 1951, the base officially became Clovis Air Force Base. On June 8, 1957, the base was renamed Cannon Air Force Base in honor of the late General John K. Cannon, a former commander of the Tactical Air Command.
Mission
Home of the 27th Special Operations Wing (27th SOW), Cannon Air Force Base is named after General John Kenneth Cannon, a World War II Mediterranean combat commander and former chief of U. S. Air Forces in Europe. The missions of the wing include infiltration, exfiltration and re-supply of special operations forces; air refueling of special operations rotary wing and tiltrotor aircraft; and precision fire support. These capabilities support a variety of special operations missions including direct action, unconventional warfare, special reconnaissance, counter-terrorism, personnel recovery, psychological operations and information operations.
Population Served
Cannon's population is approximately: 4,623 active duty service members, 5719 family members, 657 (GS- 433/NAF - 197) civilians, and 6,002 retirees.
The Clovis population is approximately 37,775. Portales population is approximately 12,280.
Base Transportation
Currently, there is no base transportation on this installation.
Sponsorship
Individuals requiring a sponsor should request a sponsor through their losing organization. Newcomers, if arriving during normal duty hours should report directly to their new unit's administrative section to start in-processing. After duty hours and during weekends or holidays, the arrival point is the Caprock Inn lodging office, 401 S. Eagle Claw Boulevard (Bldg. 1801) 575-784-2918/2919. Federal Service employees new to Cannon should report to the Civilian Personnel Flight (Bldg. 600), 110 Alison Avenue, during normal duty hours.
You may have your mail forwarded to a General Delivery Address:
Name (of person arriving)
Report No Later Than Date
General Delivery
PSC Box 9999
Cannon AFB, NM 88103
Example:
Mark Twain
28 June 2011
General Delivery
PSC Box 9999
Cannon AFB, NM 88103
Directions
Directions to Cannon AFB
The Cannon AFB main gate is just off U.S. Highway 60-84. People arriving on US Highway 70 (from the south) should take State Highway 467 to the Portales gate. Both gates are open 24 hours a day, seven days a week. Clovis is served by a small community airport with commuter services from Albuquerque. The area is also served by passenger bus service.
If you arrive during normal duty hours, you should report to your new unit's orderly room. After duty hours, or during weekends and holidays, the arrival point is the Caprock Inn Lodging office, 401 Eagle Claw Avenue Blvd. Civilians should report to the civilian personnel office, 110 Alison Ave., during normal duty hours.
For those who are flying from Albuquerque, Great Lakes Airlines (1-800-554-5111) will be your airline. The closest airports are in Amarillo, TX (no shuttle service) and Lubbock, TX (shuttle service available). Direct flights from Lubbock and Amarillo are not available. Both cities are approximately 100 miles from the base.
From Amarillo, Texas
If driving, take I40 to I27 South toward Lubbock; turn west on Highway 60 at Canyon, TX. Stay on Highway 60 to Texico, NM where you'll pick up Highway 84 west to Clovis (approx. 7 miles). Cannon AFB is approximately 7 miles west of Clovis, still on Highway 60/84.
Greyhound Bus Lines are available from Amarillo; call 1-800-231-2222 for current schedule and fares. They stop in Clovis but not at the base. After arrival at the Clovis bus station, call your sponsor or duty section for transportation to Cannon.
From Lubbock, Texas

If driving, take Highway 84 west (passing through Littlefield TX, Muleshoe TX, and Farwell TX) in to Clovis NM and Cannon AFB.
Greyhound Bus Lines provides service from Lubbock; call 1-800-231-2222 for current schedule and fares. After arrival at the Clovis bus station, call your sponsor or duty section for transportation to the base.
The High Plains Shuttle provides service to Clovis and to Cannon AFB. Call 1-800-762-8343 for current schedule and fares. Reservations are required! You can arrange for the shuttle to drop you off at Lodging on base. They do accept pets in kennels for additional fare.
From Albuquerque,New Mexico

Kirtland AFB is located in Albuquerque. Kirtland information is provided for your convenience while in transit. For Lodging at Kirtland (on a space available basis), please call (505) 846-9653. For transportation call 505-846-2396 (if no answer call the Command Post at 505-846-6432). Kirtland Base Operator is DSN 312-246-0011 or 505-846-0011)
If flying, you will take Great Lakes Airlines into Clovis. Call them at1-800-554-5111 for flight information.
Greyhound Bus Lines provides bus service from Albuquerque to Clovis; call 1-800-231-2222 for ticket information.
If driving from Albuquerque, take I40 East approximately 116 miles to Santa Rosa. At Santa Rosa, exit to Highway 84 South 48 miles to Fort Sumner, then go east about 58 miles to Cannon AFB.