Base History \ Arrival
---
Fort Benning Georgia is located in an area commonly known as the "Tri-Community", comprised of Columbus and Fort Benning, Georgia, and Phenix City, Alabama. Columbus, known as Georgia's third-largest city, is a growing community of 250,000. Besides being the home of the Best Army Installation in the World, Fort Benning, Columbus is the corporate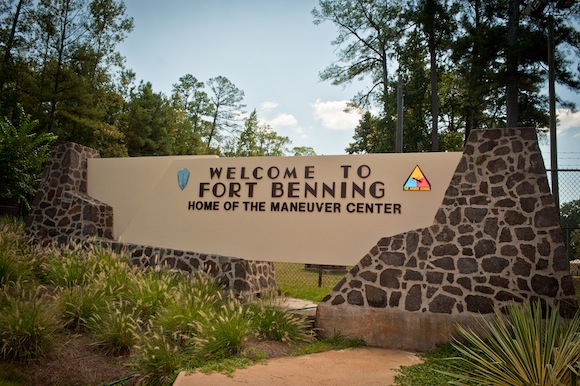 headquarters of many leading companies such as AFLAC Insurance. Average family income $36,405. The stunning Florida gulf shores and picturesque Blue Ridge Mountains are only a few hours drive from Fort Benning.

HISTORY - Fort Benning was established in 1918 and is named after Confederate General Henry L. Benning, who had lived in Columbus. Known as the "Home of the Infantry", the installation covers 182,000 acres. From 1918 until present, the development of Fort Benning has been proportional to the Infantry School's progress.

MISSION - To provide the nation with the world's best trained Infantry Soldiers and adaptive leaders imbued with the "Warrior Ethos". To act as a power projection platform capable of deploying and redeploying Soldiers, to include Reservists and National Guard, and civilians, to anywhere in the world on short notice. To define Infantry requirements for material developers to meet the needs of the future force.
Fort Benning is located in SW Georgia. The Alabama State line is just to the west across the Chattahoochee River. It is located at the south end of the city of Columbus. It is located approximately 100 miles south of Atlanta Hartsfield International Airport.

From Hartsfield International, take ramp (left) onto I-285/Atlanta Airport/Montgomery
At Exit 61, turn Right onto Ramp towards I-85/Atlanta/Montgomery
Take ramp left onto I-85 towards I-85/Columbus/Montgomery
At exit 21 take ramp (right) onto I-185 towards I-185 Columbus

Fort Benning is directly at the end of I-185 South.
Main Address and number:
7117 Baltzell Avenue
Building 7
Fort Benning, GA 31905
Phone 706-545-4043 / 706-545-5516
Phone (DSN) 312-835-4043
Fax 706-545-2545
Fax (DSN) 312-835-2545
Directions to Fort Benning
Fort Benning is located in SW Georgia, in what is fondly called the Tri-Community. This consists of Fort Benning; Columbus, Georgia and Phenix City, Alabama. Alabama's capital, Montgomery, and Georgia's capital, Atlanta are both only an hour and a half away. Fort Benning is also only a few hours' drive from Florida's Gulf shores and the mountains of North Georgia.
From Hartsfield International Airport
Take ramp (left) onto I-285/Atlanta Airport/Montgomery
At Exit 61, turn Right onto Ramp towards I-85/Atlanta/Montgomery
Take ramp left onto I-85 towards I-85/Columbus/Montgomery
At exit 21 take ramp (right) onto I-185 towards I-185 Columbus
Fort Benning is directly at the end of I-185 South
From Savannah International Airport
Head east on Airways Ave toward Ida J Gadsen Dr
Make a U-turn at Ida J Gadsen Dr
Turn left onto the I-95/GA-405 ramp
Merge onto I-95 S
Take exit 99B to merge onto I-16 W toward Macon
Take the exit on the left onto I-75 S toward Valdosta
Take exit 162 for Eisenhower Pkwy/US-80/GA-22
Turn right at Eisenhower Pkwy/GA-22/US-80
Continue to follow GA-22/US-80
Turn left at GA-22/GA-3/US-19 S/US-80
Turn right toward GA-22/US-80
Turn right at GA-22/US-80
Turn left at GA-22/GA-41/US-80
Turn right at Columbus Hwy/GA-22/GA-41/US-80
Continue to follow GA-22/US-80
Take the US-27 Alt/GA-85 ramp to Columbus
Merge onto GA-85 S/US-27 S
Take the ramp onto GA-411 S/I-185 S
Continue to follow I-185 S
From Montgomery Alabama Regional Airport
South on Tower Rd toward Tower Rd
Turn right to stay on Tower Rd
Turn right to stay on Tower Rd
Turn right at Felder Rd
Turn right at AL-21/AL-8/Selma-Mobile Hwy/US-80
Continue to follow AL-8/US-80
Take the ramp onto AL-8 E/I-65 N/US-80 E
Continue to follow I-65 N
Take exit 171 to merge onto I-85 N toward Atlanta
Take exit 62 for US-431/US-280 toward Opelika/Phenix City 0.2 mi
Keep right at the fork to continue toward AL-1/Columbus Pkwy/US-280 E/US-431 and merge onto AL-1/Columbus Pkwy/US-280 E/US-431
Continue to follow US-280 E
Entering Georgia
Take the ramp onto I-185 S
Follow I-185