Base History \ Arrival
---
Naval Station Everett (NSE) is located 25 miles north of Seattle and nestled between the sparkling blue waters of Puget Sound and the rugged, snow-capped peaks of the Cascade. Ideally situated for exploring the entire Pacific Northwest, a little under 100 miles south of Vancouver, and a short ferry ride from the San Juan Islands or Olympic Peninsula. We have some of the most spectacularly beautiful scenery, forests, and mountain wildlife sanctuaries in the United States with unlimited opportunities for outdoor enthusiasts. Naval Station Everett's close proximity to Seattle offers service members and their families an opportunity to visit Pike Place Market, Pioneer Square, and the world famous Seattle Space Needle.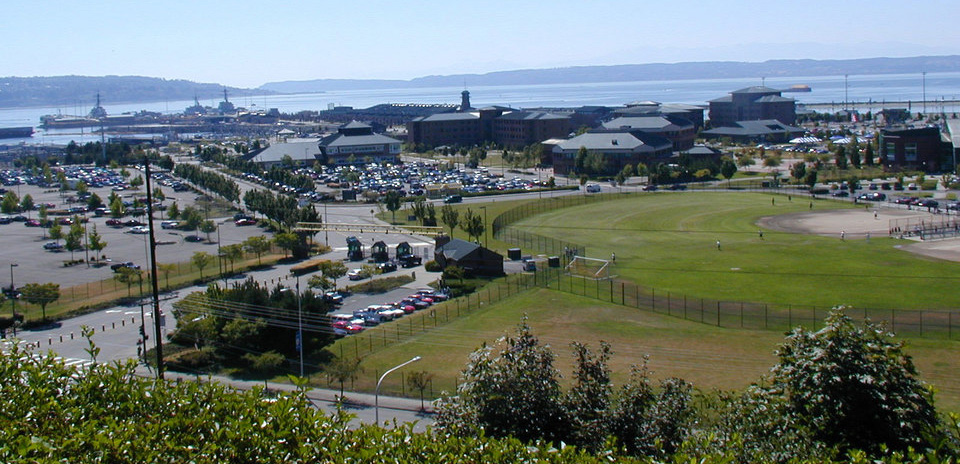 Eleven miles north of NSE is the Navy Support Complex where you will find Fleet and Family Support Center (FFSC), Child Development Center, Commissary, Navy Exchange, Navy Federal Credit Union, Navy Marine Corps Relief Society, Navy Gateway Inn and Suites, and the Navy Lodge. Contact the base quarterdeck at 425-304-3366 for phone numbers.
History
Everett's history began in 1983, when the Secretary of the Navy first proposed a new Puget Sound area naval base as part of the Strategic Homeport concept. In November 1987, the official ground breaking ceremony took place. In June 1992, three U.S. Navy ships participated in the formal opening of the new pier. In January 1994, personnel from Naval Station Puget Sound began the transition to the recently completed Fleet Support and Administration building and officially began operations at Naval Station Everett.
Mission
The mission of Naval Station Everett is to provide essential maintenance, quality of life services, and operational and material support to tenant activities and U. S. Navy Operation Forces.
Population Served
There are about 6,000 Sailors and Civil Service personnel assigned to commands located at Naval Station Everett. The Naval Station itself has about 450 Sailors and Civilians assigned.
Directions
Directions to Naval Station Everett
Heading North from Interstate 5
Take exit 193 (WA/Pacific Ave) towards Civic Center. Head east on Pacific towards West Marine View Drive. Turn right and continue for approximately 1.1 miles on West Marine View Drive. You will see Naval Station Everett Main Gate on your left. Vistor Control Center is located directly to your right prior to entering the gate.
Heading South on Interstate 5
Merge right, onto WA-529 S via EXIT 198 toward N. BROADWAY/PORT OF EVERETT. Continue on for 2.3 miles and take the right off-ramp for E. MARINE VIEW DRIVE / PORT OF EVERETT. Keep left and turn left at the traffic light to go on West MARINE VIEW DR toward the Port of Everett. Stay on West Marine View Drive for 2.6 miles. The Naval Station Everett Main Gate will be on your right.
Directions to Smokey Point Navy Support Complex
From Seattle (heading North on Interstate 5)
Take I-5 north to exit 202 and turn right (east). Turn left on to State Avenue, following it to 136th street, turn right. Follow 136th street ½ mile and turn left on to 45th Ave NE. Smokey Point Complex will be on your left.
From Bellingham (heading South on Interstate 5)
Take I-5 south to exit 206. Turn left and follow to Smokey Point Blvd. Turn right onto Smokey Point Blvd. Proceed 2 miles to 136th street, turn left. Follow 136th street ½ mile and turn left on to 45th Ave NE.Smokey Point Complex will be on your left.