Base History \ Arrival
---
Joint Base Lewis-McChord is near the city of Lakewood, 10 minutes from Tacoma and 20 minutes from Olympia, the state capitol. JBLM is situated in a key location along Interstate 5, allowing easy access to Sea-Tac Airport and to the deep water ports of Tacoma and Seattle. Although the Army and Air Force missions have changed over the years, one thing has not changed—the natural setting of the base. On a clear day, majestic Mount Rainier looms on the horizon, towering over the other peaks of the Cascade Range. From the mountains to the deep waters of Puget Sound and the Pacific Ocean, the local areas abound in natural beauty and outdoor recreation opportunities. Camping, hunting,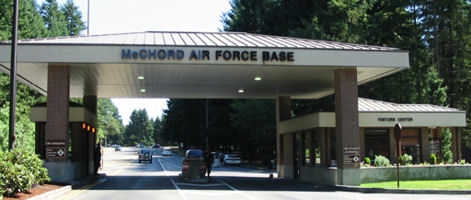 fishing, hiking, boating and now sports are a way of life in Washington State. The base operator's phone number is 253-967-1110 or DSN 312-357-1110. There is no operator service at JBLM, it is fully automated.
History
The consolidation of Fort Lewis and McChord Air Force base began operation as a Joint Base in January 2010. We are one of 12 new joint bases created by the 2005 Base Realignment and Closing Commission. The new joint base has 93 years of service history and is the oldest military installation in the Pacific Northwest. Camp Lewis was established in 1917. In 1947, the U.S. Air Force became a separate branch of the Armed Forces.
Mission
Joint Base Lewis-McChord is a training and mobilization center for all services and is the only Army power-projection platform west of the Rockies. Its key geographic location provides rapid access to the deep-water ports of Tacoma, Olympia and Seattle for deploying equipment. Units can be deployed from JBLM-McChord Field, and individuals and small groups can also use nearby Sea-Tac Airport. The strategic location of the base provides Air Force units with the ability to conduct combat and humanitarian airlift to any location in the world with the C-17A Globemaster III, the newest, most flexible cargo aircraft in the force.
Directions

Traveling by Car, Train or Bus
Lewis-Main (Joint Base Lewis-McChord), is located in the Pacific Northwest. It is 45 miles south of Seattle on Interstate 5. If you are driving, you should have no trouble finding Lewis Main. Interstate 5 divides the JBLM installations; Exit 120 will take you to the main gate, which is open 24 hours a day. If you arrive by train, Tacoma is the stop nearest to base.
Taxi and bus service are available from the station. Those traveling by bus can make connections directly to JBLM.
Report to Waller Hall in-processing at 2140 Liggett Avenue.
McChord- If you are traveling by air, you will land at Seattle-Tacoma International Airport (commonly known as Sea-Tac). If you have a sponsor, he/she may be able to meet you at the airport. Rental car agencies are available at the airport. If you are driving from the airport, you will need to access I-5 head south going toward Tacoma. Stay on I-5 until you reach Exit 125 for McChord Field and Bridgeport Way. Turn left at the end of the on-ramp onto Bridgeport Way SW and proceed approximately 1/4 mile to the Main Gate. If you are driving a rental car, you will need to stop at the Visitor's Center on the left as you enter McChord to obtain a temporary/visitor's pass for the vehicle. Be sure you have the vehicle registration and rental agreement, as well as your driver's license handy.
To reach billeting (Evergreen Inn), continue straight on this road (Col Joe Jackson Blvd) and at the traffic light, turn left into Barnes Blvd. Continue on this road about 1/2 mile (you will pass the McChord Collocated Club, running track on your left; the POV car wash and Hobby Shop at your right). After the stop lights, the Evergreen Inn office (billeting) is on the left-hand side of Barnes Blvd.
Air Transportation
If you arrive by commercial airline, information and assistance are available at the USO open 24 hours on the second floor in the Seattle-Tacoma (SEA-TAC) International Airport. There is no airport in Tacoma, it is the SEA/TAC located between the two cities. Shuttle service is available from the airport directly to Waller Hall Welcome Center at Lewis Main. While awaiting transportation, you and your family may relax in the USO lounge.
Shuttle Service
The Airporter Shuttle Service is available and it will bring you to Lewis Main Waller Hall (Bldg 2140), Lodge (Bldg 2111), Madigan Hospital (Nursing Tower) or AMC Terminal, Evergreen Lodging or Visitor Center at McChord Field. Reservations are not taken from SEA-TAC. However, round trip ticket holders are boarded first. From SEA-TAC, passengers will be picked up at main terminal baggage level door #00.
The phone number is 360-754-7113, leaving SEA-TAC (be at south end, baggage level, Door #00 at least 15 minutes prior to scheduled departure time) 6:00; 11:00 1:30; 4:00; 6:00; 9:00; 11:30 p.m. There is also a ticket counter on this floor.
Please Note: In Washington, all children age 3 and under are required to use safety seats, with children age 1 and under sitting in rear-facing seats. Car seats should be placed in the rear of the vehicle unless it is impossible, as with trucks. Under no circumstances, however, should rear-facing seats be used in the front when there are air bags.
Base Access
Joint Base Lewis-McChord is a closed base. In order to gain access you must have a valid identification. To register vehicles a current driver's license, proof of insurance, and vehicle registration will be needed. If you are driving a rental car, proceed directly to the gate and be prepared to show valid identification credentials and rental car documents.