Base History \ Arrival
---
Joint Base Elmendorf-Richardson
History
The military's long and important history in the Great Land began at the very moment Alaska became American soil, Oct. 18, 1867. Elements of the Army's 9th Infantry were on hand as the Russian Golden Eagle was lowered and the Stars and Stripes was raised in Sitka, which became headquarters for the U.S. Military District, Alaska. The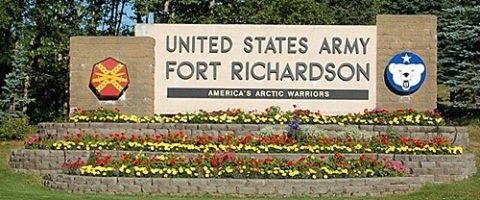 military has had a presence, even if very small at times, ever since. Fort Richardson, named for Wilds P. Richardson, was built in 1940-1941 near Anchorage. Construction of the base began on June 8, 1940. The first Army Air Corps personnel arrived on Aug. 12, 1940, led by Maj. Everett S. Davis. On Nov. 12, 1940, the War Department formally designated the installation Fort Richardson. The air facilities and flying field on the post were named Elmendorf Field in honor of Capt. Hugh M. Elmendorf. In 1947 the Army planned to move its operations to a new site named Fort Richardson, adjacent to the WWII installation. The Air Force assumed control of the original Fort Richardson and re-named it Elmendorf Air Force Base. The two installations combined in October 2010 and became Joint Base Elmendorf-Richardson. If you are looking for a more thorough history, please visit the JBER homepage.
Location
Joint Base Elmendorf-Richardson (JBER), adjacent to Anchorage, is the largest installation in Alaska and home of the Air Force's Headquarters, Alaskan Command (ALCOM); Alaskan NORAD Region (ANR); Eleventh Air Force (11 AF); and the 3rd Wing (3 WG), as well as the Army's U.S. Army Alaska (USARAK); the 4th Brigade Combat Team (Airborne), 25th Infantry Division (4-25th ABCT); and the 2d Engineer Brigade (2rd EngBde).
If you are on assignment with the U.S. Air Force and have not been contacted by your sponsor, please call Base INTRO at 907-552-8722 for assistance. Upon arrival to the base, you must in-process no later than the next duty day at 0800. Base INTRO is located in the People Center, Bldg 8517 20th Street, Rm 118. They are open Monday - Friday.
Base Operator
The base operator's phone number is 907-384-1110, DSN 317-384-1110.