Base History \ Arrival
---
Location
Seymour Johnson AFB is located in the southeast section of Goldsboro, North Carolina in the middle of Wayne County. The base occupies 3,300 acres. Goldsboro is a medium sized town with a moderate cost of living. It is surrounded mainly by smaller farming communities producing cotton, tobacco, wheat, corn, chickens and pigs. That could be one of the reasons that Goldsboro and the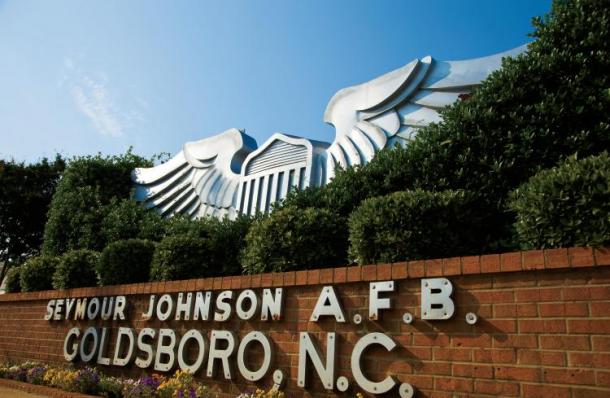 entire state is known for its world famous North Carolina BBQ. The local community is a huge supporter of our military members and their families.
History
One of the Air Forces most distinguished fighter wings, the 4th Fighter Wing was born in the hearts of the Royal Air Force Eagle Squadrons volunteers who fought for England against the Nazis even before the United States entered World War II. In September 1942 the Eagle Squadrons became the 4th Fighter Group, which destroyed 1,016 German planes, more than any group in history. In the Korean War the 4th Fighter Interceptor Wing destroyed more enemy MiGs than the entire rest of the US Air Force combined. Since that time, through Vietnam, DESERT STORM and our wars of today, the 4th Fighter Wing has been the tip of the spear aimed at America's enemies. On June 2, 2011 the 4th Fighter Wing was awarded the first ever James "Jimmy" Doolittle Award for outstanding heritage by the Air Force Historical Foundation. Seymour Johnson Field, named after Goldsboro native and Naval Aviator hero Lt. Seymour Johnson, was activated in June 1942, and was deactivated in May 1946. Community leaders, led by Goldsboro Mayor Scott B. Berkeley, Sr., were successful in their campaign to reactivate the base in 1956. Seymour Johnson Air Force Base became active as a Tactical Air Command base, and has been an active Air Combat Command (ACC) base since the Air Force's reorganization in June 1992. The 4th Fighter Wing was redesignated 4th Tactical Fighter Wing in July 1958; 4th Wing in April 1991; and 4th Fighter Wing in December 1995.
Mission
The 4th Fighter Wing is the host unit at Seymour Johnson Air Force Base, and accomplishes its training and operational missions with F-15E Strike Eagles. Two of the wings' four fighter squadrons are operational units, capable of deploying world-wide on short notice and immediately generating combat power. The other two squadrons are responsible for training all F-15E aircrews for the Air Force. The 916th ARW, a tenant unit at Seymour, is an Air Force Reserve Command Wing under Air Mobility Command. It is assigned 10 KC-135R Stratotankers.
Population Served
Seymour Johnson currently has over 530 active duty officers, and over 3, 800 enlisted members and their families stationed here. The base also employs over 1,000 civilian employees plus numerous contractors. The city of Goldsboro has a population of over 37,639, while the county has a population of over 112,000 and continues to grow everyday.
Sponsorship
If you are within 30 days of relocating to Seymour Johnson and have requested a sponsor but have not been contacted by him/her, or you've received a short-notice assignment, please contact your Unit INTRO Monitor or our servicing Military Personnel Section at 919-722-8686, immediately. All single first term airmen having difficulty contacting a sponsor should contact our Airman Dormitory Leaders (ADL) during normal duty hours (7:30 a.m. - 4:30 p.m. Tues, Thurs, and 9:00 a.m. - 4:30 p.m. Mon, Wed, Fri) at 919-722-7482/7483/7485/7487 so they can verify your arrival date and start planning for your dorm room assignment. If you arrive station without sponsorship after hours, weekend, or holiday, you may contact the CE Service Call Desk at 919-722-5139. The 24/7 service will contact a ADL to assist you with a Hospitality Room in the dormitory until your permanent room is ready for occupancy.
For those who want a temporary mailing address, General Delivery Address procedures are as follows: include Your Name, General Delivery, PSC Box 2000, Seymour Johnson AFB, NC 27531 (located on Wright Brothers Ave., Building 3621).
Directions
Airports
For those arriving by air, the nearest airport is Kinston, North Carolina, which is 28 miles east of Seymour Johnson Air Force Base. The Raleigh-Durham International Airport (RDU) is located about 70 miles west of the base. Commercial transportation from both terminals is available at a cost: approximately $120.00 for a taxi or limousine service.
USO Facilities at Raleigh-Durham International Airport
The Raleigh-Durham International Airport also has a USO facility for armed forced personnel and their families. Located at the northern end of Terminal 2, the USO provides a safe, inviting atmosphere where one can enjoy a free snack, relax while watching TV, surf the internet, or just pass the time playing cards while waiting for ground transportation to Seymour Johnson AFB. Limousine Service Limousine service that provides transportation from Raleigh Durham International Airport to Seymour Johnson AFB is Starlight Limousines, Inc. They can be reached at 252-566-3100. Because of the high cost of ground transportation, it is highly recommended that you coordinate with your sponsor and arrange for them to meet you at the airport and transport you to SJAFB.
Driving from Raleigh/Durham Airport
If you are driving from the Raleigh/Durham airport, take Interstate 40 East for approximately 10 miles. Stay in the left lane and exit onto Interstate 440 East, Goldsboro. Then exit onto Highway 70 East to Goldsboro. Once into Goldsboro, take the exit to Seymour Johnson AFB (still on Hwy 70 East), then exit at the Seymour Johnson/Snow Hill exit. This will take onto Berkeley Boulevard, which will lead you directly into the Main Gate of the base. The Welcome Center is on the right, just outside the gate.
Driving from Kinston Jetport
If you are driving from the Kinston Jetport, exit on to Highway 70 West to the Goldsboro exit. This will take you onto Berkeley Boulevard, which will lead you directly into the Main Gate of the Base. Again, the Welcome Center is on the right, just outside the gate.
Bus Service
Trailways and Greyhound bus lines also offer service to Goldsboro. If you have not notified your sponsor to meet you or cannot reach him/her, the following taxicabs will, but the cost is expensive:
Taxi Services

| Company | Phone Number |
| --- | --- |
| Carpool Express | 919-396-1333 |
| City Cab Company | 919-735-2202 |
| GreyHound Bus Line | 919-734-3811 |
| Webb Town Taxi | 919-734-9444 |
Note: It is recommended that you download driving directions via the web prior to arrival; this will lessen the chances of getting lost. Travel time from airport to SJ AFB is 1.5 hours by car.