Base History \ Arrival
---
U.S. Army Soldier Systems Center (Natick SSC), known locally as the Natick Labs is located in Natick, Massachusetts. Natick is one of the western suburbs of Boston and is approximately 18 miles from downtown. The installation is primarily a research laboratory and is very small; the installation itself is about seventy eight acres. Government housing is offered at a reasonable cost when available. At SSC, you will work near Boston, a metropolitan area that offers plenty of sports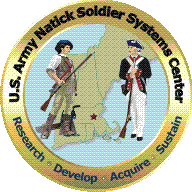 and entertainment. Boston is home to the Red Sox, Patriots, Celtics and Bruins. It is also home to the world famous Boston Pops Orchestra and many Revolutionary War battlefields. Also, less than 3 miles away you can find the Natick Collection, the largest mall in New England, a world-class retail and restaurant destination with 200 of the finest retail stores. The base operator's phone number is 508-233-4001.
History
Construction of the Quartermaster Research Facility at Natick, authorized by Congress in October 1949, began in November 1952. In November 1962, the QREC was redesignated as Natick Laboratories and the following year the Food and Container Institute moved to Natick. Natick Laboratories became a subordinate element to the Troop Support Command in July 1973 and was redesignated two years later as the U.S. Army Natick Development Center and reassigned to the U.S. Army Materiel Command (AMC). In September 1980, the NRDC was redesignated as the U.S. Army Natick Research & Development Laboratories and three years later as the U.S. Army Natick Research and Development Center, a subordinate element of the U.S. Army Troop Support Command in St. Louis, Missouri. In October 1992, the NRDC was redesignated the U.S. Army Natick Soldier Research, Development and Engineering Center (its current name), still a subordinate element of the ATC. A U.S. Army Soldier Systems Command (SSC) was activated at Natick in November 1994. Then in October 1998 the installation was renamed the United States Army Soldier Systems Center.
Mission
The U.S. Army Natick Soldier Systems Center (NSSC) is a Department of Defense (DoD) installation with the mission to protect and sustain America's military forces. NSSC is responsible for the technology, research, development, engineering, fielding, and sustainment of our military's food, clothing, shelters, airdrop systems, and Soldier support items. NSSC also has the lead for Soldier integration for the U.S. Army.
Population
Natick Soldier Systems Center employs approximately 120 active duty, 2,000 federal civil servants, and 250 civilian contractors.