Base History \ Arrival
---
Location
Offutt Air Force Base is ten miles south of downtown Omaha. Offutt is located in Bellevue, in Sarpy County, Nebraska, just six miles south of Interstate 80, just off US Hwy 75, the Kennedy Freeway, at the Intersection of Capehart Rd and US Hwy 75. This is a low cost of living area and the public schools are wonderful.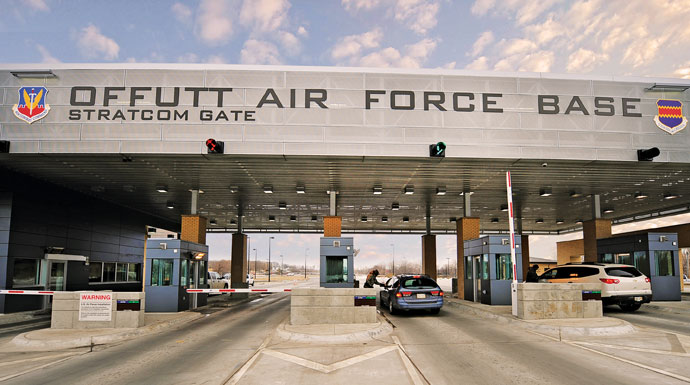 History
Offutt's heritage began with the construction of Fort Crook, an Army outpost, which was completed in 1896, and named for Major General George Crook, a renowned Indian fighter and Civil War hero. In the spring of 1921, a flying field was created and designated as Offutt Field in May 1924 in honor of 1st Lt Jarvis J. Offutt, Omaha's first World War I air casualty. In late 1940, Fort Crook was chosen as the site for a bomber construction plant which produced a total of 531 B-29 Superfortresses and 1,585 B-26 Marauders before the end of World War II. These included the Enola Gay and Bock's Car, the two B-29s that dropped atomic bombs in Japan. Production ended in September 1945. In June 1946, Fort Crook and the bomber plant facilities were redesignated as Offutt Field and transferred to the Department of the Air Force on January 13, 1948, to become Offutt Air Force Base. Offutt became the host base for Headquarters Strategic Air Command on November 9, 1948. The Strategic Air Command was disestablished June 1, 1992 and the new, unified command, US Strategic Command was activated. The command of this joint headquarters is rotated between Air Force and Navy. At the time Strategic Air Command was disestablished, Offutt AFB became part of the Air Combat Command.
Mission
Offutt AFB provides worldwide reconnaissance, command and control, and combat support critical to warfighting commanders and national leadership.
Population Served
| Population | Number Assigned |
| --- | --- |
| Military | 8,855 |
| Dependents | 9,744 |
| DoD Civilians | 2,957 |
| Other Civilians | 1,742 |
| Retirees in Area | 10,639 |
Base Transportation
Offutt AFB offers a base shuttle bus that will allow you to get near most work locations on the base. The base shuttle runs Monday through Friday excluding holidays, weekends, and 55th Wing productivity days. The bus runs the route in a continuous cycle on the hour and half hour. During exercises, shuttle bus route will run as mission permits during the following hours only: 6:00-8:00 am, 11:00 am - 1:00 pm, and 3:00-7:00 pm.
Sponsorship
Meet your sponsor at the Offutt Welcome Center if you arrive during business hours. If you want to have mail forwarded to you at Offutt, you can use the following address: (Your Rank and Name), 110 Airman Circle Ste 99999 Offutt AFB, NE 68113-2070. Contact your gaining unit to be assigned a sponsor prior to your arrival.
Directions to Offutt AFB
Offutt AFB no longer requires base stickers for privately owned vehicles (POVs). The driver must show a current ID card when entering the base, and must be able to produce current registration and proof of insurance for the vehicle if asked.
Driving from the East, West, or North
Take Interstate 80 to US Highway 75 South, the Kennedy Freeway to Bellevue. To enter the Kenney Gate, go south approximately six miles and exit at Nebraska Highway 370. Turn left and go under the overpass to the second exit (Offutt AFB/Ft Crook Rd). Turn right off the exit, get into the left lane and turn into the Kenney Gate (with all the flags).
To enter the SAC Gate, go south approximately seven miles and exit at Offutt AFB/Capehart Rd. Turn left. The SAC Gate is straight ahead approximately one mile. The Visitor's Center is at the SAC gate.
Driving from the South
From the south, exit Interstate 29 at exit number 42 in Iowa, and turn west on Iowa Highway 370. Go four miles. Cross the Bellevue Toll Bridge (toll is $1.00 one way). Continue straight on Nebraska Highway 370 (Mission Blvd). At the 4th stoplight (Lincoln Rd), turn left and enter the base straight ahead. This is the Bellevue Gate.
Airports
Arriving by Air
Omaha is served by Eppley Air Field, which lies north of the downtown area. If you are renting a car and driving to Offutt, head south of Abbot Drive and follow the signs to I 480 East. Once you enter I 480 East, stay to the far right for about 1 mile across the river and exit onto I 29 South toward Kansas City. Again stay to the right for about 1½ miles and exit onto I-80 West. After crossing the river again, go about 2 miles and follow the signs to US 75 South toward Bellevue. Then follow directions above to the Kenney or SAC gates of Offutt AFB. There is no public transportation or shuttle service from the airport to the base. There are taxis you can take, however.