Base History \ Arrival
---
Naval Air Station Joint Reserve Base (NASJRB) Fort Worth, under the operational command of the Commander, Naval Installations, is a joint defense facility which plays a pivotal role in the training and equipping of air crews and aviation ground support personnel.
The installation is located within the city limits of Fort Worth, Texas. Fort Worth is part of Dallas/Fort Worth. According to the North Central Texas Congress of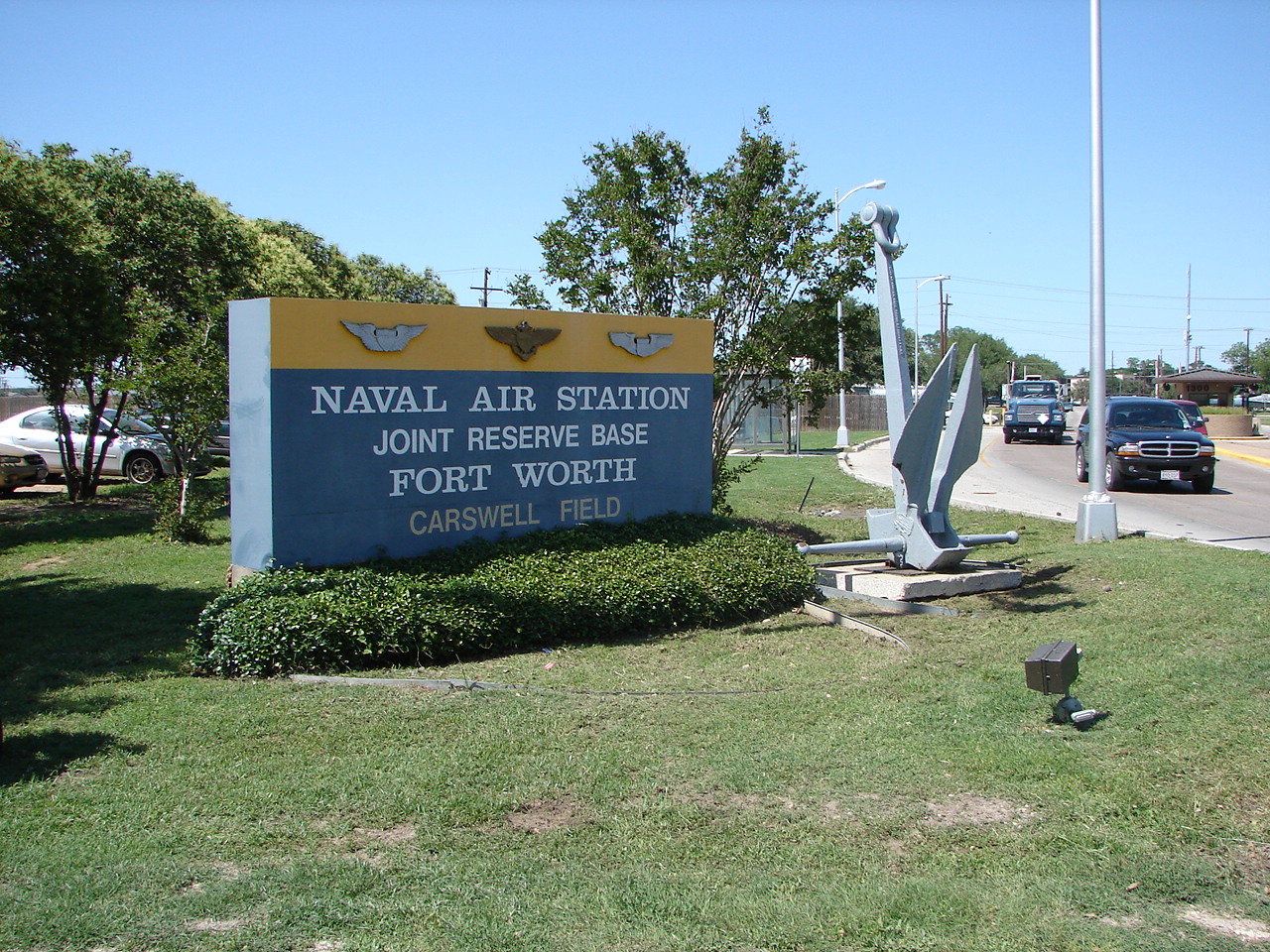 Governments, The Dallas-Fort Worth area is the 4th largest urbanized area in the United States and the 12th largest economy in the world. There are over 3.4 million jobs within this 12 county area. NAS Fort Worth JRB employs over 11,000 active, reserve, and civilian personnel and generates a $1.3 billion annual impact to the local economy and the North Central Texas region. NAS JRB Fort Worth is located seven miles North/Northwest of downtown Fort Worth.
Dallas is the third-largest city in the state of Texas and the ninth-largest in the United States. Dallas is one of 11 U.S. global cities as it is ranked "Gamma World City" by the Globalization and World Cities Study Group & Network. The base operator's phone number is 817-782-5000 or DSN 312-739-5000.
History
As part of the Base Realignment and Closure of 1993, Naval Air Station Dallas was relocated to the previous site of Carswell Air Force Base, Fort Worth, Texas. The new base is named NAS Fort Worth, Joint Reserve Base (JRB) at Carswell Field.
The base originated in 1941, as Tarrant Field Airdrome. The airdrome became Fort Worth Army Air Field on January 2, 1942, following the attack on Pearl Harbor. The airfield was renamed Carswell Air Force Base in 1948, to honor Fort Worth native Major Horace S. Carswell, Jr.Carswell was one of the first Strategic Air Command bases and was also the site for filming the James Stewart classic "Strategic Air Command."
Under BRAC '93, a new concept of joint reserve operations began. Naval Air Station, Dallas and its tenants along with units from Naval Air Station Glenview and Memphis were relocated to Carswell Field. On October 1, 1994, the Navy became the host command of Naval Air Station Joint Reserve Base, Fort Worth. For more information please visit ourhomepage.
Mission
The Navy Fort Worth "team" ensures that reservists receive quality training in preparation for mobilization readiness. The Joint Base serves the reservists, active duty tenants, and surrounding communities while accomplishing its primary purpose of defense readiness for America. Our primary responsibility is to train and equip air crews and aviation ground support personnel in preparation for Deployment.
Population Served
Active Duty Officers: 275 (Navy, Marine)
Active Duty Enlisted: 3000 (Navy, Marine, Army, Air Foce)
Family Members: 8,000 (estimated active duty & retiree)
Family Members of Deployed Reservist 2,500 plus
Retirees: 145,000 (estimated)
Civilian Employees: 662 (DON, Dept. of the Air Force, contractor)
Navy, Marine, Air Force Reserve, Army Reserve & National Guard Officers: 650
Navy, Marine, Air Force Reserve, Army Reserve & National Guard Enlisted: 5,500
Air Force Air Reserve Technicians, full time: 200
Driving Directions to NAS JRB Fort Worth
NAS JRB Fort Worth is located West of Fort Worth proper near the intersection of State Highway 183 and Interstate 30. For Internet or GPS directions, map the address to Visitor Control Center at Main Gate: 1303 Pumphrey Drive, Fort Worth, TX 7611.
Airports
From Dallas/Fort Worth International Airport:
Exit the airport from the south exit.
Take ramp onto TX-183 West towards Fort Worth - go 10.7 mi
Continue on I-820 South - go 0.7 mi
Take left fork onto TX-121 South toward Downtown Fort Worth - go 7.1 mi
Take the I-35W (South) left exit toward Waco - go 0.7 mi
Take exit #51 onto I-30 West towards Abilene - go 7.6 mi
Take exit #7B TX-341-Spur TX-183 West - go 0.4 mi
Continue on Alta Mere Drive - go 1.7 mi
Bare right immediately after the Quick Trip (QT) gas station, and continue on Pumphrey Drive toward the Main Gate.