Base History \ Arrival
---
Fort Detrick is located in Frederick, Maryland, in the heart of Frederick County, the third fastest growing county in Maryland. Fort Detrick is the center of the biomedical technology growth that has occurred in the county. Frederick is situated to the West of Baltimore, MD, (46 miles) and Washington, DC, (45 miles). It adjoins Virginia, West Virginia and Pennsylvania. The base operator's phone number is 301-619-8000 or DSN 312-343-8000.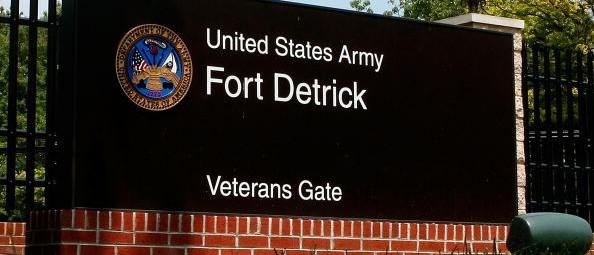 History

The first military presence at Fort Detrick was the 1930s encampment of the 104th Aero Squadron of the Maryland National Guard. It was named Camp Detrick to honor Squadron Surgeon Maj. Frederick L. Detrick who served in France during World War I. The U.S. Biological Laboratories were established at Detrick Field in 1943, achieving pioneering efforts in decontamination, gaseous sterilization, and agent purification. In 1956, Fort Detrick continued its mission of biomedical research. The installation has matured as a center for advanced biomedical research and development, medical materiel management, and long-haul telecommunications for the White House, Department of Defense and other governmental agencies. For more information, go to the Fort Detrick homepage.
Mission
Fort Detrick is a U.S. Army Medical Research and Material Command installation supporting a multi-governmental community that conducts biomedical research and development, medical material management, worldwide communications, and the study of foreign plant pathogens.
Population Served
Each branch of the U.S. military is represented among approximately 7,800 military, federal, and contractor employees assigned here.
1495 Veterans' Way
Fort Detrick, MD 21702
Phone 301-619-2197
Phone (DSN) 312-343-2197
Fax 301-619-6288 (ACS)
Fax (DSN) 312-343-6288
Directions
Airport
If arriving to Ft. Detrick by air, you will land at one of three different airports: Baltimore/Washington International (BWI) (55 miles); Washington Dulles International (IAD) (45 miles); Reagan National (DCA) (54 miles).
If traveling to Ft. Detrick by bus, shuttle or taxi: There are many civilian Airport Shuttle Services which offer 24 hour door-to-door transportation from BWI, National, and Dulles Airports to Frederick/Fort Detrick. Cost is ranges from $60 - $125 for 1 person and $10-$15 for each additional person. A 24 hour advance notice is recommended (although shuttles are available without 24 hour notice) at the following pick-up areas: outside the baggage claim area at BWI and DCA. At IAD it is at 2F, outside in the parking lot. They accept cash and major credit cards.
Bus Service
A Greyhound bus departs Dulles at 11:20 a.m. and arrives at 3:40 p.m. with the fee around $30. Travellers arriving at DCA have the option of either taking the Greyhound bus departing at 9:55 a.m. and arriving at 12:55 p.m. or taking the bus that departs at 12:40 p.m. and arrives at 3:40 p.m.; both rides cost about $30. There are no bus stops at BWI.
Taxi Service
Civilian taxi service is available to a variety of local areas. Fares for trips from airports to Fort Detrick are expensive and can range from $100 and up.
USO Locations
USO Locations & Operation Hours: USO International Gateway Lounge, BWI Airport, lower level. Hours 9:00 a.m.-10:00 p.m. USO Ronald Reagan National Airport, Terminal A, upper level. Hours 9:00 a.m. - 5:00 p.m.
Rail Transportation
MARC train departs Airports to Union Station and costs approximately $10. Upon arrival at Union Station take the Brunswick Line to Frederick which costs $7. Note: There are only three trains that leave Union Station for Frederick. The times are: 4:05 p.m., 5:10 p.m. and 6:30 p.m.
Driving Directions
Directions from Baltimore: Take I-70 West to Frederick, Follow signs to Route 15 North, Exit 53A, Take the 7th Street Exit, Follow signs to 7th Street Veteran's Gate (open 24/7).
Directions from Washington: Take I-270 North to Frederick, where it merges with U.S. Route 15 North, Take the 7th Street Exit, Follow the signs to the 7th Street Veteran's Gate (open 24/7).
Base Access
Fort Detrick is a closed post. If you do not have a CAC Card, you must enter at the Old Farm Gate. You must have your ID card,driver's license, POV registration, and proof of POV insurance. Follow the gate guard's instructions after entering the installation