Base History \ Arrival
---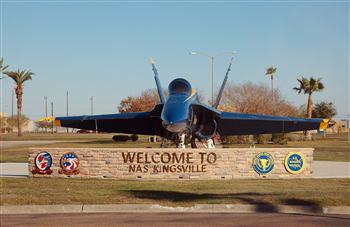 Naval Air Station Kingsville is located in Kleberg County, Texas, about 2 miles east of Kingsville in the south gulf coastal plains. The cost-of-living is low. It is about 45 miles from Corpus Christi and NAS Corpus Christi and is the home of King Ranch, once the largest ranch in the world. There is no base operator at NAS Kingsville. For information contact the Fleet and Family Support Center at 361-516-6333 or DSN 312-876-6333.
History
The field at Kingsville opened as NAAS July 4, 1942, as a training site for fighter/bomber tactics. It was placed in caretaker status 1946-51. Kingsville became an all jet training base in 1960, and was designated NAS in 1968. For more information see NASKhomepage.
Mission
The Naval Air Station's primary mission is to train tactical jet pilots for the United States Navy and Marine Corps.
Population Served
Approximately 1,455 people are now stationed at NAS Kingsville: 612 military members, including 153 student aviators and 843 civilians. Kingsville is also the nearest military base to the Texas Rio Grande Valley with up to 25,000 retirees.
Directions to NAS Kingsville
Kingsville is about 45 miles south of Corpus Christi in South Texas on Highway 77. Once in Kingsville, take the Carlos Truan exit. The front gate is about 2 miles east.
Airports
If you are arriving in at the Corpus Christi International Airport, contact the Command Duty Officer (CDO) at 361-438-6938 for transportation to the station. If the CDO reports military transportation is not available from Corpus Christi International Airport, a taxi to Kingsville will cost approximately $99.00 and is reimbursable on your PCS travel claim.
Summary: 35 miles (40 minutes)
Directions from Airport
Mile Instruction
0.0 Depart Airport Short Term Parking
0.4 Bear LEFT (North) onto International Dr
0.8 Bear LEFT (West) onto Agnes St
1.1 Take Ramp (LEFT) onto SR-44
10.2 Turn LEFT (South) onto TX-44 E
10.2 Road name changes to US-77 S
10.4 Take Ramp onto US-77
33.7 Exit - Turn LEFT (South-East) onto FM-425 /Carlos Truan Blvd
35.1 Merge onto (E) General Cavazos Blvd
35.7 Arrive at NAS Kingsville
At the Installation Gate
Upon arrival at the Main Gate, have your military or civilian ID card ready (or a current driver's license) to present to the Security Guard. Military personnel reporting aboard NAS Kingsville or one of its tenant activities will be able to access the base providing they have current military identification and a copy of the orders. Government civilian and contract employees reporting aboard should have a copy of their employment papers handy to present to the gate sentry.
You will also need to have a current driver's license, registration, valid inspection sticker (if required by your home state), and proof of current insurance. Please note that all vehicles entering the installation are subject to random searches for security reasons.