Base History \ Arrival
---
Naval Support Activity Panama City (NSA PC) is located on beautiful St. Andrew Bay in Panama City Beach, Florida. It has direct, deep-water access to the Gulf of Mexico. Panama City Beach provides a perfect location and environment for conducting year-round training, testing and research. The activity totals 657 acres and houses 221 buildings. The base operator's phone number is 850-234-4011.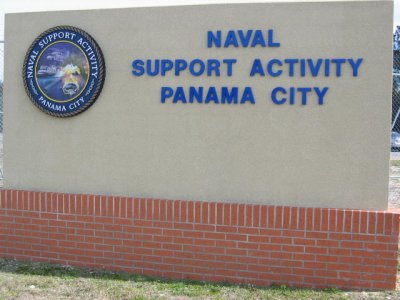 History
On October 1, 2003, the base was renamed Naval Support Activity, Panama City, reporting to the Commander, Navy Region Southeast. The R&D mission workforce was renamed the Naval Surface Warfare Center, Panama City. The primary mission and work areas of the base remained unchanged. For more information please visit Panama City's homepage.
Mission
NSA Panama City exists to enable warfighter readiness. NSA's largest tenant activity is NSWC PC, still one of the major research, development, test and evaluation laboratories of the Navy. NSWC PC boasts a wide base of expertise in engineering and scientific disciplines in the mission areas of mine warfare, expeditionary warfare, special warfare, and diving and life support. NSWC PC and the other three major tenants: the Navy Experimental Diving Unit, the Naval Diving and Salvage Training Center, and the Center for Navy Ordnance Disposal and Diving make the station the consolidated site for all navy diving and salvage research, development, testing, and training.
Currently, NSA PC hosts several project offices, including the Deployable Joint Command and Control System. The Base also hosts many other diverse tenant activities: Explosive Ordnance Disposal Detachment, U.S. Coast Guard, Florida Fish and Wildlife Conservation Commission, Naval Dental Center Branch Dental Clinic, Navy Exchange Branch, Naval Hospital Pensacola Branch Clinic, Naval Criminal Investigative Service, Navy Publication and Printing Service Office, Naval Special Warfare Training Detachment, Personnel Support Detachment, Resident Officer in Charge of Construction, and Veterans Administration Primary Care Clinic.
Population Served
Panama City serves active duty Navy and Coast Guard permanent party personnel and families. In addition, the largest numbers of the Base population are comprised of hundreds of EOD/Diver students.