Base History \ Arrival
---
Meridian Naval Air Station
Naval Air Station, Meridian Mississippi is approximately 15 miles northeast of the city of Meridian, in Lauderdale County, between State Highways 39 and 45. The town of Meridian, Mississippi dates back to the early 1800s and is a charming city with a rich history.
Meridian is a very military-friendly town, and the local community has rallied around NAS Meridian through several rounds of BRAC (Base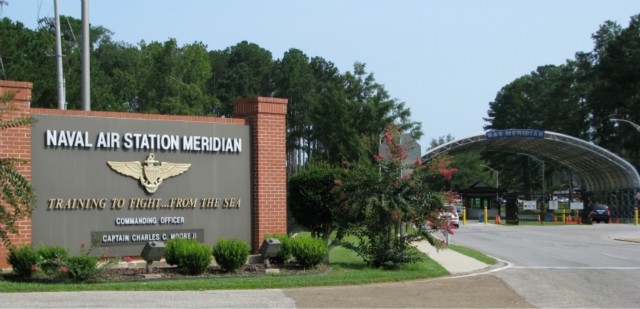 Realignment and Closure), to prevent the base being moved or shut down. NAS leadership maintains a healthy relationship with local community leaders, and organizations such as the Navy League work to support our local military personnel.
Meridian has a diverse population of around 40,000, moderate climate, excellent medical facilities, and low cost of living (2008 cost of living index was 82.6, compared to the national average of 100). Mississippi's crime rate is below the national average, and Meridian has the lowest crime rate in the state. Meridian's location offers easy access to several large, metropolitan areas (including New Orleans, Memphis, Atlanta, Birmingham, Dallas, and the Gulf Coast). The base operator's phone number is 601-679-2211, or DSN 312-637-2211.
History
On July 16, 1957, the first shovel of earth was turned, marking the beginning of the Naval Auxiliary Air Station (NAAS), which was commissioned on July 14, 1961. Captain W.F. Krantz received the golden key to the air station, and senior Mississippi U.S. Senator John C. Stennis was the guest speaker for the ceremony that opened the $60 million base. At that time, the operations area was named McCain Field in honor of the late Admiral John S. McCain of Teoc, Mississippi. Training Squadron SEVEN (VT-7) arrived at NAAS Meridian July 12, 1961, then split to form its sister squadron VT-9. The Naval Auxiliary Air Station continued to grow, and by July 1968, the station became a full Naval Air Station. The years brought an increase in building development and family housing units. In August 1971, Training Air Wing One (CTW-1) was commissioned. The Wing motto became "Readiness for Victory at Sea through Training." That October saw the arrival of the TA-4J, the new advanced jet trainer based on the A-4 "Skyhawk." In April 1973, President Richard M. Nixon accompanied by Senator John C. Stennis and many other high-ranking military and civilian officials, attended the dedication of the new Naval Technical Training Center (NAVTECHTRACEN), known locally as the Stennis Center. It was officially commissioned April 17, 1974. NAS Meridian was selected and upgraded to a Major Shore Command on October 1, 1982. In March 1984, NAS Meridian was one of fifteen installations chosen for the Department of Defense Model Installation Program. Fore more information, please see our homepage.
Mission
We exist to train the warfighter. Naval Air Station Meridian, which supports aviation and technical training, and other tenant activities, accomplishes its mission of enabling warfighter readiness by providing timely, quality services and facilities in an environmentally safe, secure community. Departments working under the NAS Commanding Officer form the backbone for the entire installation's functioning.
Population Served
The total population served is approximately 2,300. There are eight Major Commands, as well as the Naval Operational Support Center (NOSC), and Regional Counterdrug Training Academy (RCTA).
Directions to NAS Meridian
Traveling by Air, Bus and Train
Meridian Regional Airport is located approximately 20 miles from NAS Meridian's main gate. For more information about Meridian Regional Airport, call 601-482-0364 or check theirwebsite. Transportation from the airport to NAS Meridian for "A" school students may be requested from the NTTC Duty Driver (based on availability) - to check availability or arrange for Duty Driver transportation, call 601-679-2414, 601-679-3442, or DSN 312-637-2141. Auto rentals are available from Avis (1-800-831-2847) and Hertz (1-800-654-3131).
Downtown Meridian's Union Station, at 1901 Front Street, is a multi-modal station for Amtrak, Greyhound, and the Meridian Transit Service. For schedules and other information, call 601-483-9417.
Shuttle and Taxi Service
There is no daily bus or shuttle service from the city of Meridian to the Naval Air Station, however, one does run on weekends. Taxis charge approximately $20 for the trip to the base - to arrange for taxi service, call Meridian Cab Company at 601-693-6338.
Driving to NAS Meridian
Arriving by personal vehicle on I-20/59 puts you right in the middle of Meridian. From I-20/59, take Exit 154B. this will bring you to State Highway 39 North out of Meridian. Posted signs will direct you off Highway 39 and down the Stennis Drive access road to the NAS Meridian main gate.
When arriving at NAS Meridian's main gate, you may obtain a base decal or temporary pass at the Pass and Tag Office between 6am and 2:30pm, Monday through Friday. Call 601-679-2509 or see the "Motor Vehicles" section for registration requirements and other information. See the "Check-In Procedures" section for details on reporting procedures for each command.