Registration
---
Information and Referral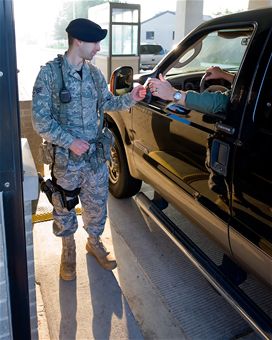 749 New Mexico Avenue
Bldg 788
Holloman AFB, NM 88330
Phone 575-572-7754
Phone (DSN) 312-572-7754
Fax 575-572-7757
Fax (DSN) 312-572-7757
Mon – Fri 7:30 a.m. - 4:30 p.m.
Sat – closed
Sun – closed
Holidays - closed
Base Regulations
Speed Limits
The base speed limit is 30 MPH unless otherwise posted. It is reduced in all housing areas. While driving in parking lots, your speed must be adjusted to ensure safety and never exceed 5 MPH. Driving in school zones is reduced to 15 MPH when children are present or when light is flashing. Pedestrians in crosswalks have the right-of-way. Vehicles must stop until pedestrians have cleared ALL lanes of traffic before proceeding. A good rule of thumb is that their foot is on the curb. Radar Detectors -- Active radar detectors are not allowed on base.
Seat Belts
The use of seat belts and child restraint seats are required on base and throughout the state. Children must be in a restraint seat if under 4 years of age or if weight is 50 pounds or less.
Motorcycles
Military members are required to wear a helmet and brightly colored clothing when operating a motorcycle both on and off the installation. The 49th Wing Safety Office can be contacted for the latest motorcycle requirements including mandatory courses.
RVs/Trailers
If you have a recreational vehicle (RV) or any kind of trailer, you cannot keep it parked in the housing area for longer than 24 hours. This is in accordance with the HAFB housing pamphlet 32-7, AFI 31-204/HAFB Supplement 1 and HAFBI 34-201. The 24 hour limit allows for loading and unloading before and after use. If you want to keep the RV/trailer on base, it must be stored in the RV parking lot located at 5th Street and Arkansas. Spaces are assigned and controlled by Outdoor Recreation at 575-572-5369/7329. Their office is located in Building 234, 661 Delaware Avenue.
Bicycles
Bicycle helmets are mandatory for all people who ride bicycles on Holloman AFB. Bicycles must be equipped with a headlight visible from 500 feet and a rear deflector visible from 300 feet during darkness.
Rollerblades/Skateboards
These are allowed on base but are prohibited on the following major roadways: 1st St., New Mexico Ave., Delaware Ave., Sabre Rd., 49er Ave., Mesquite Rd., Patterson Dr., Arnold Ave., Fairchild Dr. Helmets are required and the use of protective gear (knee and elbow pads) is highly recommended while rollerblading/skateboarding.
Cell Phones/Headphones
Vehicle operators on a DoD Installation and operators of Government owned vehicles shall not use cell phones unless the vehicle is safely parked or unless they are using a hands-free device. The wearing of any other portable headphones, earphones, or other listening devices (except of hand-free cellular phones) while operating a motor vehicle is prohibited.
Use of those devices impairs driving and masks or prevents recognition of emergency signals, alarms, announcements, the approach of vehicles, and human speech. DoD Component safety guidance should note the potential for driver distractions such as eating and drinking, operating radios, CD players, global positioning equipment, etc. Whenever possible this should only be done when the vehicle is safely parked.
Vehicle Checks -- There is no state required vehicle inspection in the state of New Mexico.