Base Housing
---
Government Housing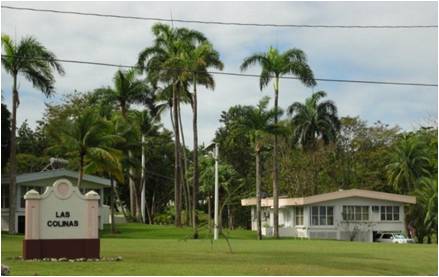 Miles Loop Road
Building 34
Ft Buchanan, PR 00934
Phone 787-707-3442 / 787-707-3256 / 787-707-3153 / 787-707-5811
Phone (DSN) 312-740-3442
Monday - Friday 7:00 a.m. – 4:00 p.m.
Sat – Mon – Closed
Holidays – Closed
Government Housing
Housing construction in Puerto Rico is 90% concrete with flat roofs that are suited for storms and hurricanes. At Ft Buchanan 100% of housing is made out of concrete. Windows are usually made out of metal or glass louvers that can open fully to allow the breeze to come in.
The normal waiting period is 3 to 4 months for most units on Fort Buchanan. If you are detached to the Navy or Coast Guard the waiting period is much less. For personnel requiring 4 bedrooms the situation is more critical and the waiting period is indefinite.
There is no government housing available for dependents whose sponsors are not assigned to Puerto Rico.
Government housing comes with a refrigerator and electric range. Housing in the community very rarely includes a refrigerator or range. It is common to see advertising for these used items from military families leaving Puerto Rico. Central air-conditioning is rare in rental housing. Utilities are rarely included in the lease.
All housing on post will be going through complete rennovations during the next two years.
The Fort Buchanan Housing Office is located at Bldg. 34, South Gate Road. They can be reached by calling 787-707-3442, 3256, 3153, 5811 or DSN 312-740-3442, 3256, 3153, 5811.
Non-government Housing
Housing Referral Office-(HRO)--Your POC for any problems you may encounter (discrimination complaints, tenant/landlord disputes, or any questions/problems about off-post housing) is the HRO. Staff are available to assist you on a person-to-person basis in any way possible to make your move to this installation an easy and pleasant one.They can provide a list of rentals with corresponding locator maps and give you information regarding the area in which the facilities are located.