Check In \ Processing
---
In-processing - 1st Replacement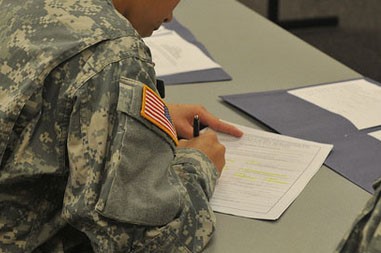 208 Custer Avenue
Main Post
Fort Riley, KS 66442
Phone 785-239-2119 / 785-239-2128 / 785-239-8302
Phone (DSN) 312-856-2119/2128/8302
Open 24/7
Inprocessing Procedures
All inprocessing soldiers must sign in at the Replacement Company, Building 208, Custer Avenue, Main Post. A copy of DA Form 31 (Leave), assignment orders, 201 file, health and dental records, and Military Personnel Records Jacket (MPRJ) must be in your possession. The inprocessing office is manned 24 hours a day. If you are arriving at the Manhattan Municipal Airport there is a special toll free direct-line phone for Fort Riley; it is well marked. Pick up the phone and ask for free transportation to the Replacement Company.

For additional information, requesting a leave extension, or reporting a change in your arrival date, contact Replacement at: 785-239-2119, 785-239-8302 or 785-239-8332, DSN 312-856-2119/8302.
Uniform Policy
The duty uniform for Fort Riley soldiers is the Army Combat Uniform (ACU), unless otherwise specified by the appropriate commander. You can purchase patches and other items at the Military Clothing Sales Store, which is located in the Mini-Mall complex on Custer Hill.
Documents to Hand Carry
It is important to hand carry a copy of your medical, dental and shot records. Also birth certificates, marriage license, insurance documents, divorce decree and adoption documents if any.
What to do if you Get Married Enroute
If you get married right before you PCS, you must inform your commander and follow the procedures exactly as you are given them. The military will not pay for travel and housing of your spouse if you do not follow proper procedures.