Check In \ Processing
---
Checking In
If you are reporting to Norfolk Naval Shipyard FMR (41150), Norfolk Naval Shipyard FMB (3812A), Norfolk Naval Shipyard NRMD (39939) and Norfolk Naval Shipyard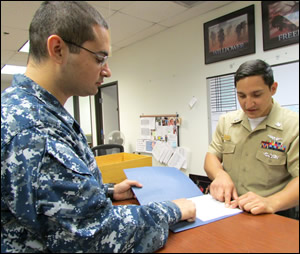 Calibration Center Detachment (39723), report to Norfolk Ship Support Activity, BLDG CEP-200 just inside of Naval Station Norfolk Gate 5, Second Street.
If you are reporting to Norfolk Naval Shipyard (UICs: 42158, 32443, 3266A, 3267A, 3269A, 45587 and 47622), Portsmouth, Virginia, report to the Military Support Section Portsmouth, inside BLDG 1500, First Floor--Room 131.
Important phone numbers
Norfolk Naval Shipyard, Portsmouth Military Personnel Section: (757) 396-0489.
Norfolk Naval Shipyard, Norfolk and Norfolk Ship Support Activity Quarterdeck: (757) 443-2650.
Sexual Assault Response Coordinator (757) 445-0369

Sexual Assault 24/7 Response Hotline (757) 438-3504
Fleet and Family Support Center (FFSC) Portsmouth - (757) 953-7801 - Norfolk - (757) 444-2102
Navy Marine Corp Relief Society - NNSY - (757) 953-5956 - Norfolk - (757) 322-1171