Childcare
---
Child Development Center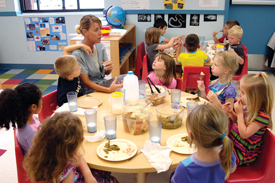 483 N. Aviation Boulevard
Building 281
Los Angeles AFB
El Segundo, CA 90245-2808
Phone 310-653-6800
Phone (DSN) 633-6800
Fax 310-653-6210
Fax (DSN) 653-6210
Mon - Fri 6:30 a.m. to 6:00 p.m.
Sat and Sun - Closed
Holidays - Closed
Child Development Center (CDC)

The Los Angeles AFB CDC is located in the El Segundo facility. There is no CDC at Fort MacArthur. The CDC is accredited through the Association for the Education of Young Children and it participates in USDA Food Program. Breakfast, lunch and snacks are included in the child care fee. There are closed circuit TV cameras in all rooms.
Parents may become involved in their child's CDC activities by volunteering spare time being a part of the Parent Advisory Board.

Hours of Operation

The center is open Monday through Friday, 6:30 am - 6:00 pm.

Availability/Eligibility

This program is for children of military members and DoD civilians. Children ages 6 weeks through 5 years (if they are not in kindergarten) are served. When demand exceeds space available, a waiting list is maintained and referrals are made to licensed family child care homes.

Registration

To apply for child care before your arrival at Los Angeles AFB, complete DD form 2606 and mail it to 61 FSS/FSFC, 483 N. Aviationi Blvd., El Segundo CA 90245, or fax the application to 310-653-6210. Forms can be submitted when mothers are at least six months pregnant. Please fill out a DD Form 2606. A current immunization record and proof of military or DoD dependency is required to enter the program.

Priority Care

The following Air Force standards are in use at Los Angeles AFB:

Priority 1: Single/dual active military or single/dual DoD civilian employee; active duty military and DoD civilians with a working spouse or full-time student; active duty reservist on orders
Priority 2: Single/dual military and DoD civilian employees; active duty military with working spouse or full-time student;
Priority 3: Active duty military and DoD civilian employees with non-working spouse assigned to LAAFB
Priority 4: DoD contractors assigned to LAAFB

Children of a deployed parent move to the top of the list. However, the spouse has to be working or in school.

Full Time Care

Parents may elect full-time care and pay the regular weekly fee. Care will be provided for up to 50 hours a week, no more than 10 hours a day.

Drop In and Hourly Care

When drop-in care is requested, a child may be placed in a vacant slot for the day at an hourly rate. If there are no vacant slots available at the time of request, a request for drop in care can only be granted after 9am the day care is being requested in place of an absent child of that age group.

Costs

Fees are subsidized with Appropriated Funds. Families are placed in one of 9 fee categories, based on total family income. Families will be asked to provide their most recent Leave and Earnings Statement (LES) and/or pay stub. In accordance with federal guidelines, BAH or in-kind equivalent is added together with earnings to determine the fee category. Fee schedules are based on DoD regulations.
Fees are reviewed annually every October.
The fees listed cover normal operating hours (up to 12 hrs per day basesd upon facility operating hours) Monday through Friday, including meals and snacks. Parents are no longer limited to 10 hours of care per day and 50 hours of care per week however, hourly fees should be calculated by dividing the weekly fee by 50 hours of care. The hourly rate should be determine fees for part day preschool, before and after school care, and extended operating hours. Additional charges should applied for additional openings and extended beyond the normal operating hours, such as exercises and evening and weekend care.
Bases should determine whether the High Cost Range or applying the COLA, base differential, or locality pay will provide the necessary evidence to increase caregiver wages and benefits. In either case, the basic weekly fee charged to parents should not exceed the highest fee allowed in the High Cost Ranges.
The high cost option will be authorized by the OSD office of children and youth. Requests for the high cost option must first first be routed for approval through AF/AIS. The use of high cost fees at approved installations will be validated in the annual certification process.

Waiting Lists

Ask about wait lists and what time frame you will be looking at upon inquiry into the CDC Programs.

Pre-school Program

The content of our early childhood curriculum is developmentally appropriate for the age and ability of each child being served. Our program components encompass language concepts, fine and gross motor skills, perception, pre-math, reading readiness, music, dramatic play, self-help and social skills. It is a creative curriculum which recognizes and addresses the many facets of the developing child.
All children need to experience nurturance, love and consistency, sensory, movement, exploration, interaction with others, comfort, challenge and stimulation. These help develop the child's feelings of security and trust, self-worth and self-identity, curiosity, creativity, and captive involvement with people and the world.

Respite Care

The Child Development Center participates in the monthly AFAS-sponsored program, Give Parents a Break. This program is open to families experiencing stresses due to the nature of military life -- deployments, remote tours of duty, frequent moves, extended working hours. Parents need to get a referral for this program from the Airman & Family Readiness Center, the Chaplain, or the Mental Health office. The cost is $20, non-refundable, from 6:00 p.m. until 10:00 p.m. Deadline to sign up is the week prior to the event. Register your children with their immunization record and a phone number.

Family Child Care (FCC)

The Family Child Care Program offers home-based child care in licensed homes for children ages two weeks through twelve years. These self-employed providers operate their home independently in compliance with strict Air Force policies, including frequent inspections and close monitoring by the Family Child Care staff. Extensive background screening and orientation training must be completed prior to licensing. Full time, part time, hourly, weekends, extended hours and school age care is available. Families may live in base housing or in the community.
A list of family child care providers residing is available at the Child Development Center, Youth Center, Airman & Family Readiness Center, and published in the Force magazine.
For more information about family child care or on becoming a family child care provider, call 310-653-6800, DSN 312-633-6800.
A lending library is available for age-appropriate toys and books, and books and videos on child-rearing topics.

Baby Sitters

The LAAFB Community Center at Fort MacArthur regularly offers the Red Cross Babysitting Course. A list of trained sitters is maintained at the Community Center, 310-653-8225, Youth Center, 310-653-8383, and the CDC, 310-653-6800.