Registration
---
Information and Referral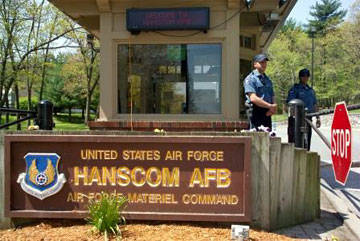 Airman and Family Readiness Center
20 Kirtland St, Bldg 1218
Hanscom AFB, MA 01731-2007
Phone 781-225-2765
Phone (DSN) 312-845-2765
Fax 781-225-2340
Fax (DSN) 312-845-2340
Mon – Fri 7:30 a.m. – 4:30 p.m.
Sat and Sun – closed
Holidays – closed
Base Regulations
Hanscom AFB enforces Massachusetts motor vehicle laws. The handbook of MA motor vehicle laws may be reviewed at Pass and Vehicle Registration, Bldg 1305, upon request.
Violations of traffic laws may result in heavy fines, suspension, or revocation of on-base driving privileges. While on Hanscom AFB, motorists must obey an order given by the Security Police and Department of Defense Police officers. Call the Security Police at 781-225-5000 if you have questions.
Active duty and DoD civilian personnel must complete a certified motorcycle riders' course before operating a motorcycle on base. All required safety gear must be worn.
Speed Limits -- Unless otherwise posted, the maximum speed limits are 25 mph on base roads, 10 mph in parking lots, and 15-mph entering/exiting the base gates.
Vehicle Checks -- All vehicles entering or leaving Hanscom AFB are subject to search.
Seat Belts -- Seat belts are mandatory on and off base for vehicle operators and passengers. Operators are responsible for ensuring all occupants comply with the seat belt rule, and will be cited if they or any passengers are not in compliance. Failure to comply may also lead to suspension of base driving privileges.
Children must be 8 years old or 4 feet 9 inches in height in order to use a seat belt safely. A properly fastened child safety seat must be used before these requirements are met.
Radar Detectors and dashboard cameras (GoPro) -- The use of radar detectors and dashboard cameras is prohibited on Hanscom AFB.
Cell Phones - only hands-free cell phone devices are allowed. Prohibited while operating a government vehicle.
All snow, ice, or other obstructions must be removed from the windshield, rear and side windows, etc. Please, don't carry more passengers than your vehicle was designed for! (Have enough seatbelts for each passenger.)