Check In \ Processing
---
Visitor's Center Pass and Registration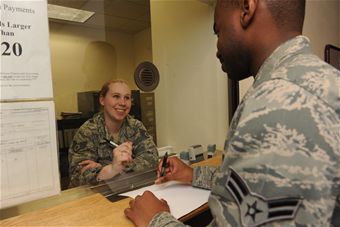 10 North Pine Street
Building 502
Maxwell AFB, AL 36112
Phone 334-953-4283
Phone (DSN) 312-493-4283
Mon – Fri 6:30 a.m. – 5:00 p.m.
Sat and Sun – closed
Holidays - closed
Check-in Procedures
Documents to Hand Carry
Several copies of your orders
ID cards, social security cards, drivers license and passports
Copies of all insurance policies
Immunization records for all children and pets
School records for the children and high school/college transcripts for the adults
Copies of any occupational licenses and certifications
Spouse resume and last pay statement
Certified copies of birth certificates, adoption papers, naturalization papers, marriage licenses, divorce papers, etc.
Purchase agreements for your vehicles, showing state sales tax paid
Vehicle registration and title
Your household goods inventory and any related documentation
Letters of transfer from religious, professional, or social organizations
Letters of credit from current/previous utility companies
Contact information for credit card companies, utility companies, etc.
Copies of prescriptions for medication, eye glasses, or contact lenses
Copies of family medical records, it at all possible
Copies of federal income tax forms
Copies of recent Leave and Earnings Statement
Any other legal documents
Travel Planning
The Maxwell and Gunter lodging complexes consist of 41 buildings and 2,300 rooms. There is lodging at both Maxwell and Gunter. All rooms are provided with a television, telephones, and refrigerators, and many are equipped with a small kitchen facility. Maxwell Reservations can be made by calling DSN 312-493-2055 or 334-953-2055. Gunter Reservations can be made by calling DSN 312-596-4656 or 334-416-4656.
Reservations can be made at University Inn for families inbound on PCS orders to stay in one of the Temporary Lodging Facilities (TLF). Those who obtain accommodations will be allowed to stay up to 30 days if quarters are available. Families may also stay in transient officer and airman quarters on a space available basis (with TDY incoming personnel having priority over the facilities). Guests arriving after 6:00 p.m., must guarantee their reservations with a valid credit card. It is the guest's responsibility to ensure a valid credit card is given to hold the room after 6:00 p.m. All rooms must be paid for in advance by cash, check, VISA or MasterCard. For those traveling with family pets, the University Inn will not allow you to keep pets in your room. Boarding arrangements should be made in advance to care for your animals.
Reporting Procedures
Students
In-processing for Air University Students is handled by respective schools.
Permanent Party
In-processing for permanent party personnel reporting to both Maxwell and Gunter is conducted by the unit commander's support staff. Please bring all hand carried documents given to you during your out-processing briefing from your losing base (i.e. medical records, personnel records, and finance records). Your commander's support staff will schedule you for central in-processing to accomplish Personnel Records screening, completion of travel vouchers and military pay matters. Your CSS will schedule you for Right Start in-processing during unit in-processing.
Checking In
All incoming military members arriving during duty hours should report to their respective units or schools. If you arrive after hours, check in with lodging until your Commander's Support Staff is open the next duty day. (Maxwell - 450 LeMay Plaza and Gunter - 454 South Morrins Ave, Bldg 1017 South). Directions to these locations can be obtained from security police on duty at the gates.
Your sponsor will be a big help in pointing you in the right direction or taking you to the key locations until you are settled into your new community.
What to do if you get Married Enroute
If you get married before you PCS, you must inform your commander and follow the procedures exactly as you are given them. The military will not pay for travel and housing of your spouse if you do not follow proper procedures.