Childcare
---
CHILD DEVELOPMENT SERVICES - FAMILY CHILD CARE (FCC)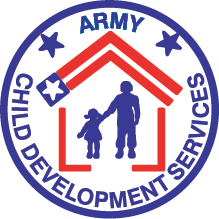 500 Lindquist Road
Building 438
Fort Stewart, GA 31314
Phone 912-767-2312
Phone (DSN) 312-870-2312
Fax 912-767-5334
Fax (DSN) 312-870-5334
Mon - Thu 8:00 a.m. to 5:00 p.m., Fri 8:00 a.m. to 12:00 p.m.
Sat, Sun, and Holidays - closed
Child Development Services (CDS)

CDS programs on Fort Stewart have received Department of Defense certification.
Eligibility
Services offered to children (six weeks to kindergarten) of soldiers and retirees, and of DoD employees as well as Army civilian employees.
Registration
To register for child care or any Child Youth and Schools Services program, all children must have up-to-date immunizations, a health examination, completed health and registration cards and completed Purified Protein Derivative (PPD). You will also need proof of income (military LES and/or spouse's pay stub).
Child Development Center (CDC)

The Fort Stewart CDC is located in Building 403 and can be reached by calling 912-767-3203.
Hours of Operation -- The center is open 6:00 a.m. - 6:00 p.m., Monday through Friday.
Programs Offered
Following is a list of programs offered at the Fort Stewart CDC:
Full Day Care- offers developmental services to children 6 weeks to 5 years of age for working parents requiring childcare on a regular basis. Services for children 4 weeks of age are available for sole and dual military parents.
Hourly Care- short term care on an intermittent basis/span
Pre-K Program- The free Georgia state funded program offers developmental services 6 ½ hours a day for children to attain readiness skills for school.
Respite Care
Wrap Around Pre-K- regularly scheduled before and after school care for preschool children
Special Needs Care
Currently there are three Child Development Centers, One Pre-K Center, several Family Childcare providers and Numerous School Age programs to choose from.
Free Services offered During/for Deployment
Childcare on the 1st Saturday of the month from 9:00 a.m. to 3:00 p.m. Reservations must be made 2 weeks in advance.
Childcare at Newman Gym for 1 hour a day between the hours of 8:30-10:30 a.m. or 4:00-6:00 p.m., available Monday- Friday. Parent must be in Gym during childcare. Space is limited to 10 children and is on a first come, first serve basis.
Childcare during predeployment/ deployment briefings
Discounted Services for Families of Deployed Soldiers
Free instructional and enrichment classes for youth: up to eight weeks at no cost.

Team or individual sports fee waiver for two sports, per child, annually.

20% fee reduction for children of deployed soldiers enrolled in regular full day/part day schedule.

Hourly Care: provide at $2 per hour per child
To take advantage of free services, children must be registered with Child and Youth Services (CYS) and have up to date shot records. Registration is free.
Family Child Care (FCC)

The FCC program offers quarters-based care provided by certified military family members from housing located on and off the Installation. The care provided is regulated by the U.S. Army and both the individual and the homes are certified by CYS before children may be enrolled.
FCC provides a smaller family environment for full-day, part-day, hourly, extended and long-term care. FCC can also address special needs children and newborn infants. Any family member residing in quarters who provides child care to unrelated children for more than 10 child care hours per week on a regular basis must be certified. Unauthorized child care in government housing may result in loss of government housing privileges. For more information call the FCC Director at 912-767-2311.
School Age Services
The School Age Services (SAS) Program provides age-appropriate recreational and educational activities for 1st thru 5th graders, before and after school. The program is offered 6:00 a.m. - 8:30 a.m., 2:00 p.m. - 6:00 p.m. during the school year and Full Day Care, 6:00 a.m. - 6:00 p.m., is offered when school is not in session.
Children enrolled in the program are supervised and are involved in a variety of activities including arts and crafts, cooking, dancing, painting, sports, movies, exercise and field trips to local points of interest. A quiet time is also incorporated into the program during which children may relax or do homework. Various programs will utilize Morale, Welfare and Recreation (MWR) facilities, as well as local recreational sites and parks.
For more information about the SAS program, you may reach us at 912-767-2635.