Base Housing
---
U.S. Army Spc. Brandon Gray, with A Battery, 3rd Air Defense Artillery, and his wife, Bobbie, hold the couple's new house key after a ribbon-cutting ceremony at Dugway Proving Grounds in Utah. Construction of the home, one of 20 new homes
Family Housing Office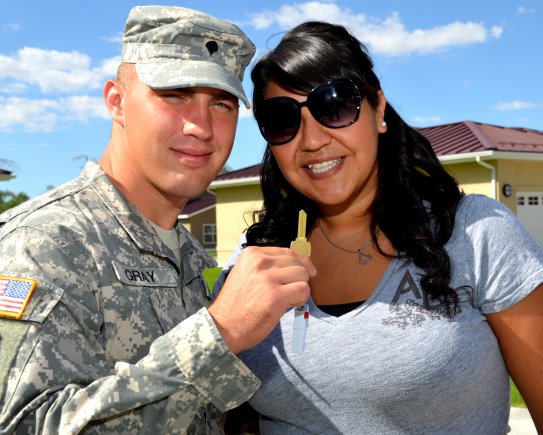 IMDU-PWH
5326 Valdez Circle
Dugway, UT 84022-5001
Phone 435-831-3542 / 435-831-3541
Phone (DSN) 312-789-3542
Fax 435-831-2771
Fax (DSN) 312-789-2771
Mon - Thur 7:00 a.m. - 5:30 p.m.
Ask your Command or local housing office to learn more about PCSing.com that is currently available for most military installations. This site allows military members and families to:
Search listings and pictures of available rentals near military installations
Articles to understand all the ins and out of PCSing to a new location
Find out about shared rentals
List and advertise their own properties for rent or to other military families PCSing
List their homes For Sale By Owner (FSBO) to other military members PCSing
How to Contact the military installation housing office they are PCSing to.
For Local Certified Military Relocator agents to help in your PCSing needs
Government Housing
All key essential military are required to live on post at Dugway and are normally assigned the Mountain View Units. As a result, BAH is forfeited but exceptions may be granted by the DPG Commander for geographical bachelors living in bachelor quarters. Civilian employees at Dugway may live on post or off post. However, the nearest town to Dugway is Tooele, which is approximately a 45-60 minute drive from DPG. More housing options are available in Salt Lake City, a 1 1/2 hour commute from Dugway.
Please contact the housing office at as soon as you begin plans to move to Dugway to facilitate your housing needs.
Government Housing
Dugway Proving Ground has 300 available housing units, ranging from 2 bedroom to 6 bedroom homes. Rates for civilian and contract employees range from $549.00/month to $1475.00/month. Waiting times for available housing is dependant upon rank and employment status. Contact the housing office for availability and check-in procedures: 435-831-3541 or DSN 312-789-3541. Upon receipt of housing, the DPG housing office will provide installation policies. A maximum of two pets per household in DPG housing is allowed.
Single Service Member Housing
Furnished and un-furnished dorm style housing is available for all DPG employees. Standard housing is also available to unaccompanied employees. The opportunity to rent or purchase a home in the surrounding community is available through various realtors in the Tooele, UT area.
Exceptional Family Member Housing
Dugway housing has 2 housing units configured for Exceptional Family Members. All DPG housing units are air conditioned and heated. Dugway Proving Ground has base wide generator capabilities in the event of a power outage. Contact the DPG housing office for availability and priority.