Check In \ Processing
---
What to do when you arrive at the Presidio of Monterey:

All service members will attend a Joint Services Inprocessing Briefing. Check with the duty NCO for time and place. All times may vary depending on branch of service, and the place will vary depending on events).
Reporting Procedures
Documents required as part of reporting-in procedures are: for Army, Air Force, Marines, and Navy, you must report with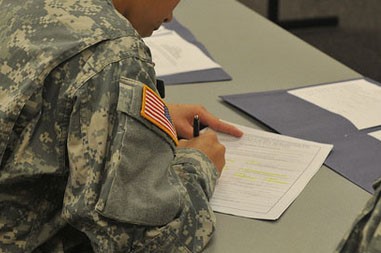 your orders. For National Guard and Reserves, you need 10 copies of your orders: all amendments and Title 10 or Title 32 orders.
Army
If you arrive during duty hours, report for duty with the 229th Military Intelligence Battalion (MIBN). Report to the Taylor Hall, Bldg. 616, 2nd Floor, Room 216 (229th MIBN S-1) between 7:30 a.m. and 4:00 p.m., telephone 831-242-5642/5589. If you arrive after duty hours or on weekends, WITHOUT pinpoint orders, report to the respective Company's CQ to which your language is assigned. All careerist Soldiers arriving after duty hours WITH pinpoint orders, report to the respective Company listed below:
A Company - Arabic Bldg 603A - CQ831-242-5514
B Company - All Soldiers coming from Basic Training, Spanish, French, Portuguese, Italian, Russian, Hebrew, German, Serbo-Croatian - Bldg. 622, 3rd Floor - CQ 831-242-5224
C Company - Arabic Bldg 631B - CQ 831-242-5656
D Company - Japanerse, Chinese, Thai, Tagalog, Indonesian, Korean - Bldg. 831 - CQ 831-242-5645
E Company - SFC's and above; all others; all Officers - Bldg. 831 - CQ 831-242-5645
F Company - Persian Farsi, Pashtu, Urdu, DTRA Students - Bldg. 831 - CA 831-242-5645
Air Force
If you are reporting to the 311th or 314th Training Squadron, check in with the Commander's Support Staff located in Bldg. 627, Rm. 147 between the hours of 0700-0900 Monday-Friday. If you need more information or help to get to the Presidio of Monterey please call DSN: 768-5115 or (831) 242-5115. For incoming staff members, if you did not receive a sponsor package and would like to request one, please call 768-5875 or 5730.
Marines
All Marines attending training at either the Naval Postgraduate School and/or the Defense Language Institute Foreign Language Center are assigned to the Marine Corps Detachment, Presidio of Monterey and will report to the Commanding Officer, MARCORDET Presidio. The Marine Coprs Detachment is prepared to receive new-joins 24 hours a day. Normal working hours are from 0730-1630 Monday-Friday. During this time, check-in will be conducted at the Detachment S-1. After normal working hours and during the weekend and holidays, check in with the Detachment Duty NCO located in the Marine Corps Detachment, Bldg. 629B. If you experience any problems you can reach the Duty NCO at 831-242-6855. Uniform for check-in is Service "A" for all personnel.
Navy
Both staff and students follow the same check-in process. When you arrive at the base go to the CIDU quarterdeck located in Building 629A Rifle Range Road. The quarterdeck is manned 24 hours a day, 7 days a week. Bring your orders with you so that they may be stamped and you can receive further instruction. You are required to be in uniform if checking in during normal working hours.
Inprocessing Procedures
All new service members are required to attend the Joint Services Inprocessing Briefs (JSIB) which are held each Tuesday morning. During the JSIB Service Members are given installation information regarding all agencies on post, and services available for Service Members and Family Members. Those returning from OCONUS are offered a Re-entry Workshop. Spouses are encouraged to attend the JSIB and are also invited to the monthly Newcomer's Welcome sponsored by Army Community Service.
Sponsors
If you know your unit assignment at the Presidio, you can contact that unit to see whether there is a sponsorship program available to you. Service members coming directly from basic training will not be assigned sponsors.
What To Do If You Get Married Enroute
If you get married before you PCS, you must inform your commander and follow the procedures exactly as you are given them. The military will not pay for travel and housing of your spouse if you do not follow proper procedures.