Registration
---
Information and Referral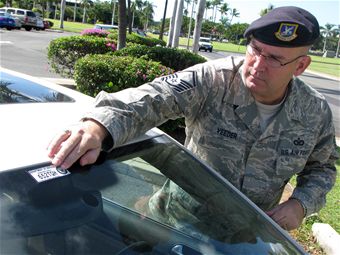 413 Curtiss Road
2nd FSS/FSFR
Barksdale AFB, LA 71110
Phone 318-456-8400
Phone (DSN) 312-781-8400
Fax 318-456-8031
Fax (DSN) 312-781-8031
Mon - Fri 7:30 a.m. - 4:30 p.m.
Sat, Sun and Holidays - closed
Registration & Licensing Requirements
Louisiana State law requires you to have sufficient liability insurance and a valid driver's license in order to operate a vehicle. The term "vehicle" generally includes automobiles, motorcycles, vans, trailers and boats regularly parked or garaged overnight. Further, your vehicle must be properly registered. Even though you are in the Military, you may be required to register your vehicle in-state and obtain an in-state license within a few months of moving. Access complete information on insurance, driver's licensing, and where and how to register your vehicle by visiting the State Department of Motor Vehicles website.
State Laws
You and your passengers must always wear seatbelts while driving, you will be ticketed and issued heavy fines if seatbelts are not secured. State law requires that all children under 60 pounds be properly restrained in child seats. Some states also require younger, smaller children to sit in the back seat.
Motorcycles and their operators are subject to special laws. If you own and operate a motorcycle, you must comply with those laws. Visit the State Department of Motor Vehicles website for more information.
Many States and local jurisdictions have strict laws about the use of cell phones and other digital devices while driving. Research these laws on the State Department of Motor Vehicles website. Tickets will be issued and fines assessed for violating these laws. Play it safe and always use a "hands free" device if you must use a cell phone or other PDA while driving. Hands-free devices must be used while operating a motor vehicle on ALL military installations worldwide.
Entry Control Points/Hours of Operation
Bossier Gate -- This gate is open 5:30 a.m. to 9:00 p.m. 7 days a week.
Shreveport Gate (Main Gate) -- Open 24 Hrs, 7-days per week
East Gate -- Open 24 hours, 7 days per week (all oversized vehicles use this gate)
Bodcau Gate (Adjacent to East Side Housing) - Open 5:30 a.m. - 5:30 p.m. Monday - Friday Closed all Federal holidays and Wing down days (unless the Bossier schools are open)
Pass and ID is located at the Main Gate (Shreveport Gate).
Motorcycle Operation on Base
To operate a motorcycle on base you must have proof of insurance, registration and the following:
a state motorcycle operator license or an endorsement on the driver's license

completion of a national motorcycle safety course
Ground Safety will issue a temporary gate pass, valid until one day after the next scheduled class. You must satisfy the referenced requirements before permanent registration is permitted.
Regulations -- Air Force Instructions (AFIs) require all military personnel operating or riding a motorcycle, on or off base, to wear helmets on and off duty. Highly visible colored clothing, a reflective vest or jacket, gloves and eye protection are also required.
Base Regulations
Base driving privileges imply consent to searches of your vehicle, blood, breath, urine and impoundment of your vehicle.
Speed Limit -- The speed limit on base is 25 mph unless otherwise posted. When driving on base, please stop for pedestrians and buses loading and unloading.
Parking -- Reserved parking, time-limited parking, and non-parking areas are designated by a small brown sign located on the curb. Remember to look for these before you park. Three parking tickets in a 90 day period results in suspension of driving privileges for 30 days.
Seat Belts -- Seat belts are mandatory for drivers and passengers. Failure to use seat belts is a primary traffic offense in Louisiana. Military regulations require enforcement of the seat belt law for military people while operating or riding in a vehicle anywhere in the world.
Safety Seats -- The Louisiana Child Passenger Protection Law requires children under the age of five use a federally approved child passenger safety seat. This law applies on and off base.
Driving Under the Influence
DUI - 0.05 to 0.09 Blood Alcohol Content (BAC)

DWI - 0.10 or higher BAC
Both can result in revoked or suspended driving privilege
Refusal to submit to a chemical test will automatically result in one year revocation of driving privilege
Louisiana Vehicle Registration/Title
In order to register by mail, all documents and monies must be submitted simultaneously. The following items are required:
Application for title (DPSMV 1799), properly completed and signed by the owner, showing the current physical Louisiana address. If the mailing address is a post office box or an out-of-state address, it must be shown as a mail-to address. Must list driver's license number or Federal EIN number (for companies) on application. The liability insurance declaration must be signed for motorized vehicles only.
Check or money order made payable to the Department of Public Safety to cover fees and/or taxes.
Military personnel should submit proof they are in military service.
Transfer Requirements
Certificate of title properly executed to the buyer and signed by the seller and notarized. In the case of a new unregistered vehicle, we require the manufacturer's statement of origin, a dealer's invoice, and an odometer disclosure statement. Either the statement of origin or the invoice must be notarized.
Current registration certificate.
Notarized bill of sale or notarized act of donation showing a complete description of the vehicle. The act of donation must be in authentic form and state the relationship between donor and recipient. The donor must execute the act in the presence of a notary and two witnesses.
Odometer disclosure statement completed by the buyer and seller for vehicles that are less than 10 model years old and trucks weighing less than 16,000 pounds.
UCC-1 Financing Statement, security agreement, or chattel mortgage, if vehicle is financed.
Sales Tax
Sales tax is due on the purchase price on all vehicles registered in the state of Louisiana. The tax is levied from 4% to 9 1/2% depending on the address of the purchaser. The tax must be remitted within 40 days of the date of purchase. After the 40th day, penalty and interest will be assessed for each 30 days or portion there of. Penalty is assessed at the rate of 5% for 30 days or fraction there of (maximum 25%) and 1 1/4% interest per month (no maximum) based on the amount of sales tax.
Use Tax
Use tax is due on all vehicles imported for use in this state when first registered in Louisiana. This tax is based on the book value of the vehicle. Credit can be given for up to 4% for tax paid in another state providing it is a state with which we have a reciprocal agreement. We must have proof of this tax for certain states.
Military Personnel -- Military personnel are exempt from payment of use tax; providing they furnish proof sales tax was previously paid on their vehicle in one of the fifty states. Military personnel must submit a photocopy of their military ID card, military orders, or a statement from their commanding officer verifying they are active duty military.