Childcare
---
Child Development Center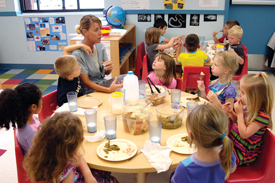 424 Kenney Avenue
Barksdale AFB, LA 71110
Phone 318-456-4139
Phone (DSN) 312-781-4139
Fax 318-456-4995
Mon - Fri - 6:15 a.m. - 6:00 p.m.
Give Parents A Break:
First Sat - 6:30 p.m. - 11:00 p.m.
Third Sat - 9:00 a.m. - 2:30 p.m.
Holiday - closed
Child Development Center (CDC)
Barksdale AFB Child Development Center (CDC) is proud to offer an exceptional child care program in support of the Barksdale mission. The program is nationally accredited by the National Academy of Early Childhood Programs. The CDC provides a full range of quality care. The CDC accommodates 190 children, 6 weeks to 5 years of age.
A Parent Advisory Committee consists of parents who are eligible to have children enrolled in the center and meets monthly. The monthly meetings are chaired by a parent selected by the committee. The focus of this group is to discuss on-going child care programs and topics of interest to parents.
Programs Offered
1.Preschool (Part Day Enrichment) --Preschool is available up to five days a week for children 3 to 5 years of age. The Barksdale program is the oldest NAEYC accredited Part Day Enrichment program in ACC. Nutritious snacks, stimulating hands on curriculum, arts and crafts, music, dramatic play, story time and field trips are provided. Fees are based on family income and an annual fee of $10 is required. Please provide a birth certificate, immunization records and current LES at the time of registration.
2.Extended Duty Care - Available for those needing occasional weekend or evening care beyond your 50 hour child care week. Temporary shift changes and special circumstances may also apply. This type of care can be provided at no cost to you.
The Barksdale AFB Child Development Center is one of only two accredited programs of the National Association for the Education of Young Children (NAEYC) in Northern Louisiana. The other is a private school. The CDC utilizes current early childhood research and follows the Creative Curriculum which is proven to meet each child's developmental needs and prepare them for kindergarten. Staff to child ratios (the number of children for whom one caregiver can provide care) differ from local center and all of our employees have passed extensive background checks.
Exacting training and testing standards mean our CDC staff is professionally responsible and held to a higher level of accountability than other programs. Frequent inspections (DoD Unannounced, monthly and annual comprehensive health, safety and fire inspections, Multidisciplinary inspections, AFGSC Staff Assistance Visits, NAEYC accreditation) assure Barksdale's CDC standards meet rigid AF criteria. Recent national studies indicate DoD CDC and PDE programs serve as benchmarks for the nation. Local centers and programs are still playing catch-up to DoD. Air Force Child Development programs are considered the DoD leaders and Barksdale's CDC routinely scores among the highest in the Air Force. Parental satisfaction is clearly evident from ICE responses, customer comments to local surveys and discussions with parents and program management. Most of our teachers have been with the program for ten or more years while some off base centers with lower pay scales, may have very high staff turnover. The Air Force believes it is important for children to be taught by the same person from day-to-day so that person gets to know the children and establishes an emotional bond with them. Snacks served in Barksdale's CDC program are USDA certified and must meet dietary standards approved by ACC. Other programs may not offer snacks or meals unless supplied by parents.
All DOD Active Duty Military or Civilian are eligible to use the CDC. Our priority placement lies with the single parents, Dual Military parents and then working families in that order. Please call the CDC for further information.
Availability - The Barksdale CDC currently has a waiting list for all age groups. Anyone interested in getting on the waiting list is required to submit a DD form 2606. This form is available online.
Parents need to complete this form and fax it to DSN 781-4995 Comm 318-456-4995 along with a copy of their orders to the CDC to be placed on the waiting list.
The Barksdale AFB Child Development Center is now approved to receive Child Care Assistance payments from the state of Louisiana. The Child Care Assistance program helps low-income families to pay for childcare while working, looking for work, attending school or training. Monthly payments are based on the number of hours the parents work, look for work, or attend school or training. Other considerations include the amount charged by the child care provider, family size and household income. If you meet these requirements and your total family gross monthly income is below the amounts listed, you may qualify for Child Care Assistance from the state of Louisiana.
Applications and instructions are available at the Child Development Center or online, Office of Family Support - Child Care Assistance Program.
Once you have submitted the necessary information (listed at the website above) and completed application, the state has 30 days to process your request. Once a determination is made, a written notice will be sent telling you of the decision reached. If eligible, you will receive a notice of eligibility and a certificate for each child who needs care. You must take the certificate to the CDC to complete. It is the parent's responsibility to return the certificate completed by the CDC and any additional information requested by the due date given. Return of the certificate does not ensure that payments will be made. If eligible, all payments are made directly to the Child Development Center each month. Parents are responsible for any difference in DoD childcare fees in their category and approved Child Care Assistance payments.
Stop by the Center or call 456-4139 for additional information. If your child is not currently enrolled at the CDC, ensure you get on the waiting list.
Hours of Operation - The CDC is open Monday - Friday, 6:15 a.m. - 6:00 p.m.
School Age Care
The Child Development Center offers after school care from 2:30-6pm for children attending preschool in the local public schools. Transportation from the schools to the Youth Center is available for children attending Waller, Kerr, Sun City and Bellaire elementary schools and the staff walks the children to the CDC from the Youth Center. All fees are based on total family income and prorated for the shortened day. Before school care is NOT available. Call 318.456-4139 for additional Information.
Free Child Care
Persons needing additional child care during late duty hours and recalls should call the Extended Duty Care (EDC) program. This care is FREE. Transportation to or from the CDC or School Age Program is the responsibility of the parent unless previous arrangements have been made with the FCC Provider.
The Extended Child Care (ECC) Returning Home Care Program can also provide 16 hours free child care per child to persons returning from 30+ day deployment in support of the Global War on Terrorism. The program must be used within 30 days of return from deployment.
As a joint project between Family Child Care and the Air Force Aid Society, persons with a permanent change of station (PCS) to or from Barksdale are eligible for 20 hours free child care per child.
Volunteers at base agencies may also receive free child care. This is a joint venture between Family Child Care and the Airman and Family Readiness Center. Call 456-3354 for details about any of these programs.