Check In \ Processing
---
Visitor's Center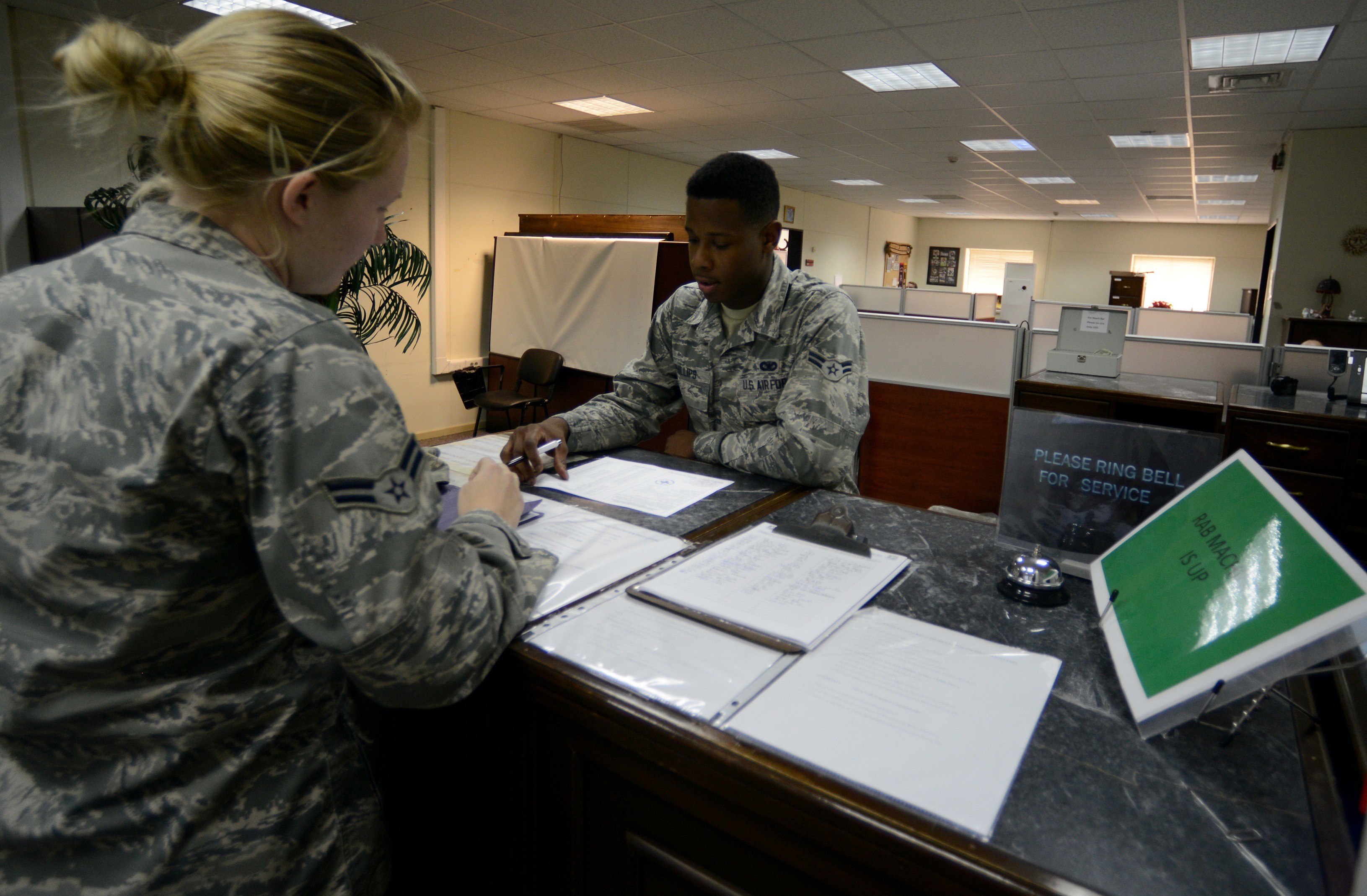 10 Siebert Rd
Shiloh Gate
Scott AFB, IL 62225
Phone 618-256-2008
Mon - Fri - 6:00 a.m. - 6:00 p.m.
Sat - 8:00 am. - 12:00 p.m.
Sun and Federal Holidays - Closed
Travel Planning
Your sponsorship package will prove helpful in becoming acquainted with the base. If you have not received a sponsor within 60 days of your departure, contact your gaining unit using the Major Unit Listing in this publication or the Airman & Family Readiness Center. When considering what to bring in your handcarried luggage, include all items necessary for duty. Also, include all paperwork and important records required for inprocessing. The following personal documents should also be handcarried, not shipped, even if not required for travel: all ID cards, passports, social security cards, vehicle registration, proof of vehicle insurance, immunization records for both children and pets, household good shipment records, receipts for new or expensive household items (in case a claim must be made), vehicle shipment paperwork, and spouse's employment records and resume. If you have dependents, please hand-carry some basic living necessities with you.
Temporary living quarters can be reserved by calling the lodging office at 618-256-1844 or 618-256-2045. You can also fax your request to 618-256-6638. Lastly, you can contact your sponsor for assistance in reserving quarters. Reservations are recommended to ensure availability. A limited number of pet-friendly TLF units are available for an additional fee of $10 per night. Proof of your pet's immunizations will be required at check-in. A list of available kennels in the local area is available from the front desk staff.
For mail delivery you may request a Postal Service Center (PSC) box in advance (30 days prior for stateside and 45 days prior for overseas) by sending or faxing your PCS orders or by having your sponsor drop off a copy. Those assigned to the dormitory may be assigned a temporary PSC box until you check into the dorms at which time you will be assigned a box at your dorm. This box is available for 120 days at no charge to the member, however it must be closed out as soon as a permanent residence is obtained. Contact the PSC, located in building 1650 next to the US Post Office, by calling DSN 312-576-2956, 618-256-2956. Orders may be faxed to DSN 312-576-5229 or 618-256-5229.
If you experience an emergency while en route to Scott, the Air Force Aid Society (or your service's relief agency) is available to assist you at the Airman and Family Readiness Center. From 7:30 a.m. to 4:30 p.m., call 618-256-8668. After duty hours, call 618-256-5891. While enroute, contact the military base closest to you in the event of an emergency. The American Red Cross can also provide Air Force Aid Society, Army Emergency Relief, or Navy Marine Corps Relief assistance if your emergency occurs away from a military installation. Keep records of all expenses incurred during your move to ensure appropriate payment and reimbursement of all travel entitlements.
Reporting Procedures
Upon Arrival - The 24-hour arrival point at Scott is the lodging office, Building 1510. It is located at the corner of Scott Drive and Beech Street and is marked "Scott Inn." The front desk will allow you to call your sponsor. If you arrive at Scott during a period of inclement weather, please call the Scott Straight Talk Information Line at 618-256-SAFB (7232) to determine if base closures or reporting delays are in effect.
Upon arrival at Scott AFB, registration into the DBIDS (Defense Biometrics ID System) is required for all DOD personnel, retirees, and all active duty, civilian employee, and retiree family members age 16 and older. Registration can be accomplished at three locations on Scott AFB: the 375th Force Support Squadron ID card section in building P-10, the Scott AFB Visitors Center located at the Shiloh Gate on Seibert Rd/Scott Dr, and the Base Defense Operations Center (BDOC) located in building 755 on South Drive. To register, individuals should bring their Drivers License and all DoD issued ID cards. For more information on DBIDS, please call the 375th Security Forces Squadron at 618-256-6157 or 618-256-6166.
Base Newcomers' Orientation is hosted at the Airman & Family Readiness Center (building 1650) each Tuesday beginning at 7:30 am. Orientation will be scheduled for all incoming personnel by the member's in processing personnel office. Base Newcomers' Orientation is mandatory for all newly arrived personnel at Scott AFB. Spouses are encouraged to attend one of the following: the Newcomers' Orientation with the member to our Team Scott Spouse Link or an orientation to the military and Scott AFB, held every other month. All new military spouses and those new to Scott AFB are welcome and encouraged to attend. Spouses may contact the Airman & Family Readiness Center at (618) 256-8668 for more information on the Spouse Link program.
During inclement weather, if you are scheduled for the Newcomer's Orientation and there is a 2 hour reporting delay, the orientation will begin at 9:30 am, if the base is "Closed" Newcomers will be cancelled and all members will be rescheduled for the following Tuesday.
Air Force personnel serviced by host wing Military Personnel Section (all 375th units, 635th units, AFNIC, and 15 OWS)
On your first duty day after arriving on base, report to the MPS (Military Personnel Section) Customer Support Office located in Building P-10. Group mass-inprocessing briefings are held every Monday, Wednesday, Friday (excluding holidays and wing Family Days) at 10:00 a.m. Upon in-processing all members will receive an information sheet regarding reporting instructions and briefings that will be conducted during the Newcomer's Orientation. When reporting to the Customer Support Office, bring personnel records and two copies of your orders and amendments, supervisor info, and new duty phone number (if known). The Scott AFB First Term Airmen Center (FTAC) program is mandatory for all newly arrived enlisted first term Airmen, first duty station, assigned to Scott. All members requiring attendance at FTAC will be scheduled by Customer Support after in-processing procedures. Call the MPS Customer Support Office at 618-256-4112 for more information.
Permission to utilize "permissive leave for house hunting", typically authorized up to 8 days, is granted through your unit commander after you have already in-processed with the MPS. The DEERS office is also located in the Military Personnel Section Customer Support office (Building P-10). This is where you can get identification cards and enroll family members into DEERS. Be sure to bring your marriage certificate, birth certificate, adoption papers and other legal documents on your first visit just in case they are needed. You should also have your family members' social security cards with you.
Active Duty, Guard, and Reserve personnel assigned to all other units at Scott AFB including USTRANSCOM, HQ AMC, 18 AF, TACC, SDDC, 932d AW (AF Reserve), 126th ARW (IL ANG)
All personnel assigned to units not inprocessed via the 375th Military Personnel Section should report to their unit orderly room, Commander's Support Staff, J1 (USTRANSCOM personnel), or administrative personnel section on their first duty day after arrival. Contact your sponsor or unit administrative offices as indicated in the "Major Unit Listing" of this publication for more detailed reporting instructions.
Personnel should request any allowable "permissive leave for househunting" from their unit leadership after reporting in to their personnel office.
Your sponsor will be able to introduce you to your new commander, first sergeant and co-workers. The sponsor should assist you in any area of concern and acquaint you with your unit, Scott AFB, and the surrounding area. If you do not receive contact from your sponsor at least 60 days prior to your reporting date, please contact the Airman & Family Readiness Center for assistance in locating your sponsor. For additional information regarding Scott AFB and the surrounding area, please contact the Airman & Family Readiness Center.
Sponsorship
Whether you are single or married make sure you request a sponsor if you don't already have one. Your sponsor will be able to tell you about your new unit, and give you a telephone number and address where he or she can be reached. You will receive a Welcome Package with information on housing, base facilities and programs, and the local community. Your sponsor will normally be at the airport to meet you and get you settled in during your first few days on station. Be sure and sign in at your unit's orderly room.
Getting Married Enroute
If you get married before you PCS, you must inform your commander and follow the procedures exactly as you are given them. The military will not pay for travel and housing of your spouse if you do not follow proper procedures.