Check In \ Processing
---
Reporting In
All active duty military assigned to or wishing to reside at Picatinny Arsenal, must contact the Military Personnel Office prior to their arrival date in order to receive assistance with relocation prior to your PCS. Military Personnel, Headquarters Detachment is located in Building 34N. The hours of operation are 8:00 a.m. - 4:30 p.m., Mon - Fri, excluding Federal Holidays. In-processing procedures will take approximately half a work day. Arrive no later than 10:00 a.m. in order to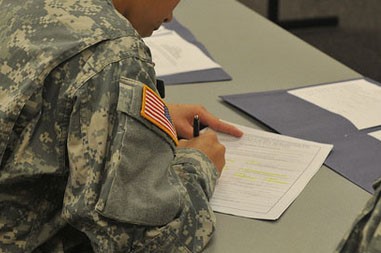 complete the process. Acquisition of housing is not complete until all in-processing station requirements have been met. Phone: 973-724-7247.
Military Personnel, Headquarters Detachment is located in Building 34 North. They can be reached by calling 973-724-7245, DSN 312-880-7245 or Fax 973-724-6663.
Required Documentation to In-Process
Orders and Amendments
DA Form 31 from losing unit (original signature)
Termination of quarters from losing installation (if applicable)
Installation Clearance Form DA Fm 137-2 from losing installation
All travel related receipts
Sponsors' name/phone number
Unit location/address/supervisors' phone number
Copy of last evaluation report
DA Form 705, Physical Fitness Test Scorecard
Name/Phone/Address/ Date of Birth (and marriage) of dependants
Name/Phone/Address of Parents
Emergency contact name and phone number
Copy of any advance of pay
If you have children:
School Records
Immunization Records
Last Physical Records
If you have pets:
You must have a microchip in place. Bring chip registration or Contact HQS Detachment at 973-724-7245, for more information. Local pet kennels:
Hollabird Kennels – 861 RT. 10, Randolph Township NJ. (973-584-7210)
Rockaway Animal Clinic – 328 Rt. 46, Rockaway NJ. (973-627-0789).
EOC Form
Those residing, but not working on Picatinny Arsenal, must stop by Military Personnel to sign the EOC.
On Base Registration/Decal
To obtain a decal, please go to the Visitor Center, bldg. 1136, just outside the main gate. You must provide military/civilian ID cards, driver's license, current registration and insurance card to obtain a decal. Phone: 973-724-4951.
Seat Belt Use/Child Restraints
Occupants of all motor vehicles operating on base in the state of NJ are required to wear safety belts. Picatinny Arsenal police are authorized to issue traffic citations for violations. Children less than 8 years of age or under 80 pounds must be in a car seat.
Mail
There is no general delivery. Please call your forwarding unit admin to inquire if they will collect your mail.
ACS Loan Closet
The Loan Closet at Army Community Service offers 30-day loans of kitchenware, airbeds, cleaning appliances, and childcare items to military personnel and their families during transition in and out of Picatinny Arsenal. For a complete listing of what's available contact the Army Community Service at 973-724-5219.
Travel Planning
Community Recreation operates the Picatinny Guest House, Building 110 Farley Ave. The Guest House has 4 units:
One Suite with a large kitchen, living room, 2 bedrooms and bathroom
Rooms 2, 3, & 4 are private rooms with private baths. They share a common area living room and kitchen.
Reservations can be made by calling Community Recreation at 973-724-8855, Monday through Friday from 7:30 am to 3:30 pm. Reservations must be secured with a MasterCard or VISA Card. Cancellations made 72 hours prior to check in will be honored with no charge; cancellations made less than 72 hours (3 days) prior to check in and "no-shows" will be charged for one night on your credit card. Check-in is at 3:00 pm. Check-out is at 11:00am. No pets are allowed. No smoking. Rollaway beds are available. Current rates are $42/night/room and $59/night for the Suite.
The Recreation Trailer Park offers 14 furnished mobile homes permanently located on a quiet wooded lot near Lake Denmark. All of the trailers have comfortable living rooms and clean spacious kitchens. There is also a playground and laundry room on the premises. The primary purpose of the trailers is to provide recreational lodging for military personnel All trailers have Cable TV, Internet and long distance calling capability. For reservations, call Trailer Park office at 973-724-4014, DSN 312-880-4014, Monday through Friday from 7:30 am to 3:30 pm. The current recreational rates are $60/night.
Command Sponsorship
Sponsors can help ease the stress of moving. Sponsors are Military or Civilian Members and their families who provide new families with a personal contact and reliable information about their new community. Each branch of the military is different.
Army - Soldiers must request a sponsor by filling out a form at the HR-M office during their reassignment interview.
Navy and Marine Corps - For some ranks, a sponsor may be assigned. In other cases, a Service Member may request a sponsor when he or she receives PCS orders.
Air Force - Service Members can ask for a sponsor through the Individual and Newcomers Treatment and Orientation program (INTRO.)
Coast Guard - Members are assigned a sponsor from their new duty location.
Pre-Teens and Teens - Parents can request a sponsor for their children by contacting the Youth Center at 973-724-5555 or the Relocation Readiness Program office at 973-724-5219. For assistance with Sponsorship call the Relocation Readiness Program office at the above mentioned number or the Human Resource-Military office 973-724-5830/7245.
Click here for more information.
What to do if you get married en route?
If you get married prior to your PCS you must inform your commander and follow the procedures. The military will not pay for travel and housing of your spouse if you do not follow proper procedures.