Registration
---
Airman and Family Readiness Center -Air Force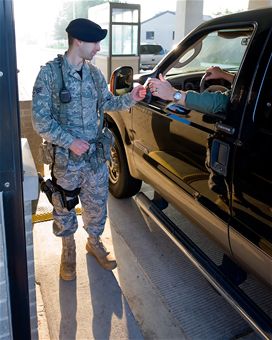 45 Nealy Avenue
Wing B, Suite 100
633 FSS/FSFR
Langley AFB, VA 23665
Phone 757-764-3990
Phone (DSN) 312-574-3990
Fax 757-764-6752
Mon - Fri 7:30 a.m. - 4:30 p.m.
Email | Website | Website | Map
Registering Vehicles on Base
You are no longer required to register your vehicle on Langley or on Ft Eustis.
Ft. Eustis Information
Registration is required for motorcycles and mopeds on Ft. Eustis. Vehicle registration on Ft. Eustis is located in building 2, Welcome Center/Provost Marshal Office. The following items must be presented at the time of vehicle registration:
Certificate of valid state registration (except mopeds)
Certificate of valid state inspection (except mopeds), which must be kept current in order to maintain post registration
Valid state operator's license (except mopeds)
Valid military, retired, family member or Department of Defense Identification Card
Proof of current insurance
Individuals registering a motorcycle or moped must provide proof of completion of the Fort Eustis Motorcycle Safety Foundation Course. Those who have not completed the course will be issued a temporary registration not to exceed 30 days. (Individuals must be in compliance with the appropriate state laws pertaining to financial responsibility, safety inspections and registration.)
Privately owned boats, camping and baggage trailers must be registered with the Outdoor Recreation Office and placed in the Recreational Vehicles Park within seven working days of their introduction to Ft. Eustis. Privately owned boats must also be registered with the State of Virginia or documented with the U.S. Coast Guard. (Not required if they are registered with another state.)
Restricted areas at Ft Eustis:
The following areas are designated as on-post, off-limit areas which require authorization to enter from a specific source:
Range and Training Areas -- In accordance with TCFE Regulation 350-8, authorization to enter range and training areas must be obtained from the Training Division.
Wooded Areas -- Persons not engaged in an official military operation must obtain authorization to enter wooded areas suitable for hunting, or camping, from the Game Warden's Office.
Unapproved Dirt Roads -- Persons in POVs must obtain authorization to use unapproved dirt roads from the PMO (Provost Marshal Office) or the Game Warden's Office.