Childcare
---
LAFB - Russ Child Development Center (Children ages 6 weeks – 5 years) - Air Force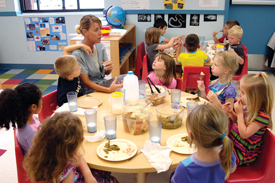 117 Burrell Loop Road
Building 70
Langley AFB, VA 23665
Phone 757-764-3585
Phone (DSN) 312-574-3585
Fax 757-764-4716
Mon - Fri 6:00 a.m. - 6:00 p.m.
Langley AFB
Child Development Center (CDC)

The Russ Child Development Center is located on the main base. This modern facility provides developmental programs designed to meet the intellectual, social, emotional and physical needs of children ages 6 weeks through 5 years old. Children's activities are supervised and monitored by experienced child development program assistants who have extensive training.
Goals

To foster positive identity and a sense of emotional well being
To enhance social skills
To encourage children to think, reason, question and experiment
To promote language and literacy development
To build physical development and skills

Curriculum

The curriculum is based on the well-established "Creative Curriculum" which focuses on meeting the needs and interests of the whole child using an individualized lesson plan. Children learn to care for pets in every room and develop self-help skills through hands-on experiences. Our diverse staff offer introduction to various languages through inclusion of Spanish and Sign Language. Long-term projects and studies give children an opportunity to explore and learn in-depth. One of the more popular studies is the garden project which has continued for several years and includes studies on soil, insects, composting and a variety of seeds and plants. Daily outdoor activities and a state of the art playground offer large motor development and play, something all children enjoy.

Food Service

The program serves a well-balanced and nutritious breakfast, lunch and snacks. Meals are served "Family Style" to promote conversation and to encourage children to try new foods. The menu offers a variety of foods that include multi-cultural items. All meals meet the USDA standards and menus are approved by a base dietitian or a MAJCOM specialist.

Parent Involvement

The Parent Advisory Board (PAB) allows parents opportunities to actively participate in program activities. Parents who are involved in the PAB establish a partnership between their families and the program. The PAB gives parents opportunities to feel that they are part of the program. The PAB meets once a month and supports fundraisers and other events for the children and staff.

Waiting List

If there are no vacancies at the CDP, patrons will need to complete a DD Form 2606, Request for Child Care. Children will be placed according to the Langley AFB Family Member Programs Flight Priority Enrollment Policy. Unborn children may be placed on the unborn waiting list anytime during the of pregnancy. PCS inbound can be placed on the waiting list as soon as they have published orders.

Registration

Once a child care space is offered, the sponsor has twenty-four hours to accept the position. A $100.00 holding fee and completed registration packet must be received at the CDP two working days after accepting the child care space. If no contact is made within twenty-four hours or the space is refused by the sponsor, the space will be offered to the next family on the waiting list. When a family does not make contact or refuses the space, the family's DD Form 2606 will be removed from the waiting list and a new DD Form 2606 must be accomplished to return to the waiting list. Registration links are at the bottom of this website.

Policies

The CDP complies with AFI 34-248, the most current year of the Inspection Checklist and with National Association for the Education of Young Children criterion for accreditation. In addition, a Parent Agreement is maintained and revised annually which outlines additional policies that are more specific.

Parent Advisory Board

The purpose of the Parent Advisory Board (PAB) is to build a strong relationship between families and the CDP and utilize this relationship to foster an enriching experience for children and families.

Call for information regarding programs offered, costs, eligibility and registration requirements or check out the website. We also have a continuous need for Family Child Care. There are advantages to becoming a licensed provider:

Manage your own business
Set your own hours and fees.
Resource Center (Check out items free of charge)
Transferable Career
Free Training
Professional Development
USDA/CACFP Food Program
Subsidy Program
All start-up materials and training is provided by the FCC Office. For more information, call 757-764-1771 or come by 117 Burrell Loop.

New Parent Support Program

The Langley New Parent Support Program (NPSP) offers professional services to expectant parents and parents of young children. NPSP can assist with your questions, needs and parenting goals. The NPSP links families with military and civilian resources, conducts early childhood growth and development screenings, promotes positive parent/child interactions and helps parents develop effective parenting skills.
Fort Eustis
Child Development Center (CDC) is located on Madison Ave in Building 926.

Programs Offered

The CDC offers Hourly Care from 8:30 a.m. until 3:30 p.m. Reservations are strongly suggested and can be made up to two weeks in advance. Hourly care fees are subject to change but are presently $3.50 per hour. The CDC also offers full day child care for ages 6 months to kindergarten age, not in school, and before and after preschool and Kindergarten care.
CDC provides hourly care from 6:15 p.m. - 8:15 p.m. on Tuesday and Thursday evenings. Children of Wounded Warriors will receive free care (this will be included within their 16 hours of respite care per month). The regular hourly rate will apply to all others.
Preschool: part day preschool is available for children ages 3 to 5 years who are toilet trained. This program is designed for the non-working Families who wish their child to socialize with other children of their age during the school year. The part day program is from 9-12 Monday to Friday. Full day preschool is available to assist families needing 6 or more hours of daily childcare. Ages 3 to 5 years.

Availability /Wait List

The Fort Eustis Child Development Center (CDC) has a waiting list for ages 6 months to Kindergarten age. To be placed on the waiting list, patrons must come to the CR office between the hours of 8:00 a.m. to 6:00 p.m. and complete a waiting list form. A patron's child remains on the list for three months from the date of application. It is then the patron's responsibility to contact the CR office prior to the expiration date and request to have the record updated for another three months. If this is not done, your name will be removed from the waiting list. Names are placed on the waiting list by priority and by date of application.

Eligibility

Children ages 4 weeks through 18 years of age are eligible to participate.
A child must be a Family Member of active duty, retired or deceased military personnel. Children of DOD civilians and contractors employed at Fort Eustis, or surrounding area, are also eligible to participate.
First priority is to active duty and/or DOD civilian personnel who are either single parents, or whose spouse is on active duty, attends school on a full or part-time basis or is employed.

Respite Care

Child Care and Youth Services for WT's "Warriors in Transition , Families and Non Medical Attendants at Low or No Cost in CYS Operated Programs.

Free CYS Registration

Unlimited No Cost Hourly Care for Medical Appointments/Treatment
16 Hours of No Cost Respite Child Care per Child per Month
Waived Fees for 2 Garrison Instructional Classes and Sports
Full Day/Part Day Fee Reductions for employed Parents

Registration

Registration is required prior to use of any Child Development Services program. Appointments are not required but may be made by calling 757-878-4025. There are registration fees for all programs. Immunization records are required at registration and all child(ren) must have a physical or well baby check, but do have 30 days to submit a copy of the physical to the CR office.

Costs

Fees for the child care programs are governed by DOD and are based on total family income. Registration and fee payment are required prior to services being rendered. For more information please call 757-878-4025 or DSN 312-826-4025.

Child, Youth and School Services (CYSS) now offers free annual registration for all Families.

Children of deployed Soldiers/DOD civilians will receive a 20% reduction of their monthly fees for full or regular part time care in both the CDC and SAS programs for the duration of the Soldiers/DOD civilian's deployment.
Hourly care will be provided at $2.00 per hour for children after using the 16 free hours of care per month.

Family Child Care (FCC)

Family Child Care (FCC) is in home care provided by an adult family member occupying Government quarters. Both the individual providing services (FCC provider) and the occupied housing unit (FCC home) must be certified by the installation Commander before children may be accepted for care. FCC providers can assist parents by providing flexible hours, as well as overnight and long term care.
FCC was established under the guidelines AR 608-10, Child Development Services, to support the specific Child Care needs of military families. All FCC providers initially receive 40 hours of instruction in such topics as CPR, nutritious food preparation, and early child development before being certified. In addition, providers receive monthly training based on the Child Development Association (CDA) 13 functional areas. FCC homes are monitored regularly by the FCC staff and are inspected by Preventative Medicine, the Fire Department and the Safety Office.

School Age Services (SAS)

The School Age Services Program (SAS) provides supervised out of school activities for children in first thru fifth grades. The program is located in Building 926, Madison Avenue.
Hours of Operation -- During the school year, the program is offered each morning before school, 5:30 a.m. - 8:30 a.m., Wednesdays 12:00 p.m. - 6:00 p.m. and 4:00 p.m. - 6:00 p.m. after school Monday thru Friday. The school buses pick the children up at the SAS center in the morning and bring them back to the SAS center in the afternoon. Full day programs are offered during school holidays and vacations.
Activities include gymnasium activities, board game room, game room, arts and crafts area, quiet reading area, homework area, computer lab and a playground. Recreational and educational field trips, swimming, bowling, and other non-center based activities are part of the overall program.

Supplemental Programs

Short Term Alternative Child Care (STACC)

Offers care for organizations in a selected area in the same building where the organization's meeting is taking place. Ratios are generally kept at 1:5.

Volunteer Child Care in the Unit Setting (VCCUS)

Volunteers for one unit or organization carry out child care services for another organization/unit in exchange for the same services at a later time. CDS assists by offering a brief training for all volunteers involved and conducts the inspection of the child care site.

For more information on either of these programs call 757-878-4025.