Check In \ Processing
---
Welcome Center - Jacksonville International Airport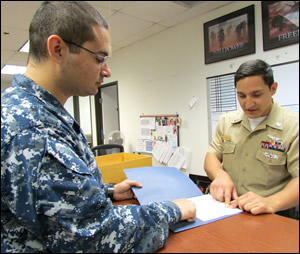 Main Terminal, First Floor
Jacksonville, FL 32218
Phone 904-741-6655
Fax 904-542-5214
Mon-Fri: 24-hours A Day
Sat and Sun – 24-hours A Day
Holidays – 24-hours A Day
Reporting Procedures
Service members should be in the uniform of the day when they check in. Service Dress Blue is universally accepted as a travel uniform and may be worn at check in. Khakis can be worn year-around.
Members assigned to NAS Jacksonville should report to the Officer of the Day (OOD) office located on the first floor of the NAS Jax Administration Bldg. #1. The closest intersection is Yorktown Avenue & Langley Street. Newly assigned Naval Hospital Staff go directly to the Hospital information desk located in Bldg. H-2080, on Child Street. Officer and Enlisted personnel assigned to most commands (except deploying squadrons) at NAS Jacksonville check in with the Personnel Support Detachment located in Bldg. 789, at the corner of Birmingham Avenue and Child Street. Personnel assigned to deploying squadrons check in with their squadron duty office. The Personnel Support Detachment handles personnel and pay matters for most shore commands.
Arrival After Duty Hours
Unaccompanied Personnel - The first stop is the station OOD who will endorse the service member's orders. The OOD's office is located in Bldg. #1 at the corner of Yorktown Avenue & Langley Street. The next stop will be at Central Billeting Bldg. 822 for enlisted personnel, or the Navy Gateway Inns & Suites, building 11, where temporary quarters will be assigned until permanent assignment is made. The OOD can provide directions. Permanent quarters are not guaranteed for single members E-5 and above. The service member will be required to report to the Personnel Support Detachment (PSD) building 789 at 9:00 a.m. the next working day. PSD is located at the corner of Birmingham Avenue & Child Street.
Accompanied Personnel - If service member is accompanied by family members, the first stop is the station OOD who will endorse the service member's orders. If permanent quarters have not been acquired, prior to the service members check in, temporary quarters will need to be obtained. If the service member made advance reservations at the Navy Lodge, you must check in between 3:00 p.m. - 6:00 p.m. If arriving after 6:00 p.m., you must secure the room with a credit card, or your reservation will be canceled. If you failed to make a reservation, there may still be room and you should call 904-772-6000 to inquire. If no room is available at the Navy Lodge, temporary lodging may be available at the Navy Gateway Inns & Suites located in Bldg. 11. Call 904-542-3138 to see if they have room there or in the Heritage Cottages, otherwise lodging will have to be obtained off base. The service member will then report to the Personnel Support Detachment (PSD), building 789, at 9:00 a.m. the next regular working day. All three of these temporary lodging resources are located along or near Mustin Road.
Your assigned military Sponsor should be able to guide and assist you during your reporting and check in period. If you do not have a sponsor, contact your gaining command directly for a sponsor assignment. This person is assigned to be your liaison contact with your new command. Don't be shy about asking questions. Have your spouse contact his or her spouse directly for housing and school-related questions.
It is mandatory to check in with the military housing office prior to securing off-base permanent housing!
What to do if you get Married enroute?
If you get married before you PCS, you must inform your commander and follow the procedures exactly as you are given them. The military will not pay for travel and housing of your spouse if you do not follow proper procedures.
The same goes for moving your personal effects (household goods) to your new duty assignment. You must have prior approval from the Military Transportation Office. Contact the Jacksonville office at 1-800-762-4221 if you have any questions.
Travel Planning
You would be wise to make your Temporary Lodging reservations well in advance of your arrival to NAS Jacksonville, to eliminate one less concern while in transit. On base resources include the Navy Gateway Inns and Suites; Heritage Cottages (two-bedroom units that sleep six); and the Navy Lodge. Please refer to the Housing - Temporary category for contact information.