Check In \ Processing
---
Fort Carson Welcome and Farewell Center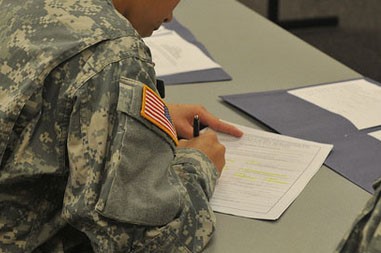 1525 Ellis Street
Building 1218
Room 136
Fort Carson, CO 80913
Phone 719-526-0349 / 1-800-279-1151 / Soldiers Requesting Leave Extensions: 1-800-582-5552
Phone (DSN) 312-691-0349
In & Out Processing Hours:
Mon - Thu 7:30 a.m. - 3:00 p.m.
Closed for Lunch 11:15 a.m. - 1:00 p.m.
Fri 8:30 a.m. - 3:00 p.m.
BOOK YOUR LOCAL HOTEL HERE Fort Carson on-post temporary lodging is in Colorado Inn. There are many off-post hotels and motels within 4 miles to the north of Fort Carson, mostly clustered around I-25 at Lake Avenue.
Military
All incoming personnel, LTC and below, must report to the U.S. Army Replacement Detachment and Fort Carson Welcome and Farewell Center regardless of direct unit of assignment. The Center, located in Bldg 1013 on the corner of Wetzel Avenue and Ellis Street, is open 24 hours per day. It is not necessary to report in uniform. You will receive an in-processing appointment after signing in. Allow two to four days to complete in-processing, depending on rank.
Civilians
Incoming Department of Army Civilians should report to the Civilian Personnel Advisory Center (CPAC) located in Bldg 1118 on the corner of Wetzel and Ellis at 7:30 a.m., on the first day of their employment at Fort Carson. Be sure to have your most recent SF50 and any other pertinent personnel records when you report for in-processing.
Documents to Hand Carry
Everyone assigned to Fort Carson should carry assignment orders, leave forms, military/DOD identification, marriage certificates, immigration paperwork and passports, shot records, pet records, medical and dental records, and school records.
If arriving by plane or bus, be prepared to take a taxi to Fort Carson and save your receipt to be reimbursed. Please call the Welcome Center toll-free at 1-800-279-1151 or locally at 719-526-2424 for additional information.