Base History \ Arrival
---
Fort Carson, the Mountain Post, is a proud Army post located southwest of Colorado Springs, Colorado, between Interstate 25 and Highway 115 in El Paso county. This post is recognized as one of the world's premier locations to lead, train, and maintain while preparing soldiers to win on the battlefield. The southern Colorado Springs and Fountain areas are considered affordable to live in when compared to the national average cost of living. This geographical area provides some of the most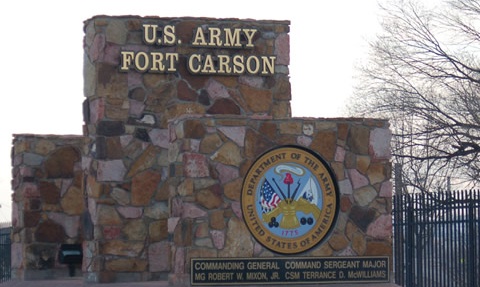 beautiful scenery and outdoor recreational opportunities in America! The base operator's phone number is 719-526-5811 or DSN 312-691-5811.
BOOK YOUR LOCAL HOTEL HERE Fort Carson on-post temporary lodging is in Colorado Inn. There are many off-post hotels and motels within 4 miles to the north of Fort Carson, mostly clustered around I-25 at Lake Avenue.
History
The history of Fort Carson began with Japan's attack on Pearl Harbor on December 7, 1941. Less than one month later on January 6, 1942, it was announced that Colorado Springs had been selected as the site for an army camp. On February 22, 1942, Colorado Springs newspapers reported that the installation would be named Camp Carson in honor of Brigadier General Christopher "Kit" Carson, the famous frontiersman. The original military reservation consisted of 60,048 acres of land; 5,533 donated by the City of Colorado Springs, 29,676 purchased from private owners, 262 acquired from the Department of Interior, and 24,577 leased from the State of Colorado. For more information, go to the Fort Carson Homepage.
Mission
The Division's mission is "To train, deploy and sustain brigade units of action; on order, conduct decisive full-spectrum combat operations in order to accomplish Combatant Commander Objectives.
Population Served
Fort Carson is home to the 2nd, 3rd, and 4th Brigade Combat Teams of the 4th Infantry Division. The 43rd Area Support Group supports the major units on post. In 2003, over 13,000 of its troops deployed to Iraq in support of Operation Iraqi Freedom.
Traveling to Fort Carson
Location
Fort Carson is located on the front range of the Rocky Mountains and is 60 miles South of Denver on Interstate 25 at Exit #135. The post is nestled in the extreme Southwest corner of Colorado Springs, beneath and in the shade of Cheyenne Mountain. You can also enter the post from State Highway 115 (Nevada Avenue).
Air Transportation
Colorado Springs Airport is currently served by 8 airline carriers and is located about 10 miles from Fort Carson. The Armed Forces YMCA Booth, located near baggage claim area #4, is available for assistance. Military transportation is available 24 hours a day by calling 1-800-279-1151.
Commercial Bus Transportation
The Greyhound bus terminal is located at 120 S. Weber Street. For fare information, call the Greyhound terminal at 719-635-1505.