Childcare
---
Child and Youth Registration and Referral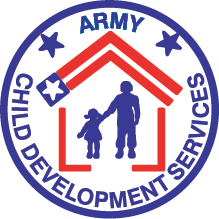 Building 1743
Fort Bliss, TX 79916
Phone 915-568-4374/568-4646
Mon – Fri 9:00 a.m. – 5:30 p.m.
Sat 8:00 a.m. - 12:00 p.m.
Sun and Holidays – Closed
Child Development Centers (CDC)
Centers on Installation
The educational and emotional well being of your children is very important at Fort Bliss. MWR accentuates the "CARE" in child care with its developmental programs to stimulate young minds. Along with a thematic curriculum, children and parents participate in many field trips throughout the year.
The Child Development Centers on Main post, Logan Heights and East Bliss offer you and your family a broad range of quality, professional care. The centers offer a volunteer for a discount program. You may volunteer to receive a 10% discount on your monthly tuition.
The Logan CDC, Bldg. 3500 or the Milam CDC, is open on Saturday from 1:00 p.m. - 11:00 p.m. The Logan CDC is open on odd dated Saturdays and the Milam CDC is open on even dated Saturdays. The cost is $4.00 per hour. This will give you the opportunity to leave your child in a safe environment while you enjoy the night out.
To enroll your child/youth, call Parent Central, Bldg 1743 Victory Street, at 915-568-4374 or 915-568-4646 to make an appointment.
Child care services are available at all Child Development Centers (CDC) on Fort Bliss. Main CDC located in Building 1730,; Logan CDC located in Building 3500 within the Logan Heights housing area, Milam CDC located at 11896 Haan Road, Replica CDC located at 5036 Sheridan, and East Bliss CDC located in 20707 Kasserine Way.
Programs Offered
Services offered are weekly and hourly child care; before/after school care for kindergarten children; before/after school care for first through sixth grade children; preschool programs and a kindergarten class.
Weekly: Care for children 6 weeks to 6 years (including kindergarten children) on a regular basis Monday through Friday is provided at our Main and Logan Child Development Centers. Our Logan CDC Annex provides care for children 6 weeks to 5 years.
Hourly: Care for children 6 weeks to 12 years on an irregular, hourly basis is available. Reservations can be made up to 4 weeks in advance. Call 915-568-5689 for the Main Center or Logan Center at 915-568-3989.
Preschool: Preschool for children 3 to 4 years of age are provided during the school year (Sep through May). For more information, please call 915-568-4374.
School age Care -- Regular, weekly care for school age children first grade and older is provided before and after school, during school breaks and during summer vacation. Planned activities such as fun at Kelly Park and sports keep us busy after school. We provide escort service to Travis, Bliss, Logan, Milam, Hughey, Ross and Assumption Schools. For more information please call 915-568-4374/4429.
Eligibility
Dependent Children 6 weeks to 12 years of Active duty personnel, DAC employees, Army Community Service (ACS) and American Red Cross (ARC) volunteers and Members of the military reserve components. Priority is given to single and dual military/DA civilians, then to the military member/DA civilian with a working spouse then to all other eligible categories.
Priority for Care:
Category I – Single (sole parent) active duty military patron; dual active duty military patron or single DoD civilian; CYS staff children and/or siblings of children already in a full-time program.
Category II – Active duty military or DoD civilian with full-time working spouse.
Category III – Active duty military or DoD civilian with a full-time student spouse.
Category IV – DoD contractors
Category V – Active duty military or DoD civilian whose spouse is not working or attending school full time.
Costs
The Military Child Care Act requires DOD to prescribe uniform fee regulations for military child development centers. The fees are based on total family income and apply to all children who attend on a regular basis. The fee ranges are updated annually. Monthly fees for full time child care range from $220 to $582. Twenty percent discounts are offered for additional children. Half day fees range from $162 per month to $444 per month. Before and after school care fees range from $56 to $252. Hourly fees are $4.00 per hour per child.
The Child Development Center continues to provide special hours of operation for weekends at its Logan Heights location in Building 3500 on Ellerthorpe Rd. and Milan location in Building 11896 Haan: Saturday: 1 p.m. to midnight. Cost for weekend care is $4.00 per hour. Children, ages 2 months to 12 years, are eligible for the care.
Family Child Care (FCC)
Family Child Care (FCC) is in-home care provided by an adult family member occupying government quarters. FCC is dedicated to the improvement of home child care and continuously strives to meet the changing needs of the Fort. Bliss community. The priority of FCC is to ensure a safe and healthy environment for children participating in the program. FCC hopes to enhance the quality of life for all community members by offering developmental care through initial provider certification and consistent, on-going, in-service training in all areas of child development. Potential providers may obtain an application from FCC office at 1743 Victory Road.
A developmental home environment allows the individual child to develop at his/her own rate and provides experiences and opportunities to explore, manipulate and discover, thereby developing those skills needed for independent learning.
The Family Child Care Office is responsible for ensuring that all FCC providers meet all requirements outlined in Army Regulation 608-10 and Fort Bliss Standard Operating Procedures. The staff provides training classes, workshops, and provider newsletters.
Providers may qualify for a Child Development Association Credential (CDA) or a Nation Family Child Care Accreditation (NAFCC) after special training and demonstration of competency.
For FCC care parents must first register each child through Central Registration located at 1743 Victory Road. The CER staff will log parents on to Army FCC online for a virtual computer tour of providers and their spaces. After a parent has selected a provider the phone numbers are issued from the FCC office for appointments and interviews. The provider will call the office to verify parent's selections. The FCC office consists of an FCC Director, Food Manager, Support Training Curriculum Specialist, and Admin Assistant. Someone on this team will make monthly visits to each FCC home to ensure required program standards are being met.
The Family Child Care office is responsible for ensuring that all Family Child Care providers meet all requirements outlined in AR 608-10 and Fort Bliss SOPs. The staff provides training classes and workshops.
The training required to be a provider consists of classes in Army Regulation 608-10, Child Growth and Development, Child Guidance, Safety, Fire Prevention, Food Safety, Menu Planning, Daily Activities, Administering Medication, Childhood Diseases, Contracts, Business Practices, Child Abuse Prevention, working with Parents, observing at the Day Care Center, Observing at an FCC home, Infant Care, Learning Centers, First Aid and CPR.
Parents must first register through the Child Development Services system. The FCC office maintains a referral list of child care openings. For further information, call 915-568-4198.
School Age Care (SAC)
School Age Centers (SAC) is the bridge between early child care and middle school & teen under the Child and Youth Services (CYS) umbrella of oversight and management. Our top priority is to bolster operations and increase availability of quality affordable services to families. We plan our program in cooperation with all CYS programs, Morale, Welfare and Recreation (MWR) programs, and all other community organizations that can support the health, safety, education, and welfare of children.
Fort Bliss SAC sites are nationally accredited by the National After School Association (NAA) formerly National School Age Care Alliance (NSACA). This accreditation assures parents of a commitment to responsive and loving care, trained and competent staff, a safe and healthy environment, and consistent program improvement and quality. We use Assessing School-Age Child Care Quality (ASQ) tools, a five-step process which guides us as we look at program quality so that we can develop important priorities. We involve the children, families, staff, and community in an open dialogue about the program. Together, we make changes which benefit the whole community. The ASQ process provides that "you", administration, staff, families, children and the community members are the best people to make the changes that will improve the program.
There are three School Age Centers on Fort Bliss:
SKIES UNLIMITED, Bldg.3508 Ellerthorpe, Logan Heights, 915-568-7187/5544
Logan SAC, Bldg. 3505, Ellerthorpe Rd., Logan Heights, 915-569-5779/5784
MILAM SAC, Bldg. 11898, HAAN Rd., East Fort Bliss, 915-744-2274
SAC operates three before and after-school sites. We transport children to and from all schools that are either on post or adjacent to post. Working parents whose children do not attend the schools serviced by our programs in the EPISD can request a "Working Parent Transfer" to a listed school through Pupil Services at 6531 Boeing Drive. Children arriving after buses have departed become the parent's responsibility to transport to school. Please note that breakfast ends at 7:30 a.m.
School Age Care is located at the Youthplex. For further information please call Main CDC at 915-568-5689.
CYS Registration
Registration is handled through an appointment system. Parent Central Services is at Bldg 1743 on Fort Bliss. Please call the registration desk at 568-4374 to make an appointment. Registration requires approximately 30-45 minutes to complete. You will need to show a valid military ID card, child's immunization record and current pay statement for all working family members. When you have completed all necessary paperwork (see below table) you will be issued a swipe card for full time care. You will be required to present this card whenever you use the center. The registration is good for one year and is transferable to other Army installations. If there are any changes to your file (ie change in employment, change of address, spouse employment) it is your responsibility to report these changes to the Parent Central Office immediately.
The Youthplex on main post, which houses the Middle School and Teen (MS&T) programs, has a game room with billiards, foosball, video and board games, computer lab, music room, lounge with big screen TV, a video library, teen patio and playground, arts and crafts activities, and a skateboard park. Also a full use gym for a variety of activities.
We are happy to welcome you and your youth into our MS&T program. It is the mission of Fort Bliss Child, Youth and School Services to provide a quality program that meets the needs of youths, parents, to support the military life style, promote character values and reduce conflicts between parental responsibilities and unit mission requirements.