Check In \ Processing
---
Fleet and Family Support Center Map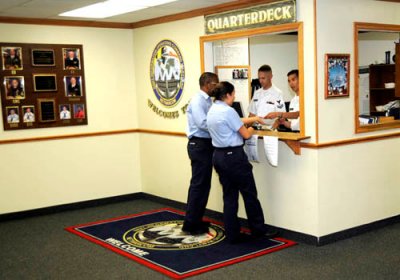 4755 Pasture Road
Bldg. 309 Churchill Avenue
NAS Fallon
Fallon, NV 89496-5000
Phone 775-426-3333
Phone (DSN) 890-3333
Fax 775-426-3340
Fax (DSN) 890-3340
Mon - Fri 7:30 a.m. - 4:00 p.m.
Sat and Sun - Closed
Holidays - Closed
Reporting Procedures
A "Sponsor" can be an invaluable resource for those arriving at NAS Fallon. To obtain a sponsor, contact Command Services at 775-426-2525 /2713 or 312-890-2525/2713 well in advance.
Sailors reporting to NAS Fallon must check in at the NAS Fallon Quarterdeck, building #350, upon arrival. The Quarterdeck will be staffed from 7:00 a.m. - 11:00 p.m. (day watch/eve watch). All calls to Quarterdeck, 775-426-2715 after 2300 will be forwarded to the CDO cell phone. Personnel checking in or out of the command on PCS or TAD orders after 2300, should be directed to Central Billeting, Bldg. 354. Front desk personnel will endorse your orders and log the arrival/departure. Make sure to submit proper leave request prior to taking permissive leave for a house-hunting trip.
The next step is to stop by the Customer Service Desk, located in Building 309, across from the Navy Federal Credit Union for processing in. You can expect the check-in process to take several days. Make sure you have contacted your sponsor prior to your arrival. Once you arrive with family members you will be screened at Customer Service detachment (CSD) for entitlement to up to 10 days of Temporary Lodging Allowance/Expense (TLA/E).
In addition to your service record, please ensure you bring the following documents and information when checking in at CSD Fallon:
Original Orders with detaching and reporting endorsements.
Receipts for lodging, travel (air, bus, train, etc.).
Completed Travel Voucher - attached. (Include dates of departure, modes of transportation, reason for stop, etc.)
Current address/phone number. Bldg number and room number if in barracks.
Spouse next-of-kin name, address and zip code (for Page 2 processing).
Member's primary and secondary next of kin (Name and phone number).
Spouse orientation can be accomplished by attending Command Indoctrination (NAS and NSAWC) with the service member and/or attending a Fleet and Family Support Center (FFSC) "Military Spouse 101" course when scheduled. Contact Command Services at 775-426-2525 or DSN 312-890-2525/2713 for more information on Command Indoctrination or the FFSC at 775-426-3333 or DSN 312-890-3333 for class offerings.
What to do if you get Married enroute?
If you get married before you PCS, you must inform your commander and follow the procedures exactly as you are given them. The military will not pay for travel and housing of your spouse if you do not follow proper procedures.