Childcare
---
Child Development Center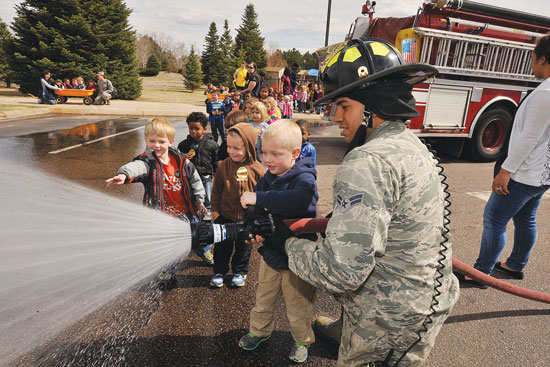 225 State Loop
Building 940
Columbus AFB, MS 39710
Phone 662-434-2479
Phone (DSN) 312-742-2479
Fax 662-434-2681
Fax (DSN) 312-742-2681
Mon - Fri 6:30 a.m. - 5:30 p.m.
Sat, Sun, Federal Holidays & AETC Family Days - Closed
Child Care
Child Development Center (CDC)
The Columbus AFB Child Development Center (CDC) is housed in a state of the art facility located just in front of the housing area. Top quality programs for the children and families are offered. The CDC is accredited through the National Association for the Education of Young Children. There are closed circuit TV cameras in all rooms. Programs include full day, part-day preschool and hourly child care. The center participates in the USDA Food Program. Breakfast, lunch and afternoon snack are included in the fee.
Eligibility/Availability
The Columbus AFB CDC accepts 6 weeks of age through 5 years (until they enter Kindergarten). Children of active duty, DoD/NAF civilian employees, contract personnel and retirees may use the CDC. Children are enrolled in full-time slots and drop-in care is available only on a space available basis. Hourly rates are applied for drop-in care.
When demand exceeds space available, a waiting list is maintained. You may be added to the waiting list by completing DD Form 2606 and either emailing or faxing it to the CDC.
Priority placement on waiting list is as follows:
single military parents with custody and dual military couples
all other active duty with working spouses
all other active duty
civilian employees
A reservation system is utilized for hourly care and reservations may be made up to two weeks in advance depending on the age group.
Registration
A current immunization record and parents most recent Leave and Earning Statement and /or pay statement are required to enter the program.
Costs
Families are placed in a category based on total family income. Families will be asked to provide their most recent Leave and Earning statement and/or pay stub. In accordance with federal guidelines, BAH or in-kind equivalent are added together with earnings to determine the fee category. Fees range from $58 to $142 per week.
The hourly rate for child care is $4 per hour, per child with a one hour minimum charge.
Hours of Operation
Columbus AFB Child Development Center is opened from 6:30 a.m. to 5:30 p.m., Monday through Friday.
Give Parents A Break Program
This program is held at the Child Development Center (CDC) one day per month for eligible families. The CDC is also opened one day per month for "Parents Day/Night Out" - hourly fees apply.
Family Child Care Program (FCC)
The Family Child Care Program provides developmental care in FCC licensed homes in military family housing. Children between the ages newborn to 12 years are eligible. You may obtain a list of licensed providers at the Child Development Center or Family Child Care Office. For more information about family child care or on becoming a FCC provider, call 662-434-3041 or DSN 312-742-3041. NOTE: Currently there are no licensed family child care provider homes at Columbus AFB.
School Age Program (SAP)
This program provides child care for children K-6th grade of active duty military, DoD civilians and contract employees. The After School Program includes a wide variety of educational and recreational experiences. The children are offered activities such as arts, crafts, music, drama, sports, games and individual and group studies. The center has a fully equipped gymnasium, computer lab and an outdoor playground. Columbus City Schools and Caledonia Elementary School provide transportation to the center. Summer Camp includes swimming, field trips, and a variety of educational activities at no additional cost to parents. Breakfast and snacks are provided. Weekly fees for each child will include meals and will be based on combined annual family income. The priority placement for the School Age Program is the same as the Child Development Center.
Hours of Operation
The School Age Program is opened Monday through Friday from 3:00 p.m. - 6:00 p.m., closed on Federal holidays. The program provides full day care on days when school is not in session. The hours for full day are 7:00 a.m. - 6:00 p.m.