Check In \ Processing
---
Visitor & Welcome Center (Pass and Registration)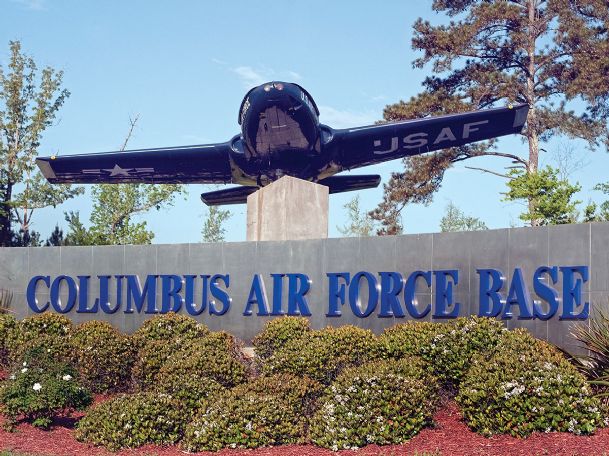 108 Simler Boulevard
Columbus AFB, MS 39710
Phone 662-434-7133
Phone (DSN) 312-742-7133
Fax 662 434-2721
Fax (DSN) 312-742-2721
Mon - Fri 7:30 a.m. - 4:30 p.m.
Sat & Sun - Closed
Check-in Procedures
Travel Planning
Reservations for billeting or temporary lodging facilities at the Magnolia Inn can be made at any time. The member or sponsor can make reservation by phone. Computer equipment with Internet access is provided for guest use in the main building.
Important Documents to Hand Carry for Inprocessing:
At least 10 copies of your orders
Military Identification Card
Birth Certificates
Marriage Certificate
Copy of advance travel pay or allowances paperwork
All moving paperwork including: inventory, TMO information, Self-Procured Move paperwork and all receipts associated with moving
Employment records or resume of civilian family members
Medical/dental records from your previous duty station - entire family
Immunization records for all children and all active duty members
School records/transcripts for children and adults
Pet medical and immunization records
Letters of credit from utilities companies (telephone, electric) may result in waiver for deposits
Reporting Procedures
During Duty Hours
Report to your Unit or Squadron for arrangement of inprocessing with Military Personnel Flight. Contact your sponsor to let him/her know you have arrived. If you have an emergency and may be arriving late, contact your sponsor or the base command post, 1-800-982-4257 or 662-434-7020.
After Duty Hours
Report to the Temporary Lodging Facility, Magnolia Inn, located at 179 Webb Street, Bldg 956, the 24- hour arrival point. Contact your sponsor to let him/her know you have arrived. Permanent Party personnel report the next working day to your Unit or Squadron and they will arrange for your inprocessing with military personnel flight.
Specialized Undergraduate Pilot Training (SUPT) Students: After checking in at the Magnolia Inn, in-processing begins at the 14 OSS/OST Transition Manager's (TM) Office, located in Bldg 230 room 22. Your report no-later than date should be no less than ten days prior to your class start date. On your first duty date of arrival, report to the TM Office wearing ABUs or blue's (no tie or SD). At this time you will be given an inprocessing checklist, base map and other pertinent information. If arrive after duty hours, check in at billeting and report to the TM Office by 10:00 a.m. the next duty day. Please direct your questions or concerns to the Transition Manager's Office at DSN 312-742-7618 or 662-434-7618.
Due to an influx of students at Columbus AFB housing priorities are constantly changing. It is recommended that you call ahead and reserve up to 30 days of billeting at the Magnolia Inn DSN 312-742-2548 or 662-434-2548. This will help ensure that you have a place to stay on base while awaiting your unaccompanied officers' quarters (UOQ) or base housing unit. It is possible without a reservation that you may end up in a hotel for an extended period of time while awaiting permanent housing or an UOQ room. You should call the housing office at DSN 314-742-3474 or 662-434-3474 before your arrival to get an update on the current situation. Unaccompanied or single officers should contact the UOQ Manager at 314-742-7278 or 662-434-7278. All incoming Specialized Undergraduate Pilot Training (SUPT) students should review the "Welcome SUPT Students" packet information.
Department of Defense civilians: Contact your selecting official or personnel office for a sponsor and inprocessing procedure prior to arrival.
What to do if you get Married enroute?
If you get married before you PCS, you must inform your commander and follow the procedures exactly as you are given them. The military will not pay for travel and housing of your spouse if you do not follow the proper procedures