Registration
---
Airman and Family Readiness Center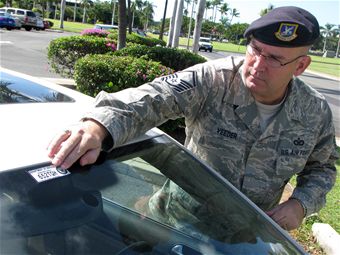 17800 13th Street
9 FSS/FSFR
Beale AFB, CA 95903
Phone 530-634-2863
Phone (DSN) 312-368-2863
Fax 530-634-2087
Fax (DSN) 312-368-2087
Mon, Tues, Thurs & Fri 7:30 a.m. - 4:30 p.m.
Wed – 7:30 a.m. – 1:30 p.m.
Sat and Sun - closed
Registration & Licensing Requirements
California State law requires you to have sufficient liability insurance and a valid driver's license in order to operate a vehicle. The term "vehicle" generally includes automobiles, motorcycles, vans, trailers and boats regularly parked or garaged overnight. Further, your vehicle must be properly registered. Even though you are in the Military, you may be required to register your vehicle in-state and obtain an in-state license within a few months of moving. Access complete information on insurance, driver's licensing, and where and how to register your vehicle by visiting the State Department of Motor Vehicles website.
State Laws
Seatbelts and Child Restraints - You and your passengers must always wear seatbelts while driving; you will be ticketed and issued heavy fines if seatbelts are not secured. State law requires children to be in a Child Safety Seat or booster seat until they are either 8 years old or 4' 9" or taller.
Motorcycles and their operators are subject to special laws. If you own and operate a motorcycle, you must comply with those laws. Visit the State Department of Motor Vehicles website for more information.
Cell phones - Drivers under the age of 18 are not allowed to use any wireless communication device while driving in the state of California. California law states that hand held cell phones, blackberries, or other PDA will not be used while driving no matter what your age. The state of California requires the use of hands free wireless devices if you must use a cell phone or other PDA while driving. The state fine for using a hand held cell phone while driving is relatively low, however, there are city, county, and administrative fines attached which will bring the fine for using a hand-held cell phone while driving in the state of CA to somewhere in excess of $250. Play it safe and always use a "hands free" device if you must use a cell phone or other PDA while driving. Hands-free devices must be used while operating a motor vehicle on ALL military installations worldwide.
Headlights - It is unlawful at any time to drive in the state of California with only parking lights on. Your headlights must be on anytime you are using the windshield wipers. There are areas on many highways where your headlights are required to be turned on. These areas will have a regulatory sign advising the use of headlights, fines for non-compliance can run in excess of $250.00.
Registration and Smog Laws
A car registered in another state that has no smog devices is legal to drive in California as long as it is equipped as required in the other state. Vehicles are prohibited from emitting excessive exhaust and will be cited for air pollution, even if the car is registered in another state.
All new unregistered motor vehicles that are brought into California whose odometers read less than 7,500 miles must meet smog requirements and must be equipped with a California emission system before they can be registered.
New Vehicles - a new vehicle that was previously registered in your state of residence or last state of active military duty does not have to be equipped with a California emission system. Used Vehicles - Most used vehicles previously registered in another state must meet California's emission standards before registration will be issued.
Vehicle Taxes
A sales (use) tax will be required when registering a vehicle purchased overseas with the INTENT of using it in California.
It is illegal in the state of CA to smoke in your vehicle with a minor child in the vehicle. Fines run up to $100.
Base Regulations
Base Decals
Base decals are no longer required for entry onto most Air Force installations. Beale AFB no longer issues base decals.
Safety Restraints
All California traffic laws apply on Beale AFB. Seat belts are mandatory. Any state, local, or base official may stop vehicles for non-use of seat belts and fines for non-compliance are very expensive. Additionally, all children under the age of eight must be in an approved child seat/restraint in the rear of the vehicle. Further, older children less than 4' 9" are also required to use a car seat.
Bikes/Motorcycles
All motorcycle riders, skaters, skate boarders, scooter riders, and bicycle riders are required to wear helmets. Additionally, motorcycle riders must complete a motorcycle safety course to ride on base.
Random Vehicle Search
Any vehicle entering or leaving Beale AFB is subject to search. Occasionally, a military Security Forces member will be accompanied by a canine.
Driver's License
While stationed at Beale, active duty personnel may keep their home-of-record state driver's license. It is important to check with issuing state to ensure the license remains valid past its expiration date. Active duty family members who maintain resident status outside of California, are not required to obtain California driver license, however, if and when you become a California resident and you want to drive in California, you must apply for a California driver license within 10 days. Active duty members who are California residents and arrive without a valid California driver license must also apply within 10 days for a California driver license.
Vehicle Registration
Individuals who are not California residents but would like to register their vehicle in California, can apply for a military exemption. Completion of this form, available on line at the CA DMV website or from your Airman & Family Readiness Center, will significantly reduce the cost of registration on newer vehicles. This does not affect the individual's home of record, nor does it affect state income taxes. Individuals may retain out of state license plates as long as they are legal residents of the state in which the plates were obtained.