Hospitals
---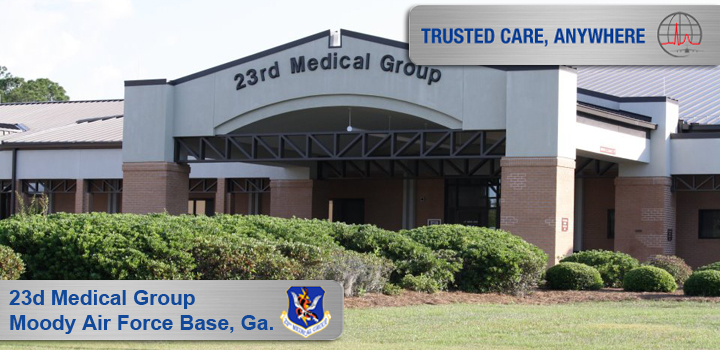 Flight Medicine Clinic
3278 Mitchell Boulevard
Building 899
Moody AFB, GA 31699
Phone 229-257-2778
Phone (DSN) 312-460-2778
Fax 229-257-3113
Mon - Fri 7:30 a.m. - 4:30 p.m.
Sat and Sun - closed
Holidays - closed
Medical Services
Welcome to the 23rd Medical Group and Moody Air Force Base, Georgia. Our mission is to provide medical and dental services to support the highest degree of readiness for the 23rd Wing and the 93rd Air Ground Operations Wing (AGOW). Located just inside the north gate, the 23rd Medical Group consists of three squadrons: Aeromedical-Dental, Medical Operations and Medical Support. Our group maintains the health and morale of over 17,000 active duty military personnel, family members and other beneficiaries by providing or arranging health care in an extensive community-based system.
As a primary care facility, there are no emergency services available at the 23rd Medical Group. For a medical emergency requiring an ambulance either on or off Moody AFB, call 911 immediately. Our ambulances only respond to emergencies on Moody AFB. Depending on the nature of the emergency, the patient(s) will be transported via ambulance to a local civilian emergency department.
Regular duty hours are Monday through Friday from 7:30 a.m. to 4:30 p.m. The MDG closes for training at 10:30 a.m. the first Friday and at 12:00 p.m. the last Thursday of each month. The MDG is also closed on weekends, federal holidays, ACC family days and Wing goal days.
For more information please contact: 229-257-2778 or DSN 312-460-2778.
Dental Service
Dental services available for assigned active duty personnel include: examination, dental hygiene, operative, endodontic, periodontal, temporomandibular pain and oral surgery.
The Dental Clinic is located on the east side of the main building. Enter through the main entrance, turn left and proceed all the way down to the end of the hall on your left.
Clinic Hours: Monday and Wednesday 7:10 a.m. to 5:00 p.m., Tuesday and Thursday 8:30 a.m. to 5:00 p.m., Friday 8:30 a.m. to 4:00 p.m.
To schedule an appointment or more information please call: 229-257-2778 or DSN 312-460-2778.
Pharmacy Services
Main Pharmacy: The Main Pharmacy is located in the center of the main building. If you enter through the main entrance proceed straight ahead on your left.
Hours: Prescription drop off: Monday through Friday from 8:00 a.m. to 4:30 p.m. Prescription pick-up: Monday through Friday from 8:00 a.m. to 5:00 p.m. The Pharmacy closes from 11:00 a.m. to 3:00 p.m. on wing readiness days and 11:30 a.m. on the last Thursday of each month.
Refill Pharmacy: The Refill Pharmacy is located at the Main Base Exchange next to the Laundry and across from the barber shop. Hours: Monday through Friday 10:00 a.m. to 5:00 p.m., Saturday 9:00 a.m. to 1:00 p.m.