Childcare
---
Child & Youth Services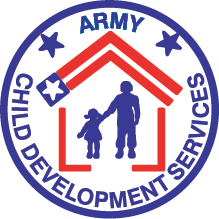 Battalion Avenue
Rivers Building 121
Fort Hood, TX 76544
Phone 254-287-8029 / 254-288-7155
Phone (DSN) 312-737-8029
Fax 254-287-5123
Fax (DSN) 312-737-5123
Mon - Fri 7:30 a.m. - 4:30 p.m.
Sat and Sun - closed
Child Development Centers (CDC)
These facilities generally offer child care for children ages six weeks to 5 years old. Care is typically available weekdays. CDCs vary in size; the average CDC cares for about 200 children.

Fort Hood CDCs are accredited by The National Association for the Education of Young Children (NAEYC); a distinction received by less than 10% of all day care centers across the nation.
Eligibility
Eligible patrons include Active Duty military personnel, DoD Covilian Personnel paid from both appropriated funds (APF) and non-appropriated funds (NAF), reservists on active duty or during inactive duty personnel training, and DoD Contractors. Retirees and other on-post employees are eligible on a space available basis.
Registration
Parent Central Services is located in the Rivers Building, Bldg 121 761st Tank Battalion Ave. Hours of operation are Monday, Tuesday, Thursday, and Friday from 7:30 a.m. - 4:30 p.m.; Wednesdays from 7:30 a.m. - 5:30 p.m, with appointments only on Fridays. Appointments are highly encouraged. Patrons wishing to complete a walk-in registration may experience extended wait times.
Services for payments, SKIESUnlimited and Youth Sports & Fitness enrollments, document updates, wait list inquiries and general information are available during all business hours.
Annual Registration is FREE. Call 254-287-8029 for an appointment, Fax 254-287-5123.
Documents required for Registration for infants and children 5th grade and younger include the following:
Military / Civilian Identification Card
Shot Records
LES/pay stubs for parent(s)
Health Assessment (or Sports Physical, if enrolling in Youth Sports & Fitness)
2 Local Emergency Release Designees
Health Screening Tool 1
DD Form 2652 Application for Department of Defense Child Care Fees
A Teen Registration Packet is required for teens in 6th-12th grade.
If your child has a medical condition that requires medication or accommodation, the Special Needs Accommodation Process (SNAP) will determine the best possible care for your child. Additional forms may be required.
For your convenience, all the required forms to register your child with Parent Central Services are now just a click away at CYS Services Online. Save time with four easy steps:
Fill in the necessary fields where available;
Print out the forms;
Bring completed forms to Parent Central Services, located in Bldg 121 761st Tank Battalion Avenue.
Hours of Operation
The CDCs are open Monday through Friday, 5:30 a.m. until 6:00 p.m.
Centers on Installation /Programs Offered
There are seven Child Development Centers (CDC) on Fort Hood:
Fort Hood CDC is located in Building 113. Offers full-day care for children 6 weeks to 5 years of age and the Strong Beginnings Pre-K program for children eligible to attend pre-K. The phone number is 254-287-6037. This facility is currently closed pending repair work which is not yet funded.
Clear Creek CDC is located in Buildings 41015. Offers full-day care for children 6 weeks to 5 years of age and before & after school care for Pre-K and Kindergarten children attending Clarke and Oveta Culp Hobby Elementary Schools. The phone number is 254-553-9443.
Comanche CDC is located in Building 52024. Offers full-day care for children 6 weeks to 5 years of age, and Before & After School care for Pre-K and kindergarten children attending Duncan Elementary schools. The phone number is 254-287-4848. This facility will be closed temporarily for repair work upon opening of the Clear Creek CDC.
Kouma CDC is located in Building 48303. Offers Before & After School care for Pre-K, and kindergarten children attending Clear Creek and Venable Elementary Schools and full-day and kindergarten summer camp during summer months. The phone number is 254-285-6017.
Montague CDC is located in Building 70004, in Montague Village. Offers full-day care for children 6 weeks to 5 years of age, Pre-K before & After School Care for Pre-K and kindergarten children attending Montague Elementary School and Hourly Care for children 6 weeks to 5 years old, from 7:00 am until 6:00 pm. The phone number is 254-287-8835.
Meadows CDC is located in Building 333. Offers full-day care for children 6 weeks to 5 years of age, part-time Preschool (not offered during summer months), Before & After School care for Pre-K and kindergarten children attending Meadows and Venable Village Elementary School, and hourly care for children 6 weeks to 5 years old, from 7:00 am until 6:00 pm for children 6 weeks to 2 years old. For children ages 3-5 years, hourly care is offered between the hours of 7:00 am - 2:00 pm.
24/7 child care available for shift workers at beautiful Darnall Child Development Center (CDC)!
IMPORTANT: You do NOT have to work at Darnall to be able to use this Center!
Are you a shift worker looking for quality child care? Fort Hood Child, Youth & School Services (CYSS) is here for you! Our beautiful home-like center opened in July of 2013 and is currently providing day time care for Fort Hood Families, including Soldier & Family Assistance Center care for our Warriors in Transition.

This gorgeous facility is built to provide over-night care for shift working Families. It has sleeping quarters, a fully equipped and functioning kitchen, as well as living/play rooms. The dedicated professionals at the Darnall CDC are eager to support you.
So far, our shift-working community has shown very limited interest in taking advantage of this tremendous service, so we have been unable to open in the evenings and at night, due to lack of demand.
It would be a real shame if this lack of demand is actually due to a lack of awareness and not a lack of need. Please help us share information on this invaluable resource. All eligible (Active Duty, APF & NAF DoD Civilians, and DoD Contractor) Families wishing to enroll at the Darnall CDC for shift work care should contact the CYSS Parent Central Services Office at 287-8029.
Want to see the facility? You should! It is very impressive. Located near the Billy Johnson Dental Clinic, the Darnall CDC is in Building 36084 on Darnall Loop. Give them a call at 553-9556 and tell them you would like to tour their facility. Whether you are interested in the care for your own Family, or a leader checking out the Center for your Soldiers/Team Members, you won't be disappointed.
As soon as a minimum number of children are registered/enrolled, the Darnall CDC will be able to open for evening and over-night care. Don't delay; call the CYSS Parent Central Services Office today!

Fort Hood's Darnall Child Development Center, equipped to run 24/7, houses seven beds for boys, seven beds for girls, and four cribs for infants.
Special Needs Care is available and based on care needs (inclusion concept used), program and completion of the Special Needs Accommodation Process meeting.
Respite Care
Eligibility for the Exceptional Family Member Program Respite Care program on Fort Hood is based solely on enrollment in the Exceptional Family Member Program. The program is available to any DEERS enrolled dependent of an Active Duty Soldier who is enrolled in the EFMP to include but is not limited to children, spouses and parents of active duty Soldiers.
Each eligible participant is entitled to 40 hours of care via the Family's chosen care provider. A few examples of different care providers include: Child and Youth Services (must be registered with CYS), Medical Staffing Network (for more severe medical needs), a friend, Family member, neighbor, camp, enrichment program or virtually anyone that you trust your Family member with.
Please contact the ACS EFMP office with any questions regarding the Respite application at 254-287-6070.
Army Child Care in Your Neighborhood
The U.S. Army and Child Care Aware of America (formerly NACCRRA) have joined forces to help Army Families find and pay for quality off-post child care through Army Child Care in Your Neighborhood (ACCYN). The Army supports developing high-quality child care spaces in off-post child care centers and home based programs, that have the potential to become nationally accredited. Participating programs receive training, technical assistance and incentives. In return, programs agree to become accredited and prioritize a certain number of child care spaces for Army service members. The objective of this project is to ensure civilian child care programs provide care to Army Families that are comparable in quality to Army operated on-post spaces. As with any child care program made available by the Army, one of the most important aspects of child care for parents is to have peace of mind knowing that their children are in safe, nurturing child care settings while they work, attend school or are deployed. Call CYSS Parent Central Services for more information at 254-287-8029.
Family Child Care (FCC)
The FCC program includes over 30 military spouses who are Army certified to provide full-day, part-day, hourly, evening, weekend, respite care, special needs, and long-term child care in their homes on the installation. FCC Providers offer programs for children 4 weeks - 12 years of age. FCC has the advantage of low child to adult ratios, flexible hours, and family settings. Standardized FCC fees are set at a 10% reduced rate from CDC/SAC fees. All FCC providers are involved in an extensive training program, home monitoring and annual requirements in order to become and remain certified. If you are interested in placing your child or becoming a Family Child Care Provider, contact the Family Child Care office at 254-553-4620.
Kids On-Site (KOS)
KOS provides on-site child care for children ages 6 weeks to 12 years during meetings and social gatherings in the same building, at approved locations. These events may include, but are not limited to: FRG meetings, deployment briefings, Town Hall meetings, Enlisted Spouses Club and Officers' Wives' Club events, volunteer appreciation luncheons, and religious functions. Children participating in the KOS program must be registered with CYSS Services. To coordinate Kids On-Site for your unit or agency please send email request to usarmy.imcom-fmwrc.list.cyss-kos@mail.mil. For more information about KOS visit the FMWR website or call 254-287-7438.
School Age Care (SAC)
The SAC program offers before and/or after school care for youths 6-12 years old (must be in 1st grade). Full day programs are offered during school holidays but are closed on federal holidays. Services are available in five accredited locations on-post; Walker SAC, Muskogee SAC, Kouma SAC, Montague SAC, and Venable SAC. All elementary schools on Fort Hood are served be a school age care facility. Fees are based on total family income. SAC fees include all field trips and meals/snacks. For more information about SAC, visit the FMWR website or call 287-8029.
Youth Centers
The Department of Defense has a long history of providing positive youth programs that focus on alternative activities for youth during out-of-school hours. Today, DoD continues to be committed to youth by providing consistent guidance and stable and dynamic programs in more than 350 youth programs worldwide. DoD promotes positive youth development by designing programs to recognize the achievements of youth and by developing partnerships with other youth-serving organizations like the Boys & Girls Clubs of America and 4-H that offer a variety of resources. Programs for teens and pre-teens vary from one base to another, but are governed by a consistent DoD instruction. Programs prepare young people to meet the challenges of adolescence and adulthood through a coordinated, progressive series of activities and experiences that help them become socially, emotionally, physically and cognitively competent. Programs usually include physical fitness and sports, arts and recreation, training in leadership, life skills and career/volunteer opportunities, mentoring, intervention and support services.