Check In \ Processing
---
Soldier Support Center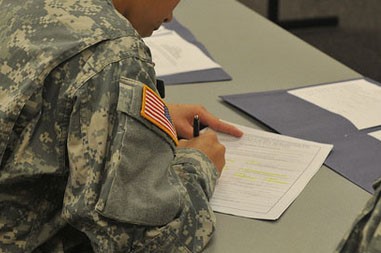 Building 4-2843 Normandy Street
Fort Bragg, NC 28310
Phone 910-396-8683 / 910-396 - 8682
Phone (DSN) 312-236-8683/8682
Fax 910-396-8401
Fax (DSN) 312-236-840
BOOK YOUR LOCAL HOTEL. Fort Bragg on-post temporary lodging is in Forrestal Hall and Delmont House, Hardy Hall, Moon Hall, and Normandy House and Carolina Inn. The closest off-post accommodations are near the Honeycutt Gate along Bragg Blvd. There are many more hotels and motels 4 miles south of the post between Fort Bragg and Fayetteville.
Inprocessing Procedures
Soldiers arriving at Fort Bragg assigned to the 18th Airborne Corps should report to the Fort Bragg Reception Company, Bldg 4-1238 on Normandy Drive. Unaccompanied SSG and below soldiers are assigned a barracks room, and platoon to complete their in-processing.
The Fort Bragg Reception Company is open 24 hours a day, seven days a week, to assist newly assigned soldiers and their families. The Fort Bragg Reception Company's telephone number is 910-396-4244/4250, DSN 312-236-4244/4250.
All Soldiers sign into the Reception Company, Seniors, SSG(P) and above, after signing into the Reception Company are to return the following duty day, except Wednesdays, at 10:00 a.m. to receive an in-processing brief and packet to assist them with processing into installation activities and agencies. Soldiers are allotted 5 duty days to complete the in-processing checklist and sign-out at the Reception Company.
Soldiers being assigned to Student Detachment/Medical Hold at WOMACK will sign in to WOMACK located off the All American Expressway.
Soldiers arriving to Fort Bragg in a training status will report to the assigned Student Brigade.
Questions concerning in-processing or leave extensions should be directed to Replacement Company at 910-396-4250.
All officers arriving to Ft Bragg, need to report to the Officer Management Division (OMD), Soldier Support Center, 2nd Floor, Wing A, to in-process and verify orders. Officers being assigned to USASOC, WOMAC, 44th MED BDE, DENTAC, JAG, 1st TSC and the 82d ABN DIV will be given further instructions. Chaplain's need to report to the Installation Chaplain's Office, Bldg 1-2336, located on Hamilton St. to receive their assignment memorandum prior to in-processing OMD.
It is recommended that Seniors, SSG(P) and above, and Soldiers accompanied by their family make temporary housing arrangements before they report. The on-post reservation office is located at Moon Hall and can be reached at 910-396-7700. The Airborne Inn is the only on post official lodging facility. Statements of non-availability are only issued if official on post lodging is not available. Official travelers must attempt to gain on post official lodging first before a Statement of Non-availability is issued.
Additional Organizations on Ft. Bragg
Those assigned to the following organizations will report to their specific organization:
USAJFKSWC/1st SPWAR Training Group students report to Bryant Hall (Bldg. D-3206, Room 106) on Ardennes Street. After duty hours, students will report to the SWC Staff Duty Officer in Bldg. D-3206.
ALL Reserve Component (RC) and Active Guard and Reserve (AGR) enlisted Soldiers report to the Directorate of Reserve Component (DRCS), Individual Section, Bldg. AT-3954, on Butner Road.
Multinational Force and Observers (MFO) Soldiers report to the Fort Bragg Reception Company.
Travel Planning
Air: An average of 12 flights leave daily from the Fayetteville Regional Airport. US Airways offers seven flights to Charlotte each day. Atlanta Southeast Airline, a subsidiary of Delta Airlines, offers five daily flights to Atlanta. Flight times are available on the airport's Web site. To contact the Fayetteville airport, call 910-433-1160.
The Raleigh/Durham International Airport is approximately one and one half hour away. Connections with major airlines can be made at this airport. To contact the Raleigh/Durham International Airport call 919-840-2123.
Bus: The Fayetteville Area System of Transit runs 10 bus routes and two shuttle van routes between 5:45 a.m. and 7:30 p.m. The bus fare is 75 cents, and transfers are 10 cents. The fare for seniors and disabled passengers is 35 cents. On Thursdays, seniors and disabled passengers ride free. The system's transfer center is at 147 Old Wilmington Road between Person and Russell streets. Go to the systems Web site to find route times and stops. The Greyhound station at 324 Person Street is open 24 hours a day. For ticket information, call 483-2580 or 1-800-231-2222.
Train: Fayetteville's Amtrak train station is at 472 Hay Street. Four Amtrak trains travel to and from New York and Miami every morning and evening. For more information, call 910-483-2658.
Taxi: There are many taxi/cab companies in the Fayetteville area.
Documents to Hand Carry
Soldiers must bring five copies of their orders, their 201 File, and their original and DA Form 31, Request and Authority for Leave Form to sign-in.
Medical and dental records, finance receipts and paperwork, as well as proper military uniform are required to complete in-processing.
What to do if Married en route?
In order to prevent any undue financial burdens and hardships, it is strongly recommended that any soldiers who are married while en route to Fort Bragg report to Fort Bragg unaccompanied. The Relocation Readiness Program team will work with you to make arrangements for establishing your household and assist you with getting your spouse to Fort Bragg. Please contact the Relocation Readiness Program team at 1-800-958-4759.