Base History \ Arrival
---
Eglin Air Force Base evolved from an honorable past. Eglin began as the Valparaiso Bombing and Gunnery Base, established in 1935. On August 4, 1937, the base was redesignated Eglin Field in honor of Lt. Col. Frederick I. Eglin, who died in an aircraft crash. Today, Eglin hosts some 50 associate units representing virtually every major command including our sister services, the U.S. Army Ranger Camp, and the U.S. Navy Explosive Ordnance Disposal School.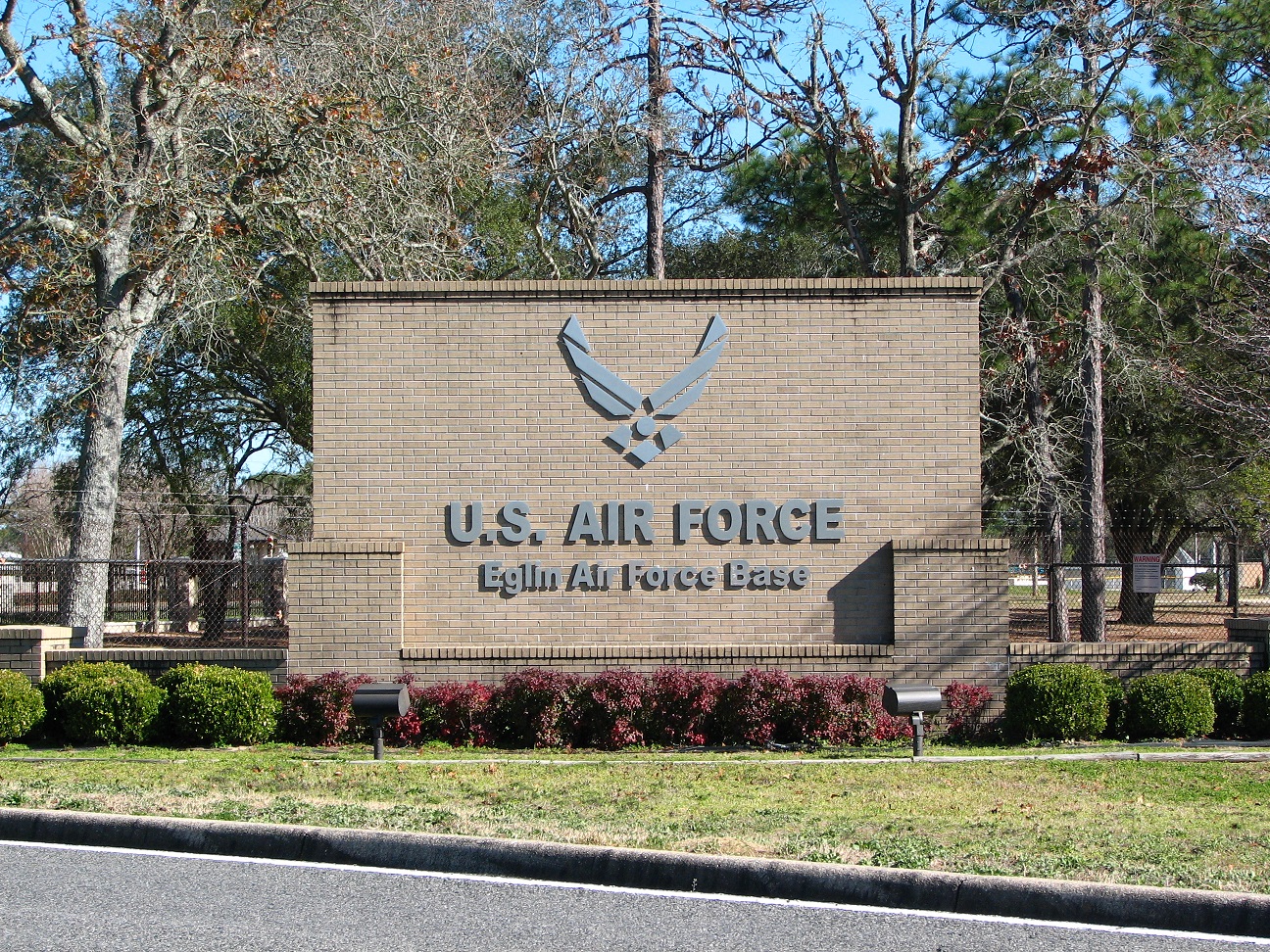 Location
Eglin AFB is located in Okaloosa County, in northwest Florida, comprising over 640 square miles. This is a military friendly area and also a major tourist attraction due to the white sand beaches. The area is a high cost of living area and has relatively low wages. Eglin is located 8 miles northwest of Fort Walton Beach, FL; 60 miles east of Pensacola, FL and 65 miles west of Panama City, FL.
Mission
The 96 Test Wing mission is to support development and acquisition of war-winning weapons. We test and evaluate state-of-the-art weapons for the warfighter, provide superior installation support and serve as responsible stewards of our resources.
Population Served
Active Duty Military: 9,470
Civilian Employees: 4,038
NAF Employees: 575
Contractors: 2,957
Base Transportation
Base transportation on Eglin is provided by either a Base Shuttle bus or Base Taxi.
Directions
Airports
Pensacola Regional Airport (PNS)
Pensacola has one passenger terminal consisting of 12 gates. Gates 9-12 are on the lower level and used for commuter flights.
Pensacola Regional (PNS) Airport, located approximately three miles northeast of Pensacola's central business district, serves the extreme western portion of the Florida Panhandle. It provides easy access to the area's numerous beaches, the National Museum of Naval Aviation and many other historical and natural attractions. PNS airport is serviced by six major airlinesand their affiliated regional jet services offering nonstop flights to destinations such as Atlanta, Houston, Cincinnati, Minneapolis and Charlotte. The small terminal, which was remodeled in the '90s, consists of two levels: baggage claim and ticketing on the main level and the arrival and departure concourses on the second level. Your options are limited to Varona's Restaurant and Varona's News & Gift on the terminal's second level if you want to grab a bite to eat or something to read before your flight.
Directions to Eglin from Pensacola
Eglin AFB is located in Okaloosa County approx 60 miles East of Pensacola and 65 miles West of Panama City in the Northwest Area (called the Panhandle) of Florida.
From the Airport in Pensacola
Pensacola Airport is approximately 70 miles from Eglin AFB and Okaloosa Regional Airport is adjacent to the base. If you are driving from the Pensacola airport to Eglin AFB, follow the signs from the airport to I-10 East. Turn right on SR 85 at Crestview (exit 56), which leads to Niceville. Turn right on SR 20 (John Sims Parkway) until you reach the Eglin AFB East Gate.
Okaloosa Walton Regional Airport (VPS)
The Okaloosa Regional Airport is the airport that serves Niceville and Fort Walton Beach, as well most of the greater Okaloosa-Walton county area. Airlines refer to the Okaloosa Regional Airport as Fort Walton Beach. So if you are traveling here, your destination is Fort Walton Beach, not Okaloosa Regional Airport. The FAA designation is VPS.
From the Okaloosa Walton Regional Airport to Eglin

If you arrive at the Okaloosa Regional Airport, exit the airport to the right on SR 85 until you reach SR 20 in Valparaiso, Turn right and follow it to the Eglin AFB East gate. Individuals who are driving should take I-10 to exit 56, go south on SR 85 until reach intersection of SR 85 and Hwy 20 in Niceville, turn right on Hwy 20 (John Sims Parkway) and continue until you reach the Eglin East Gate. Base taxi service is available for military members without families -- Call 850-882-3791/DSN 312-872-3791.
The airport is located just outside of Niceville on State Road 85, less than a 15-minute drive from the heart of Niceville. It is located on property owned by Eglin Air Force Base and uses Eglin's runways. The airport currently serves over 520,000 passengers each year with direct service to Atlanta, Chicago, Cincinnati, Memphis, Orlando, and Tampa. The street address of the airport is 1701 State Road 85 North, Eglin AFB, FL 32542. The telephone number is 850-651-7160.The Okaloosa Regional Airport offers four car rental agencies on-site and one that serves the airport off-site.
Driving Directions
Driving from the Northeast/Southwest
Exit 56 (Crestview) if you are using Interstate 10. Turn right if you are coming from the southwest and left if you are coming from the northeast on to Hwy 85 South approx 14 miles to Hwy 123. Turn to the right on to Hwy 123 and follow it until it dead ends into Hwy 85. Make a right and go to the first light (Lewis Turner Blvd). At the light, turn left and continue on that route for approx 1/2 mile. Turn left at the next light into the West Gate area of Eglin.
Driving from Hwy 98
If you are driving on Hwy 98, Eglin AFB is approx 8 miles NW of Fort Walton Beach, 60 miles E of Pensacola and 65 miles W of Panama City.
Driving from the North
When traveling from the north, after entering Florida look for Hwy 85 to Crestview. After you enter Crestview, continue to follow Hwy 85. You will go under Interstate 10 but continue on Hwy 85 for approx 14 miles until you see the sign that says Fort Walton Beach to the right (Hwy 123). Follow Hwy 123 until it dead ends. Make a right and go to the first light which will be Lewis Turner Blvd. Turn left and continue for approx 1/2 miles. Turn left at the next light to enter the Eglin West Gate.
From the Bus Station in Fort Walton Beach
Base taxi service is available by calling 850-882-3791/DSN 312-872-3791. Eglin is located about 8 miles east of the bus station.
From the Train Station in Crestview
Follow Main Street to Hwy 85 South. Turn left on Hwy 85 South to Hwy 123. Turn right on Hwy 123 which will dead end. Make a right and go to the first light, then turn left. Continue on that route for approx 1/2 mile and turn left at the next light. You will then enter the West Gate area of Eglin.