Registration
---
Information and Referral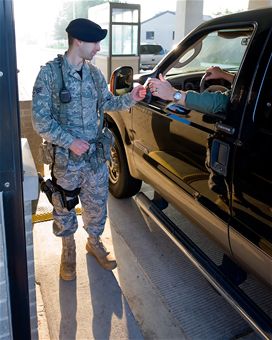 Airman & Family Readiness Center
846 Sumner Drive
Building 846
Dover , DE 19901
Phone 302-677-6930
Phone (DSN) 312-445-6930
Fax 302-677-6477
Fax (DSN) 312-445-6477
Mon - Fri 8:00 a.m. - 5:00 p.m.
Sat and Sun - closed
Holidays - closed
Registration & Licensing Requirements
Delaware State law requires you to have sufficient liability insurance and a valid driver's license in order to operate a vehicle. The term "vehicle" generally includes automobiles, motorcycles, vans, trailers and boats regularly parked or garaged overnight. Further, your vehicle must be properly registered. Even though you are in the Military, you may be required to register your vehicle in-state and obtain an in-state license within a few months of moving. Access complete information on insurance, driver's licensing, and where and how to register your vehicle by visiting the State Department of Motor Vehicles website.
As a result of the enactment of the National Voter Rights Act of 1993, any U.S. citizen residing in the State of Delaware, who meets the eligibility requirements, is afforded the opportunity to register to vote while obtaining or renewing a driver's license. Military members that opt to obtain a Delaware drivers license should be aware that it is their responsibility to let the DMV clerk know whether or not they intend to change their voter registration to the State of Delaware. It is not mandatory to do so in order to obtain a Delaware drivers license.
State Laws
You and your passengers must always wear seatbelts while driving, you will be ticketed and issued heavy fines if seatbelts are not secured. State law requires that all children under 6 years of age and 60 pounds be properly restrained in child seats. Some states also require younger, smaller children to sit in the back seat.
Motorcycles and their operators are subject to special laws. If you own and operate a motorcycle, you must comply with those laws. Visit the State Department of Motor Vehicles website for more information.
The state of Delaware and local jurisdictions have strict laws about the use of cell phones and other digital devices while driving. Research these laws on the State Department of Motor Vehicles website. Tickets will be issued and fines assessed for violating these laws. Play it safe and always use a "hands free" device if you must use a cell phone or other PDA while driving. Hands-free devices must be used while operating a motor vehicle on ALL military installations worldwide.
Base Regulations
Speed Limits
Delaware state traffic laws apply on Dover AFB. The speed limit on base is 30 mph unless otherwise posted. The housing area is 20 mph, parking lots are 5 mph and the school zones are 10 mph.
Child Restraints/Seat Belts
Seat belts are mandatory on base. State, local, and base officials can stop vehicles for suspected non use of seat belts. Seat belts are required for both drivers and front seat passengers. State law also mandates the use of child safety seats that meet National Safety Commission standards (buses are the only exception). Toddlers, under the age of four, must be restrained in the front or back sear.
Delaware's child restraint law states that all children must be properly restrained in a federally approved child safety seat appropriate for the child's age, weight and height up through 6 years of age or 60 pounds. Additionally, children 7 through 15 years old are required to be properly secured in a seatbelt. The fine for violating the law is $25. All children under 12 years old or 65 inches in height are still required to sit in the back seat if there are active airbags in the front passenger seating position.
Vehicle Checks
All vehicles entering or leaving Dover AFB are subject to search. 100% ID check currently in effect.
Motorcycle/Moped/Bicycle Regulations
Military members who operate a motorcycle or moped, on or off base, are required to have completed an approved motorcycle safety course and must possess proof of training. Helmets and protective/reflective clothing (as outlined in AFI 91-207 are required for active duty motorcycle, moped, and bicycle riders on and off base. All other riders are required to abide by the same rules as active duty personnel while riding on base.
Although Delaware law does not require the use of helmets for riders 21 years of age and above, everyone is strongly encouraged to do so. For more information or to schedule motorcycle safety training, please contact Wing Safety at 302-677-2842 or DSN 312-445-2842.
Walking/Jogging

Walkers/joggers must be at least 3 feet off roadway. Walkers/joggers not on trail cannot wear headsets.
Accidents

All vehicle accidents must be reported to the Security Police as soon as possible after the accident. Vehicles should not be moved unless they obstruct the flow of traffic or create a safety hazard.
Criminal Offense
Delaware State, Federal, and Military criminal codified laws apply on Dover AFB. Personnel may be detained or apprehended by Security Police for violating these laws and/or released to civilian authorities. They may be subject to military, civilian, or federal prosecution.
Crime Stop
Report criminal offenses to Security Forces at 302-677-2100.
Traffic Regulations
Driving under the influence of alcohol and drugs carries severe penalties, including fines and imprisonment. In addition, a conviction results in higher insurance rates. Also, if windshield wipers are on because of weather conditions, headlights must be on. Delaware utilizes a point system to penalize traffic law violators. Each violation carries an assigned number of points, and when the total reaches a maximum of 12, the driver's license is suspended. Points are charged to your record for violations committed in other states.
Restricted Areas
All active runways, taxiways, aircraft hangars, parking aprons, ramp road, and other flight line areas are Controlled and Restricted areas. Unauthorized personnel must avoid these areas and coordinated movement around or near these areas with Base Operations at 302-677-4185 or Security Police at 302-677-6666.
Cell Phone Usage
Cell Phone usage while driving must be "hands free only".
Base Decals
At Dover AFB, it is optional if you want to have a decal issued for your privately owned vehicle. Requirements for vehicle registration are: ID card, vehicle registration for permanent party and retirees, driver's license, and proof of registration. There is no requirement that you must have a decal to get on Dover AFB. There is a 100% ID card check when entering the base.
Insurance
Automobile insurance is required in Delaware by state law. Individuals under the age of 25, married or single, will find the rates quite high, even with perfect driving records. The Delaware Safety Council and the base periodically offer an inexpensive 6-hour safe drivers course which can lower the cost of liability coverage by 10-15% for three years and gives the driver 3 good points toward his/her license.
Four wheel drive vehicles, SUVs, and pick-up trunks are very costly to insure in Delaware. If you can keep your insurance (at a lower cost) at your previous location without violating the tri-state law make sure it meets Delaware minimum requirements and keep it in force until you can qualify for low cost insurance here.
Delaware minimum coverage requirements are as follows:
$15,000 for bodily injury or death of one person in any one accident
$30,000 for bodily injury or death of two or more persons in any one accident
$10,000 for injury to or destruction of property of others in any one accident