Base TLF
---
Eagle's Rest Inn/Temporary Lodging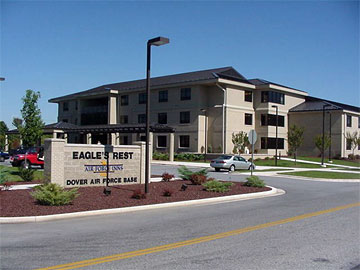 14th Street
Bldg 800
Dover AFB, DE 19902
Phone 302-677-2841
Phone (DSN) 312-445-2841
Fax 302-677-2936
Fax (DSN) 312-445-2936
Open 24 hours a day, 7 days a week, including holidays
Eligibility/Orders

There are temporary lodging facilities available for members and families who are in a PCS status. Stays are limited to 30 days for inbound families and 7 days for outbound families.

Reservations

Reservations are accepted 60 days before arrival. The lodging facility at Dover is called the Eagle's Rest Inn. Reservations should be made as far in advance as possible because of very limited space available. When space is not available, the installation lodging office will provide information on where additional space (contract quarters) with good rates may be available. To make reservations you can call 302-677-5983 or 1-888-AF LODGE or DSN 312-445-5983.

Amenities

Each suite has a private bedroom, private bath and a combination kitchenette, dining room, and living room with a hide-a-bed.

Pets

Lodging has implemented 4 pet friendly rooms in their facility. These rooms are available on a first come first serve bases.