Childcare
---
Child and Youth Registration & Referral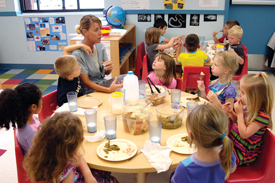 LeeTan Avenue
Bldg. 1102
Yuma, AZ 85365-9498
Phone 928-328-3119
Phone (DSN) 312-899-3119
Fax 928-328-2729
Fax (DSN) 312-899-2729
Mon-Thu 7 a.m. – 5 p.m.
Fri –Appt. only
Sat - Sun and Holidays - closed
Child Care
Child Development Center (CDC)
The Child Development Center on US Army Yuma Proving Grounds, Yuma Arizona is currently accredited through the National Association for the Education of Young Children (NAEYC) and available for all military (priority), DoD employees, and contractor's children that work on YPG. Fees are determined by total family income on a sliding scale.
Depending on the time of year there may be a wait list and openings will be offered on a first come first serve basis depending on priority status. A completed registration packet is required and is available at Parent Central Services 928-328-3119/3339 or online atYuma Proving Ground Family and MWR's website under the Parent Central registration tab.
Services are available to children from 6 weeks to 5 years old with full time, hourly (if openings available) and a Pre-K part day program Monday-Friday. Hourly fees are $4.00 an hour and due upon pickup. The hours of center operation are from 5:45 am to 5:30 pm M-F with occasional night and weekend care available for special events.
For more information please call 928-328-3130.