Check In \ Processing
---
NAS Security Pass Office (Gate 2 Office)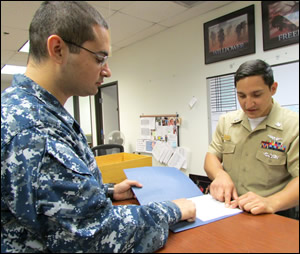 21866 Cedar Point, Building 2189
NAS Patuxent River, MD 20670-1156
Phone 301-342-3231
Phone (DSN) 312-342-3231
Fax 301-342-4402
Fax (DSN) 312-342-4402
Mon - Fri 6:30 a.m. - 3:00 p.m.
Sat and Sun - closed
Holidays - closed
Check-in Procedures
Reporting Procedures
Check-in starts at the 24 hours a day Command Duty Office (CDO), 301-342-1095, or at your command check-in point. Have orders stamped at the check-in point, so that your leave will be stopped.
From your check-in point, report to your CPC (Command Pass Coordinator). When reporting to you CPC, you should have your stamped orders, service record (if still in custody of), receipts from your travel and your detaching endorsement FID (SH03). With your CPCs help you will fill out a new SGLI form, update your Page 2, fill out your travel claim - part of your travel claim will be for you to get your Temporary Lodging Expenses (TLE). You can get 10 days paid lodging with receipts. Receipt must indicate a zero balance. 10 days lodging must be between previous duty station and gaining duty station.
You will need to have permissive leave for house-hunting approved prior to taking the leave. This can be accomplished through your command administrative office.
At your new command, you will get your base check-in sheet. Get your sponsor or someone from your command to help you find your way around the base. You will need a sponsor who can assist you with your needs. To ensure a sponsor is assigned, you may also contact your gaining command. For a listing of commands see Major Unit Listings. Don't forget to fill out you sponsor questionnaire sheet when you check in at your new command or at the Fleet and Family Support Center. Both PSD and the CDO are located in Building 409 (NAS Administration) on Cedar Point Road.
If you have been directed to go to your command check-in location, call your sponsor for directions or ask at the gate.
Travel Planning
Temporary Lodging Reservations
Once you check in at the Command Duty Office (Administration Building 409) or your command check in point, you will be directed to check in at the Navy Gateway Inns & Suites at building 406.. Go to the front desk with a copy of your orders. The front desk clerk will assign you a room according to your status.
For Permanent Change of Station (PCS) orders, if you are a single E-4 and below, report to Bachelor Quarters for billeting; E-5 and above must lodge at the Navy Lodge or Navy Gateway Inns & Suites (NGIS) until billeting is approved. For transient orders (TAD), NGIS must be contacted first for lodging. If there is no availability for lodging at NGIS or the Navy Lodge, all members must get a Certificate of Non-Availability (CNA) from lodging authorizing them to stay off base.
Geographical bachelors must put in a request for permanent geographical bachelor berthing to be decided by the Geographical Bachelor Board. Note: Geographical Bachelor space is extremely limited.
What to do if you Get Married Enroute
If you get married before PCSing, you must inform your commander and follow the procedures exactly as you are given them. The military will not pay for travel and housing of your spouse if you do not follow proper procedures.