Childcare
---
Child and Youth Programs Central Registration Resource and Referral - McGuire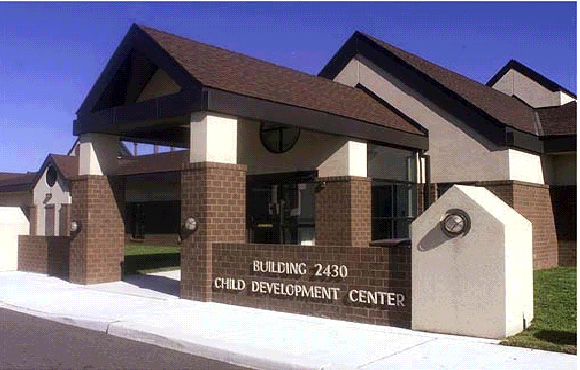 3435 Broidy Road
McGuire AFB, NJ 08641
Phone 609-754-3259/3098/3274
Phone (DSN) 312-650-3259/3098/3274
Fax 609-754-1099
Fax (DSN) 312-650-1099
Mon – Fri 8:00 a.m. – 4:30 p.m.
Child Care
Child Care Services
Joint Base McGuire/Dix/Lakehurst (JB-MDL) Child and Youth programs is a comprehensive system of programming providing quality care, resources, support and recreational activities for children and youth ages 6 weeks to 18 years of age. We believe that quality programming must meet the needs of all children and youth in the community. Our facilities have created a warm, happy, safe and healthy place for children and youth. Our programs are designed to provide activities and services which are developmental in nature and promote the physical, social, emotional, cognitive, creative and positive character development of each child/youth while responding to the unique needs of military families. Quality, affordability, and availability are our primary goals. All of our child care programs are certified by DoD and accredited by a national accrediting agency.
Child and Youth Programs consist of:
Central Enrollment Registry (CER)
The CER is a one stop office for information, availability, and registration for all Child and Youth Programs on JB-MDL. Information on services available off base is available through this office also. The office is located on 3435 Broidy Road, McGuire and is open Mon - Fri 8:00 a.m. - 4:30 p.m. Call 609-754-3154 for an appointment. This office also maintains a centralized waiting list for McGuire and Dix. Eligible patrons include active duty military, DoD civilians paid with either APF or NAF, reservists on active duty or during inactive duty training, DoD contractor's children, wounded warriors and surviving spouses of military who died in combat related incidents. A waiting list is implemented when necessary and patrons are placed in the following priority:
Single and dual military parents/DoD civilian parents who work on JB-MDL /Child and Youth Program employees
Active duty military with employed spouse or spouse seeking employment
Active duty military with full time student spouse
Active duty military and DoD civilians
Please contact us at 609-754-3154 for more information on JB-MDL CYP programs and our current rates.
Child Development Center (CDC)
Our base has 4 Child Development Centers, two on McGuire, one on Dix and one on Lakehurst.
McGuire CDC 1 on Can Do Way is an infant/toddler center for children 6 weeks to 3 years old while McGuire CDC2 on Tuskegee Airmen Blvd at Pudgy's Circle is for 2½ - Kindergarten age children. Both CDCs are open Mon- Fri 6:30 a.m. - 5:30 p.m., provide full day care and CDC2 also has part day preschool and before and after school and summer camp for kindergarten school age children. Hourly Care is available from Mon - Fri 9:00 a.m. - 2:00 p.m. for 3-6 year olds at CDC2 only. Give Parents a Break Night is generally available at both CDCs the third Saturday afternoon of the month. Service is FREE to eligible families that may be under stress and need a braek.
Dix CDC is a brand new facility located in Juliustown Road next to the Fort Dix Elementary School on base. Dix CDC provides care for children 6 weeks to 5 years of age. Full day care, wrap around care for 4 year old children attending Fort Dix Elementary school preschool program, and Pemberton school district preschool program for 3 year old children (six hour block free). Children must be 3 years old by 1 October to be eligible for the current school year in the Pemberton School District pre-school program.
Lakehurst CDC is located on Lakehurst in building 657. They are open Monday through Friday from 6:45 a.m. -5:30 p.m. and provide full day care for 6 weeks to 5 year olds. Hourly care is available on a space available basis daily. Registration is taken care of on site.
Family Child Care (FCC)
The Family Child Care Program provides the JB-MDL community with an alternative to other child development programs and for evening, weekend and shift care. The FCC program offers quality childcare in a home environment. This may be a good choice for parents who want their child cared for by the same provider each day and in a small group setting. Both hourly and drop in care are available.
FCC providers are adult military dependents living in JB-MDL housing area who have been through training and meet requirements before becoming licensed. All FCC providers are regularly inspected by safety, military public health, fire prevention and the FCC staff.
Current FCC provider listings are available at CER, CDCs and the FCC office, 609-754-3341.
School Age Program (SAP)
Falcon Court North (FCN) School Age Program is a center based program offering before and after school care as well as school out days, and summer camp. For grades 1 - 6. The program is located in the Youth Center in FCN housing area on 3830 E Scott Street. Hours are Mon - Fri 6:30 a.m. - 5:30 p.m.
8th Street School Age Program is located in building 5219 8th Street on Dix next to the JB MDL Dix Chapel. It offers before and after school care as well as care on school out days and summer camp for grades K - 6. Hours of operation are Mon - Fri 6:30 a.m. - 6:30 p.m.
Lakehurst School Age Program is located in building 487 on Lakehurst section of base. Before and after school care as well as school out days and summer camp for children in grades Kindergarten - 7 grades. Hours of operation are Mon - Fri 6:45 a.m. - 5:30 p.m.
All our SAP facilities are nationally accredited programs that encourage the development of life skills through a variety of clubs, community, educational and recreational activities. Children participate in music, arts and crafts, games, science, dramatic play and computer lab activities just to name a few. During summer camp children are involved in activities on base such as swimming, bowling, and miniature golf as well as field trips to off base locations.