Registration
---
Airman and Family Readiness Center - Information and Referral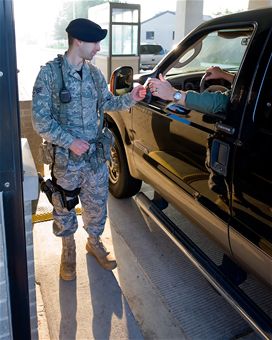 171 Valiant Street
17 FSS/FSFR
Building 145
GAFB, TX 76908-4402
Phone 325-654-3893
Phone (DSN) 312-477-3893
Fax 325-654-5453
Mon – Fri 7:30 a.m. – 4:30 p.m.
Sat and Sun - closed
Federal holidays - closed
Base Regulations
Texas state laws apply on Goodfellow AFB. The law requires that children under 5 years old or less than 36 inches tall must be secured in a safety seat and children 5-16 years of age must be secured in a safety belt. On base, all vehicle occupants must be properly restrained.
Cell Phones -- Vehicle operators on a DoD Installation and operators of Government owned vehicles shall not use cell phones unless the vehicle is safely parked or unless they are using a hands-free device. The wearing of any other portable headphones, earphones, or other listening devices (except hand-free cellular phones) while operating a motor vehicle is prohibited.
Use of those devices impairs driving and masks or prevents recognition of emergency signals, alarms, announcements, the approach of vehicles, and human speech. DoD Component safety guidance should note the potential for driver distractions such as eating and drinking, operating radios, CD players, global positioning equipment, etc. Whenever possible this should only be done when the vehicle is safely parked.
Registering Vehicles on Base
Permanent party members, students and other authorized personnel no longer register their vehicles on base, but must be put into the Defense Biometric Identification Systems (DBids) and carry the following documentation for entry onto the installation:
Current State (any) vehicle registration
Current Driver's License
Proof of current insurance
Government ID Card
Motorcycles -- Motorcycle Registration requires the above documents, plus a motorcycle endorsement on the driver's license and proof of completion of an approved motorcycle safety course.